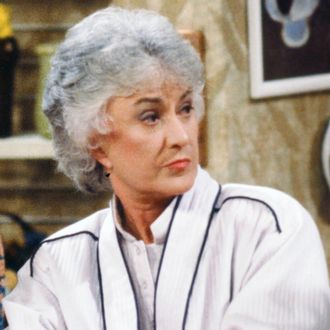 Bea Arthur.
Photo: Alice S. Hall/NBC/NBCU Photo Bank via Getty Images
Miami is nice, but Bea Arthur ain't from Miami, is she? Frontier Media recently interviewed former Golden Girls writers and producers for a delectable oral history of the show. In one standout memory, head writer Mort Nathan and writer/producer Winifred Hervey recalled how a fan's negative Golden Girls review (a real stan move if there ever was one) to TV Guide prompted Bea Arthur to seek Bea Arthur–brand justice:
Nathan: TV Guide had done a piece on the show: "The Golden Girls—Is it still as good as it was the first year?" And they asked random people what they thought of the show, and this one housewife said she didn't think the show was as good and that Bea Arthur's character wasn't as interesting. They mentioned her by name—Mrs. Betty Johnson, Sioux Falls, Iowa. So Bea reads this at lunch and then gets on the phone and asks information for this Betty Johnson's number. And she calls her. And she picks up, this TV Guide woman, and Bea says, "This is Bea Arthur, and I want to talk to you about what you said in TV Guide." The woman was horrified. She said she was misquoted. "I didn't mean it. Is it really you? I love the show. I take it back." And Bea goes, "That's what I thought. OK, that's better."

Hervey: And then Bea said "That person's going to go tell everyone that I called her, and no one's going to believe her."
The number of entire cheesecakes one would have to consume in a silk bathrobe to get over an angry Bea Arthur phone call is staggering. The mind reels.