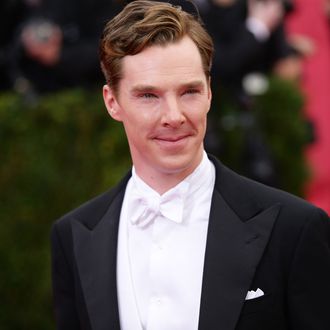 Cumberbatch (not in bunny form).
Photo: Neilson Barnard/2014 Getty Images
Almost a year after the Chocobatch craze, Jen Lindsey-Clark and her newly branded team at Chocolatician have again cast Benedict Cumberbatch as a dessert. The team of artists is capitalizing on this Easter season by sculpting the actor into an oddly cute, edible, bow-tie-wearing bunny, effectively mashing up Alice in Wonderland's White Rabbit with Cumberbatch's Sherlock. "A delicious Belgian chocolate rabbit with a handsome face and a tasty bottom," reads the shop description. Other things you need to know: Cumberbunny comes in handmade milk, dark, and white chocolate (400g each); he costs £50; he's covered in edible "luster dust"; and he lasts six months.
Look at this guy. I mean, really:
Other choco-celebs are supposedly on the way — you'll be able to get those, Cumberbatch, and even a customizable version of yourself, here. (But good luck trying to eat Cumberbunny, instead of pointing at him and saying, Aww, can we keep him?)