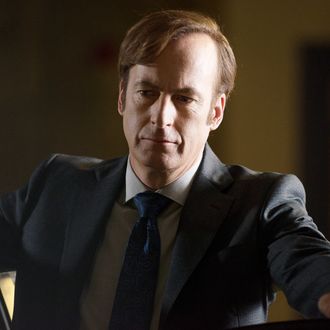 Photo: Ursula Coyote/Sony Pictures Television/AMC
The writers of Better Call Saul face the interesting challenge of writing an intricate compelling drama that has to simultaneously act as a prequel and also exist as its own entity. The prequel part means Breaking Bad characters will appear in cameos from time to time, but the original entity part means these characters are tethered to already-established lore. It's so difficult to maintain this balance that Bob Odenkirk, who stars in the show as the title character, sometimes forgets the story himself. In this week's episode, an old frenemy from Breaking Bad pops up in a brief but pivotal scene. Spoiler ahead.
At this weekend's PaleyFest, series co-creator Peter Gould said, "Right as we were breaking down this episode, we thought, Tuco's in trouble. Who's he going to call? Uncle Tio," aka Hector Salamanca, the invalid drug dealer played by Mark Margolis who communicates using a bell. "It made sense for this guy to show up. It had to be organic."
Of Tio's appearance, Odenkirk quipped, "I lose track of how the story plays out. That blew my mind — like, I didn't even know. It reminds me, 'Remember that show you were in?'"
When asked about the temptation to do a bunch of cameos, Vince Gilligan said, "It's difficult not to overdo it. We love all these characters and actors from the Breaking Bad universe. The difficulty is maintaining a level of self discipline to stop yourself from saying, 'Lets have this person walk through the background,' or, 'Let's have this person get splashed by mud as Jimmy drives by.'"
So don't expect Walt Jr./Flynn to stop by and eat breakfast with Jimmy anytime soon.