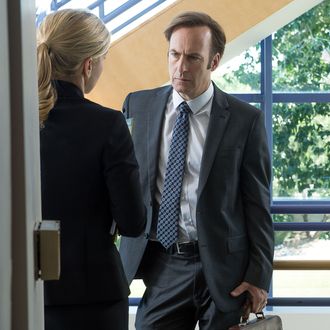 Bob Odenkirk in Better Call Saul.
Photo: Ursula Coyote/Sony Pictures Television/AMC
Who ya gonna call? Saul! What are ya gonna tell him? That Better Call Saul just got renewed! Is it clear this post is being written by someone who has never seen Better Call Saul? Perhaps! Don't yell at me — I know, I know, it looks good, and anyway, my lack of viewing did not prevent AMC from picking the show up for a ten-episode third season on Tuesday. There's plenty of time to catch up. I'll meet you all at the third-season premiere. I swear. Now go out and get some Emmys!