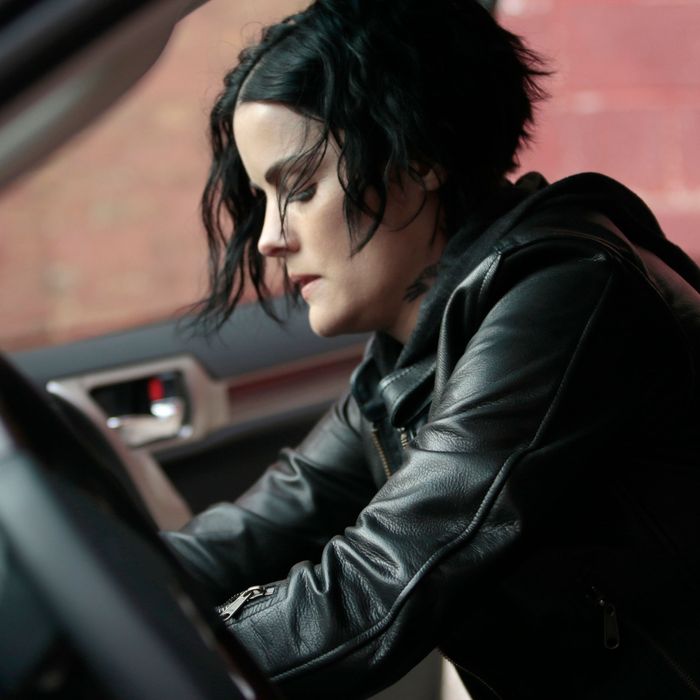 Jaimie Alexander as Jane.
Photo: Giovanni Rufino/NBCUniversal Media
On occasion, Blindspot tries to pack too many details into a single episode. These additions are often superfluous to the story itself, by way of some diversionary case that mostly serves to tell a deeper story about Jane's identity or Weller's struggle to remain impartial.
Though it's as cheesy as past episodes, "Older Cutthroat Canyon" does a better job than usual of balancing its story lines with the larger mystery of Jane's identity. With the superficial case quickly resolved, the episode spends a good amount of time observing Jane and Oscar's interactions, as well as introducing Jane to bigger pieces of her past life. There is still plenty of unnecessary information that needs to be sifted out, but overall, the episode reveals some satisfying details we've been waiting a dozen episodes to learn.
"Older Cutthroat Canyon" begins with the mystery of a canvas stolen from a gallery in Chelsea. Said canvas is one piece of a larger art show by the notorious "Zomo," a Banksy-like character, and it corresponds to a burning-rose tattoo on Jane's body. Of course, the anonymous Zomo is just a prop for the thief who turns out to be a deserter from Jane's original team. And the deserter wants Jane dead. After a bomb explodes at the gallery, Kurt ends up in the hospital for major shrapnel wounds. Predictably, he rips out the IV as soon as he comes to, because that's what guys with muscles do when they're bound to hospital beds.
The stale arty pop-cultural reference dissolves quickly when Jane realizes that the only way to deal with Cade, the deserter, is to abandon the FBI and team up with Oscar. A winding attempt to do so results in another team member's death and the revelation that Cade killed Beardo way back in episode three, after he attempted to extract Jane from the FBI safehouse.
Meanwhile, the sociopathic glint in Cade's eye grows as he intercepts Weller's team while holed up in a giant boat on the East River. (Why he's hiding in a boat, we do not know.) Jane learns that they've been trapped there via Oscar's middleman messenger, and abandons her ex-fiancé in order to save them. It turns out that Kurt and Co. can fend for themselves, but as they do, Cade and Jane duke it out on the boat's deck. Before the FBI team can detect him, Oscar shows up and tackles Cade off the side of the boat. Jane takes credit, but unbeknownst to anyone, Cade isn't dead.
Jane explains everything away to Mayfair by saying that she was pursuing Cade (whose name and purpose the FBI still doesn't know) the entire time, only coming to the rescue when she realized her team was in danger. Mayfair doesn't buy it, and continues to rely on Reade as her eyes on Jane. Early in the episode, we learn that Reade, who was hit over the head last episode — presumably by Oscar — is threatened into keeping quiet about his suspicions as to who killed CIA Agent Carter. Feeling the heat from all sides, Reade quickly backs away from his relationship with Sarah Weller.
Beneath all this, Jane seems to be fighting some sort of spark for Oscar. Yet, there is zero onscreen evidence of that alleged spark. I assume that's the feeling meant to be conveyed when Jane rushed toward him in the final scene. Better luck next time, maybe.
Tattoo Meanings:
A burning rose, one of Jane's most prominent tattoos, connects to a piece of art by a Banksy-like street artist stolen from a gallery in Chelsea.
Blind Sides:
This week's anagram title permutes to "to contact your handler."
I'm tired of the anagram game. I know that it must continue, but it really is an unnecessary and cutesy bit of detective work. Maybe it'll hold up in the grand scheme of things, but for now, I just wish the episode titles were instantaneously clever.
Reade looks nice in buffalo plaid.
I mentioned superfluous details up top. One that stuck out to me was when Jane tried to make Danny's murder (the nice guy who lends her and Oscar the silver car) look like a robbery. That seemed unnecessary, and even if it weren't, Jane did a shoddy cover-up job.
I've said it before, but Brooklyn is on heavy rotation in Blindspot. This time, the show ventures down to my 'hood with a mention of Carroll Park and a foray into Red Hook. Where Brooklyn at.
Kurt's lover Ali is M.I.A., and his feelings for Jane are reignited when she comes to save him on the boat. Still, it's manifesting as stilted anger.