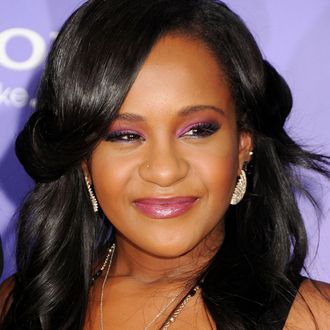 Bobbi Kristina Brown.
Photo: Byron Purvis/Corbis
After a request from an Atlanta radio station, a judge has ordered the Fulton County medical examiner's office to release its official report on the death of Bobbi Kristina Brown, who died in July after six months in a medically induced coma. As TMZ reports, the autopsy revealed that Brown's cause of death was "immersion of face in water complicating mixed drug intoxication," which caused a fatal combination of pneumonia and encephalopathy. The findings had been sealed because of the potential role they could play in the case against Bobbi Kristina's boyfriend, Nick Gordon, who is being investigated for foul play. According to People, the medical examiners also noted that Brown's body was injured at the time of her death, but were unable to conclude whether the death was "due to intentional or accidental causes." Bobbi Kristina's estate is suing Gordon, alleging he gave her the drugs she was on when she died.