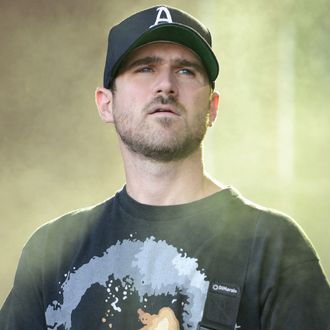 Count your blessings.
Photo: Tim Mosenfelder/Getty Images
Anytime a Jesse Lacey cover hits the internet, it's cause for celebration because, no matter how wild the idea, it can always mean new Brand New is on the way. At the very least, it means Jesse's recording music, if not actually making songs of his own. Today's gift is an acoustic cover of R.E.M.'s "Bad Day" that Lacey recorded for the last installment of his BFF Kevin Devine's Devinyl split series (Devine also covered "Imitation of Life"), out March 25.
Whether or not this suggests new Brand New music is even on Lacey's mind depends on how much you're willing to believe a suspicious memo from January, possibly from the band's label, that supposedly confirmed another album. Brand New did put out their first new song in six years last April, and played another new one live — so, anything's possible! Like the very real possibility that November 2016 might be the end of the world as we know it, a terrifying potential reality that Devine says was a motivating factor for Lacey's song choice: "It's also particularly appropriate lyrically given our current what-the-fuck-is-happening political disaster in the making. 'Broadcast me a joyful noise' – amen, amen, amen." Hey, at least Lacey left us with a new blessing to count.