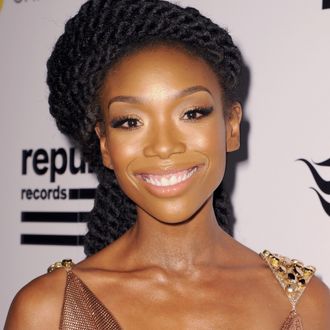 We demand new Brandy.
Photo: Joshua Blanchard/Getty Images
Brandy's return to music has been a painfully slow one, with a tiny flicker of hope earlier this year when she dropped her first new song in ages, the delightfully bluesy "Beggin & Pleadin," and announced an upcoming tour. But it now appears she's not to blame for the delay: Brandy has sued her record label Chameleon Entertainment Group for preventing her from making new music. She claims Chameleon is refusing to allow her to record or release a new album — which would be her first since 2012 — unless she signs a new contract, allegedly under Epic Records, where Chameleon's CEO Breyon Prescott also works. In her suit, Brandy argues that her deal with Chameleon, which she signed in 2011 prior to releasing 2012's Two Eleven, has since been terminated, and she is seeking a judge's ruling that her former contract with the label is indeed void, as well as a reported $1 million. Brandy wouldn't be the first (or last) artist stuck in industry limbo — but for the love of Moesha, let's hope it doesn't last nearly as long JoJo's label nightmare did.