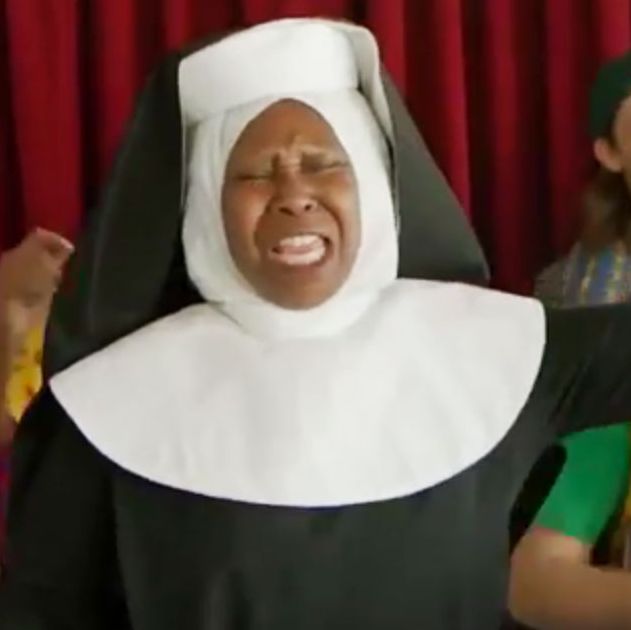 Whoopi Goldberg on Broad City!
Photo: Comedy Central
Ilana's Broad City desk mate Nicole (Nicole Drespel) may be the most tortured television employee since Dunder Mufflin's Toby, on The Office. Throughout Ilana's tenure at Deals Deals Deals, Nicole documents her co-worker's every oblivious, weed-addled misstep — like the time she ditched work to walk dogs, or hired a coterie of unpaid interns, or emailed their boss (Chris Gethard) yet again from her NSFW address, ilanawexler@mindmyvagina.com. On Wednesday night's episode, "Game Over," a disruptive corporate tweet during a visit from an investor (Vanessa Williams) finally gets Ilana pink-slipped.
Nicole then serenades her colleagues with a (lip-synched) version of "Joyful, Joyful" and they surround her in their flyest '90s gear, reenacting the climactic concert from 1993's Sister Act 2: Back in the Habit. The montage concludes when Nicole is batted aside by none other than Whoopi Goldberg, reprising her Sister Act role as Deloris the lounge singer. Vulture tracked down the episode's director, Lucia Aniello, to learn via email how Broad City got EGOT-winner Goldberg to don her rosary once again.
Ilana's always been a lackluster employee at Deals Deals Deals — why was the decision made to let her go now? 
Part of the reason was because we felt it was more realistic for people in their 20s to have a bunch of different jobs. So by having her no longer work at DDD, we open ourselves up to more fun in the future. Also, Ilana was a shit employee and deserved to be fired.
Who first had the idea that Ilana's former co-workers would celebrate her firing with a Sister Act 2 reenactment?
I don't know 100 percent where the idea originated, but I want to say Naomi Ekperigin pitched Sister Act 2. I believe we were just pitching what was the most jubilant song of all time, and "Joyful, Joyful" is pretty joyful as far as joyful songs go.
Was Whoopi Goldberg a Broad City viewer?   
She's a fan of the show! I think she said she had a Bevers in her life back in her 20s. Damn. I'd love to see a show based on Whoopi's life in her 20s, maybe her and her family. Maybe it could be called The Goldbergs? It was really trippy having Whoopi walk around set in the habit. It was a hot day, so it almost felt like a fever dream. But it also kind of felt like she had always been there, you know?
What was the biggest challenge when it came to pulling off that scene? 
We didn't have a ton of time to choreograph and block the scene, so for me the biggest challenge was getting enough coverage to make it a dynamic scene in the edit. I know Vulture readers get really excited to read about coverage and blocking — so happy to give them what they truly want.
If it were solely up to you, what profession would you like to see Ilana attempt next, and why?
What a gorgeous question. Knicks head coach? Feel like we could write some fun locker-room scenes.