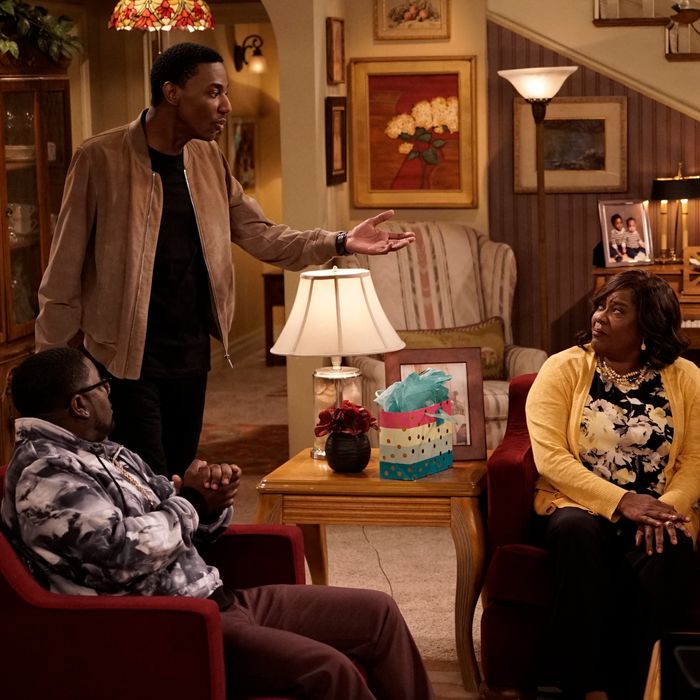 "This is his farewell tour," says Jerrod Carmichael, the title character (and off-screen creator) of The Carmichael Show, urging his girlfriend to join him at a Bill Cosby show. "Who knows how long he's gonna be alive. Or free."
Sunday night's installment of Jerrod Carmichael's comedy series, which returned for a second season Wednesday, deals not just with the Cosby rape allegations, but with the audience's ethical responsibility toward the art and entertainment it consumes. It is the second major network sitcom episode in two weeks to weave a blunt, Norman Lear-style discussion of current events into its storyline. The other was the February 25 episode of Black-ish (which does this kind of thing regularly, though rarely with as much force). Louis C.K.'s download-only sitcom Horace and Pete works in the same vein. If you want sitcoms that are directly connected to life, it's a good time to be watching TV.
To its credit, the Carmichael episode doesn't take an either-or stance, nor does it devolve into a shouting match. It keeps the discussion low-key, and it recognizes that the further away you get from the matter at hand — whether to stop watching and listening to anything the accused rapist Cosby has been associated with — the harder it becomes to strike a definitive pose.

"You would have to knock me unconscious to get me to see Bill Cosby," says the hero's girlfriend Maxine (Amber Stevens West). That eventually becomes the consensus of most of the show's major characters — how could it be otherwise, with upwards of 50 women accusing the comedian of sexual assault? — but it's not the be-all and end-all on the topic generally. The Carmichael Show does plenty to complicate the discussion, citing Cosby's pioneering status as an African-American entertainer (I didn't know Nelson Mandela watched The Cosby Show while in prison!), and bringing in Woody Allen, Michael Jackson, and other problematic or disgraced entertainers.

The point is not to shut anybody down, but to get everybody to climb down off their high horses for a minute, and think about why they believe what they say they believe, and whether they are cutting some entertainers breaks while giving others the consumers' version of the death penalty.

Carmichael's character, Jerrod, isn't wrong to point out that his girlfriend paid to see Allen's Blue Jasmine in a theater at the height of the molestation allegations (she responds by pledging never to pay to see another Allen movie if Jerrod declines to see Cosby perform). Nor is the series wrong to point out that every ticket to a Mark Wahlberg film represents an investment in a man who committed violent, possibly bias-driven crimes as a teenager. Michael Jackson was accused of multiple incidents of child molestation, but we listen to his music; is this okay because he's dead? When Bill Cosby finally dies, will it be okay to watch The Cosby Show again?
"Talent trumps morals," the hero declares early in the episode, but he becomes less sure of himself with time. The only conclusion anyone can come to is that we all have to make these decisions for ourselves, and on our own terms, and that the fact that nobody's reasoning is perfect shouldn't dissuade us from reasoning.