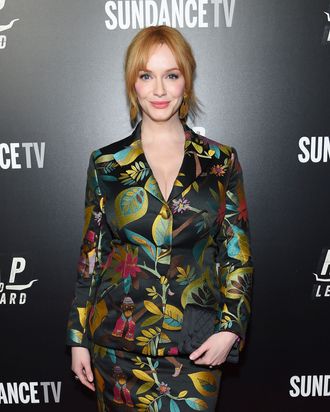 Photo: Michael Loccisano/Getty Images
After Mad Men, Christina Hendricks jumped right into another period piece, called, fittingly, Another Period (Comedy Central). She's back at it as femme fatale Trudy in pulpy '80s crime drama Hap and Leonard, premiering March 2 on the SundanceTV. At the show's premiere party, Hendricks took a moment to tell Vulture what drew her to the role and how she perfected that Southern accent.
How hard was it to find a series to follow up a phenomenon like Mad Men?
As soon as we wrapped, I went right into doing Another Period. I guess it was a palate cleanser, and I was such a huge fan of [creators and co-stars] Natasha Leggero and Riki Lindhome that it was a no-brainer. I was also like, "I would love to be distracted and not sit around and think about how I'm not on Mad Men anymore." But after Another Period, I had every intention of taking a break, and my manager sent me Hap and Leonard and said, "I know you want a break, but just read this." I did, and I wanted to play Trudy so bad. I couldn't deny it. I didn't want someone else to get to do it. I wanted to do it. I didn't have some big plan or grand, mapped-out situation. I got it, I loved it, I wanted to do it, and so I did.
What did you respond to so strongly about Trudy?
When I read a script and the character jumps off the page and jumps into me in a way that I feel like I can contribute, that I can have a voice in it — I can always tell because I start acting it out in my head, instead of trying to fix it. It just comes so naturally. She was so well-written and such an unusual character. She's playful and sassy, but in a different way than the characters that I've been playing recently that I was excited by her.
Trudy lures her ex-boyfriend Hap (James Purefoy) into a dangerous scheme over the objections of his best friend Leonard (Michael K. Williams). Is she trustworthy or trouble?
Oh, she is so not trustworthy!
You were born in Knoxville, Tennessee, moved to Twin Falls, Idaho, then went to high school in Fairfax, Virginia. Did Hap and Leonard reconnect you to your Southern roots?
This environment is so unlike my Northern Virginia experience. I have a lot of relatives in Georgia, although that accent is very different. I always consider myself as having family from the South. I did work really hard on Trudy's accent. I wanted it to be specific to the area, so I had to make sure to not listen to my relatives in my head. I didn't want to just copy my grandma or my aunt. I had so much fun doing it, I probably took about two weeks to shake it when I got home. My husband [Madam Secretary's Geoffrey Arend] said, "You know you don't actually talk like that, right?"