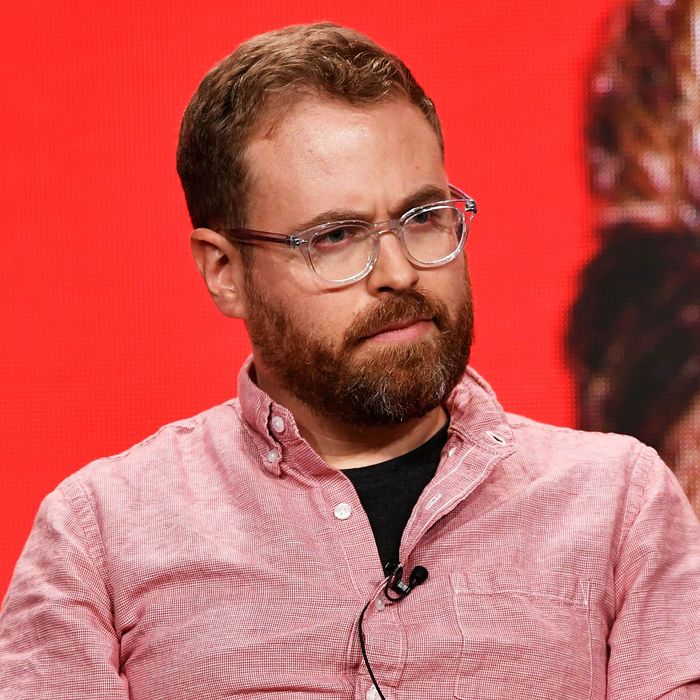 Sam Reich.
Photo: Rob Latour/Variety/Shutterstock
The Big Breakfast studios — CollegeHumor's production company that opened shop in Los Angeles two years ago — currently sit opposite of a zombie Tower Records store in West Hollywood. The front of the store was restored last year in order to promote the documentary All Things Must Pass, but the reality is that Tower Records went out of business almost a decade ago, and the marquee now only stands as a reminder that if you're not ahead of the market, you'll be out of it — you must adapt.
In an insanely fast-changing media landscape, where the line between internet and television seems to grow blurrier by the day, CollegeHumor is looking to use what has long been its strongest asset — its in-house staff of actors and writers — to tackle its own "adapt or die" moment. Sam Reich, the high school dropout turned President of Original Content at Big Breakfast, is attempting to create a fully integrated pipeline that shepherds its comedic writers and performers from web videos to TV shows and beyond.
It was two years ago this January that CollegeHumor announced they would be moving their production team from New York to L.A. and forming a new production company, Big Breakfast, under Reich. In that time, Reich has overseen the company's attempt to diversify their content, grow their young stars, and move internet comedies off of the internet.
Because whether the internet is the future of TV or not, Reich knows that TV is still where the money and eyeballs are. He wants to see the same people he hired for Big Breakfast to still be working there when they break out for that television audience.
"I've always said that the dream is that someone could start out here as an intern and end up with their own TV show," says Reich from his office at Big Breakfast. "That's what I would love. And we're pretty close — Murph [Brian Murphy, MTV's Middle of the Night Show] was the front desk guy. Apart from it being emotionally gratifying, I think there's a lot of really good talent that goes unrecognized because they're not championed enough."
And now the people Reich has been championing over the last two years are beginning to make the crossover to television without having to leave the company.
Their truTV show Adam Ruins Everything with Adam Conover, based on their web series of the same name, was just picked up a 14-episode second season. They're also in the process of shooting another pilot for truTV, No Dumb Questions starring Emily Axford, another show based on a video made at their studios. Next, Big Breakfast is debuting a new series on the YouTube Red subscription service called Bad Internet, a Black Mirror-style anthology series featuring the entire Big Breakfast acting and writing staff with cameos by established TV comedy stars and YouTube personalities.
Reich is also executive producing Time Traveling Bong, a Comedy Central miniseries starring Ilana Glazer and Paul Downs, and while that will give him more experience as an EP on a cable broadcast show, it's also another example of how internet shorts are continuing to translate to longform television; Time Traveling Bong is based on a short shot for CollegeHumor in 2012.
If more of these types of shorts can blossom into longform shows for broadcast, and if those shows are successful, then it will give more opportunities for the likes of Conover, Axford, and Murphy to become the next big names in comedy.
Reich believes that is possible at Big Breakfast because it's a formula they've been trying to resolve for quite some time. "I think it's a lot easier to build out and up than it is to build down and in. We have an experimental club," says Reich. "We've had this roux going, this soup in the cauldron, for a decade. We had a special company sauce that you can't replicate. You need to put in a decade."
For Reich, that decade started in 2006 when he was hired to make original content for CollegeHumor because he was making internet shorts before every high schooler had a VLOG.
"We were some of the first people making videos on the internet," says Reich of his comedy sketch group Dutch West. "It was like us, Whitest Kids U Know, Homestar Runner, and Olde English. We were posting Quicktime files and people were downloading them. We submitted some stuff to CollegeHumor and they were like, 'We really like this. We'd like to have a relationship.'"
Soon after that, Reich found himself working as the sole member of the original content team at CollegeHumor. "Three months later, I had a producer. We were a party of two for a while and we were going against Super Deluxe [TBS], This Just In [HBO], and Dot Comedy [NBC]."
He then built up the first editorial staff dedicated to creating original web videos for CollegeHumor — the beginning of that "roux." By both hiring people directly into editorial and bringing over people from other jobs within CH, he built a team that has since gone on to write for some of the biggest comedies on TV. Sarah Schneider and Streeter Seidell went to SNL, while Patrick Cassels is now at Full Frontal with Samantha Bee. Dan Gurewitch is working on Last Week Tonight with John Oliver, Owen Parsons went on to The Daily Show, and David Young went to The Tonight Show. Jake Hurwitz and Amir Blumenfeld of Jake and Amir launched their own podcast network, Headgum, and have a new series coming soon to Vimeo.
Some others hired later on include Ben Joseph (went on to write for The Simpsons and Jack and Triumph), Will Stephen (SNL), and Hallie Cantor (Inside Amy Schumer). That next generation also includes Conover, Axford, and Murphy, but Reich hopes their "next big credit" is with a Big Breakfast production, not for someone else.  "We live in an industry where people are trying to make as much money and content as possible, but there aren't a lot of companies doing this sort of incubation," he adds.
And he finds himself attempting this at a time when major media companies are once again trying their hand at internet/streaming comedy, much like they were in 2006. Seeso, NBCUniversal's streaming comedy service that will feature original comedy series like Bajillion Dollar Propertie$, launched earlier this year, and Super Deluxe is returning seven years after its short-lived run to produce short-form comedy videos for the internet.
But CollegeHumor isn't exactly a David to these Goliaths; Connected Ventures (the CollegeHumor umbrella company) was acquired by Barry Diller's media conglomerate IAC in 2006, meaning that Big Breakfast has plenty of resources to produce videos and shows. But Reich isn't so much worried about being out-spent by these competitors as he is about providing the best opportunities possible for his staff.
So for Big Breakfast, that means continuing to grow their YouTube channel that has over ten million subscribers, which helps them attract young talent that want to reach a large, established audience, developing them, and then giving them an opportunity to be on television with the company rather than having to "graduate" away from it.
That's why these next projects will be so important in proving that the model works, beginning with these two shows on truTV, and continuing with whatever other online videos may warrant a television or film product of its own.
With that, Reich hopes that Big Breakfast will one day represent how CollegeHumor adapted in order to stay alive during this time, both by maneuvering around Seeso, Super Deluxe, and whoever else jumps into streaming comedy this year, and by retaining their young talents who want to one day advance their careers away from it, because television and movies are still where the largest audiences exist.
On Reich's wall behind his desk sits a portrait of Hollywood underwater. A metaphor for what CollegeHumor is attempting to do to the Hollywood system? Maybe, maybe not, says Reich. He's really not looking to deconstruct Hollywood. It's more like he's trying to construct his own. A Hollywood for his own people.