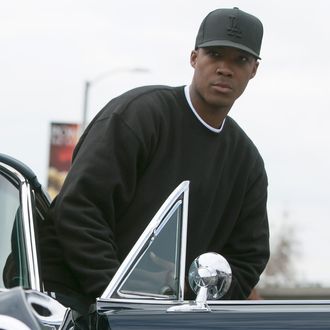 Oof.
Photo: Jaimie Trueblood/Universal Pictures
In the age of #OscarsSoWhite, the news that Universal whitewashed trailers of Straight Outta Compton on Facebook should come as no surprise, and yet, here we are. At a SXSW panel on Wednesday, Universal's EVP of digital marketing, Doug Neil, let industry-watchers in on a dirty little secret about why he thinks Compton was such a record-breaking success: They race-baited the film's trailers on Facebook. As Business Insider reports, non-black and non-Hispanic Facebook users saw trailers that featured not a word about N.W.A., but were instead re-cut to look like a biopic about how Ice Cube and Dr. Dre became present-day moguls. Minorities — particularly black people in Compton — got the accurate trailer.
Neil says the thinking was that the "general population" might not know who N.W.A. were, or that Dr. Dre and Ice Cube were rappers because, haha, white people don't know hip-hop. "They connected to Ice Cube as an actor and Dr. Dre as the face of Beats," Neil explained. It's an excuse that would only be plausible if we weren't talking about one of the biggest rap groups in history, who are being inducted into the Rock and Roll Hall of Fame (one of the whitest institutions in music) next month — or the hugely successful solo careers of both Dre and Cube. But sure, keep telling yourself there are people on this planet who only know Dr. Dre and Ice Cube for headphones and 21 Jump Street sequels. Whatever stereotype brings in the Benjamins.