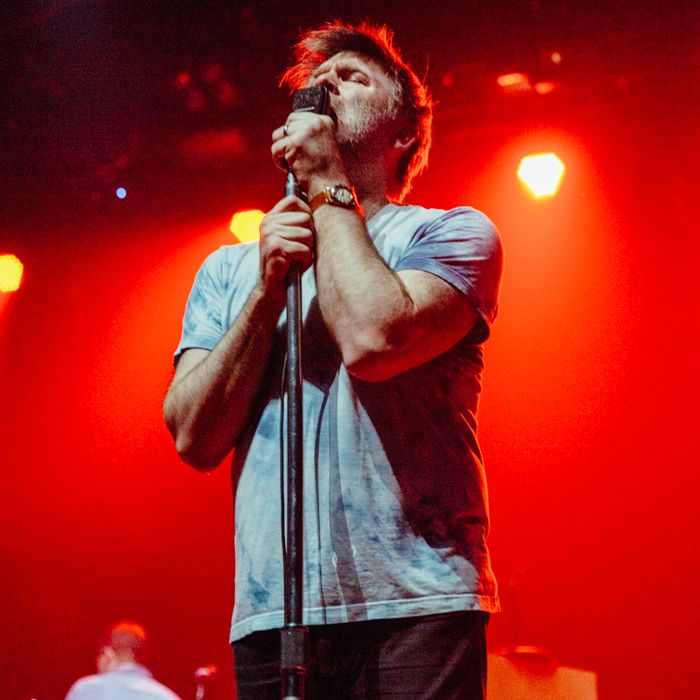 James Murphy at Webster Hall on March 27, 2016.
Photo: Nicole Fara Silver
When fans last caught a glimpse of LCD Soundsystem onstage, it was most likely through a veil of welled-up tears at the band's elegiac farewell show at Madison Square Garden on April 2, 2011. That highly acclaimed, three-hour-plus finale truly felt like the end of a cultural moment, replete with special guests (horn section, Reggie Watts, Arcade Fire), a balloon drop, and much verklemptitude among those present when the band closed things out with "New York, I Love You But You're Bringing Me Down," and then turned on the house lights.
That concert has been memorialized not just in the attendees' gray matter, but with a Last Waltz–like documentary (2012's Shut Up and Play the Hits) and a 2014 box set (The Long Goodbye) that put nails in LCD's proverbial coffin. The band had left us too soon — front man James Murphy moved on to his own signature coffee and a Williamsburg wine bar — but at least they had gone out at the top of their game, like Sandy Koufax or Dave Chappelle, and the five years since seemed like enough time for their followers to have made peace with their departure. LCD seemed, for all intents and purposes, properly interred.
But F. Scott Fitzgerald's oft-cited maxim about there being no second acts in American lives was obviously uttered in a pre-Coachella world. Given the lucrative opportunities available to them, it should probably have come as no surprise when Murphy announced in January that LCD would be reuniting this year for a new record and tour — welcome news not only for those who had missed them dearly but also for those who had actually missed the opportunity to ever see them live.
Still, LCD's planned summer jaunt through the big-festival circuit (including Coachella, Bonnaroo, Lollapalooza, and the inaugural edition of AEG Live's Panorama at Randall's Island in late July) required the musical equivalent of spring training to shake off the rust and get the group back in playing shape, and so they kicked off their resurrection on Sunday night at Webster Hall with a show announced only last Thursday, just in time for all sorts of Easter puns. Posters for the gig (which were handed out to fans as they filed out at the end of the night) read "LCD Soundsystem Will Rise From the Dead" and featured a photo of the band staggering about like they were the latest participants in pop culture's ongoing zombie-apocalypse fixation. Indeed, what more appropriate time for the walking dead to reappear than Sunday evening?
 
It was shortly after 10 p.m. when LCD took the stage to the strains of gospel-house classic "Stand on the Word" by the Joubert Singers (who will make a concert comeback of their own at the Red Bull Music Academy Festival New York's "Last Night a DJ Saved My Soul" show in Brooklyn on May 22) and launched into "Get Innocuous!" This time around, the celebrity guests weren't in the wings but among the audience (including Aziz Ansari, Jonah Hill, Spike Jonze, and art dealer Jeffrey Deitch), and the air was tinged with much less melancholy than at their MSG funeral (unless you were one of the more than 30,000 entrants in last week's ticket lottery who didn't secure entry).
There was no new material covered (nor cover versions, like MSG's Alan Vega and Nilsson renditions), and Murphy readily acknowledged that a few of his lyrics had gotten a tad creaky with the passage of time. In "Daft Punk Is Playing at My House," he pointed out that "Pharrell is in the band now," while observing in "New York, I Love You But You're Bringing Me Down" that NYC's "mild billionaire mayor who's now convinced he's a king" is no longer in office. (We'll have to wait for the new album to hear Murphy's potential pithy take on the de Blasio era.)
 
But over the course of LCD's 15-song, two-hour set, it rapidly became apparent the old magic was back, and by the time Webster Hall's Death Star–size disco ball began refracting a thousand points of light during "Us v Them," the force was most definitely reawakened. Sure, there were hiccups — a computer crash scuttled the night's second song, "I Can Change," and a false start on another tune led keyboardist Nancy Whang to quip "That's why they call these 'warm-up' shows" — but aside from those glitches, the band was in exceptionally efficient form, especially given a half-decade layoff.
When Murphy sang the opening line of "Tribulations" — "Everybody makes mistakes" — it sounded like an admission that perhaps he had stepped away from the spotlight much earlier than he should have. Revolving around Murphy, LCD's live incarnation has always sort of been a Traveling Wilburys of techno-pop, an all-star group culled from the roster of the DFA record label and its extended family (including Hot Chip guitarist Al Doyle; Crystal Ark synth wizard Gavin Russom and his occasional Ark collaborators bassist Tyler Pope and keyboardist Matt Thornley; plus drummer Pat Mahoney, now of Museum of Love; and Whang, of Juan MacLean). But those who can accurately recall their sweet but shambolic sets at early 2000s gigs at Warsaw and Bowery Ballroom would be astonished at how fine-tuned and ferocious a live band they've become. In fact, the real revelation of the evening was how big and epic the old songs now sounded. By the time they tore through the encore's "Dance Yrself Clean" with feral intensity, they seemed revved up and totally ready for the big lawns and muddy fields to come.