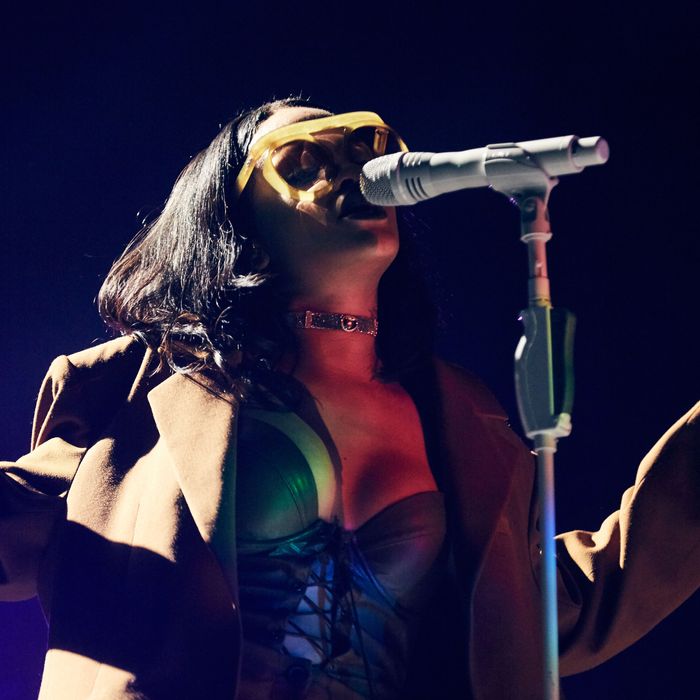 Rihanna, working.
Photo: Dennis Leupold
There's a line on Rihanna's 2007 megahit "Umbrella" that, performed nearly a decade later at the first of two Anti World Tour stops at the Barclays Center on Sunday night, reveals a plan long set in motion. "Told you I'll be here forever," she prophesies on its chorus, delivering it now less like a promise than a conviction. That song, one of her many No. 1 hits — she has the third-most in Billboard history, surpassing even Michael Jackson — doesn't come until the tour's third act. At that point in the show, she's already onto her third dystopian-chic look of the night and ticked off two of the seven No. 1s she's decided on for the seventh tour of her career. As she plows straight into an Anti favorite, the vagabondish "Desperado" — guitar solo and all — the sold-out crowd can feel it: She's just clearing her throat.
Prior to Anti, her best-reviewed album to date, Rihanna had been written off as pop star first, singer last. That was the overwhelming complaint, at least, from her haters, critics and music fans alike. But it's hard to build a decade-plus career on a foundation of mediocrity; especially not in Divadom, a realm Rihanna has begun marching into one thigh-high Giuseppe Zanotti heel at a time. She opens her tour in peak DGAF form: Strutting in from the rear of the arena like a heavyweight champ entering the ring to defend a title — her face completely hidden by a white floor-length hooded coat — not to one of her dance-floor bombs, but to her best ballad, "Stay." For many, that song and its unveiling on SNL was the first inkling that Rihanna had been holding back, vocally, all along.
It's a fitting song to introduce the world to her anti-everything era, one that spits in the face of every slight against her talent. In this moment, all those tired critiques are literally beneath her as she walks up the stairs to a giant white platform amid a sea of fans, like Kanye on his Yeezus mountaintop. There's a lone spotlight on RiRi and the microphone stand she'll own all night. It's the first of many statements Rihanna attempts to make on this tour (some more successful than others) before her victory lap comes to a close roughly an hour and a half later.
The entire show is, in many respects, an extended eye roll (often literally) at anyone who's tried to discredit her since "Pon De Replay." You want her to do more than stand there and body roll to a prerecorded track? Then she'll twist and twerk her famous figure on a moving catwalk that floats high above the audience to the larger, even whiter main stage — and still hit most of the notes on her cocksure Anti deluxe track "Sex With Me" and the demonic "Woo," which features her ever-rowdy tour opener Travi$ Scott. Need her to prove she can get in Beyoncé-level formation with choreography that reaches for more than a slow wine? Bitch, she'll vogue. Or at least she'll start to vogue, then hand off the real work to two professional vogue queens in bedazzled bodysuits, who'll death drop no less than ten times by the night's end. They're flanked by a trio of double-jointed freaks who perform a stomach-churning feat of bone-breaking. (It's all a page shamelessly taken out of FKA Twigs's book.) Were you expecting her to bruk it down? Even more, she'll big-up a fan waving the Barbados flag, shout out the rest of the Caribbean diaspora in the room, and then unleash a reggae remix of "Man Down" right into "Rude Boy" and, of course, "Work," slowing down only for brief sips of what probably isn't water.
At a time when divas twice her age are putting a bow on their legacies with a Las Vegas residency, Rihanna's rolling hers out prematurely, on the road around the world. Her entire set list is divided into her multiple transformative eras — including an EDM breakdown so perfectly executed it melts Calvin Harris's "How Deep Is Your Love" into "We Found Love," as if both songs were made for her — each section so carefully curated it plays like a highlight reel. At 28, Rihanna boasts so many hits she can pick and choose from wherever in her oeuvre and find a crowd-pleaser. She's peppered this tour with bonus tracks and featured verses on other people's songs, and doesn't even bother with an encore. Because what's the use in saving your biggest song for last when all your songs are your biggest songs?
The ubiquity and mass appeal of Rihanna has become such that now decade-defining singles, like "Umbrella," are an afterthought to her — just another song on the list she's obligated to "throw it back to." Toward the night's end, as she's saying her good-byes, she pauses to reflect on her career and life as it stands. She readily admits she's bored by the minutiae of touring and the spectacle of pop stardom, even noting that she doesn't care if you bought Anti or stole it. (Industry games are no fun when you've already beat them.) Sunday night, and for the last few years, really, Rihanna's more concerned that the world finally respects her work, because sometimes a fuck-all attitude gets boring, too. It's a point she beats into the crowd full of her Navy fandom — who came dressed like they were the main attraction — by closing out night one in Brooklyn with two of her most vocally challenging songs, "FourFiveSeconds" and "Love on the Brain." As she does, a jumbo-size shower curtain slowly oozes foam behind her, for no other reason than she's got to do things her own way, darling — whether or not you want to let her.