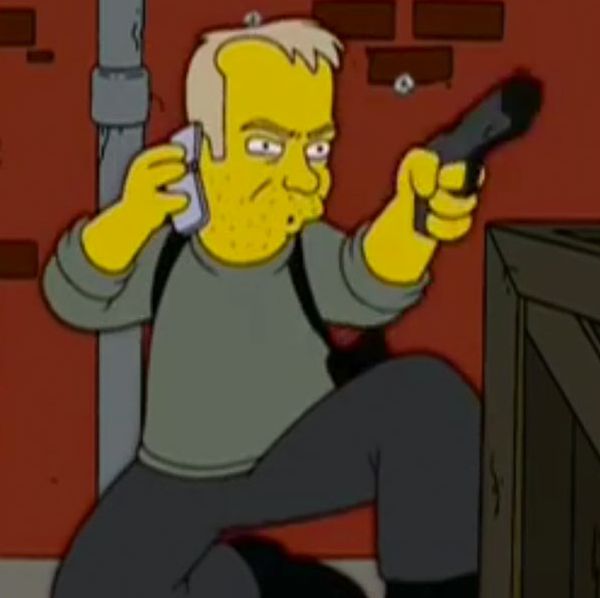 Bart Simpson meets Jack Bauer.
The upcoming Supergirl–The Flash crossover — taking place within tonight's episode of Supergirl — is attracting a lot of attention, and for good reason. Besides being nerd bait of the first order, it's the first time in years that shows on different networks have had their main characters mix and match (though it should be noted that CBS Corporation owns 50 percent of The CW). One of the last instances was Fox's Ally McBeal and ABC's The Practice — two shows that shared nothing more than a legal setting and creator–impresario David E. Kelley — which had a fairly disastrous interaction when they crossed over in 1997 (the goofy hijinks of McBeal and the more grisly crime stories of The Practice were two tastes that decidedly did not taste great together). But that's far from the oddest crossover in the history of TV. Ahead, we count the most noteworthy ones TV has seen, from NBC's elaborate blackout scheme to that time The X-Files turned into an episode of Cops (note: for our purposes here, we're not counting most guest appearances, like Lucy Ricardo meeting Superman actor George Reeves).
NBC's "Blackout Thursday" (1994)
When you're as dominant a ratings force in the world of sitcoms as NBC was for many years, you can do things other networks would rarely even try. Since 1991's "Hurricane Saturday" (a hurricane threatens the lives of the network's then-popular Florida-set sitcoms The Golden Girls, Empty Nest, and Nurses) had mined hilarity out of what others might see as, I don't know, a life-threatening natural disaster, they tried it again three years later with even greater success. "Blackout Thursday" found a screwball blunder by Mad About You's Jamie (Helen Hunt) blacking out New York City. The lights-out impact was felt on Friends (where Chandler got stuck in an ATM vestibule — or was it an atrium? — with supermodel Jill Goodacre), the barely remembered Dabney Coleman vehicle Madman of the People, and of course Mad, while lineup mate Seinfeld (despite having established a bunch of connections to Mad About You) ignored the whole thing.
ABC's TGIF "Time Ball" (1997)
While TGIF mainstays Family Matters, Full House, and Step by Step had crossed paths before, and Full House had intersected with an episode of Hangin' With Mr. Cooper, those don't hold a candle to this bizarre 1997 attempt at a crossover between unrelated shows Sabrina, the Teenage Witch, Boy Meets World, and two shows much further down the food chain, You Wish and Teen Angel. (One-season wonder Teen Angel is mainly notable to today's audience for Nightly Show host Larry Wilmore's "consulting producer" credit.) When Sabrina's cat, Salem, swallows a "time ball," the result is he bounces between the aforementioned shows, sending their plotlines into different eras.
Bart Simpson meets 24's Jack Bauer (2007)
The Simpsons has had no shortage of crossovers with other animated shows – Futurama, Family Guy, and The Critic, to name a few – but this quasi-crossover with live-action phenomenon 24, as part of the episode "24 Minutes," features a classic twist on Bart's prank calls to Moe's Tavern, with Mary Lynn Rajskub's Chloe O'Brian explaining to Kiefer Sutherland's Jack Bauer that "Ahmed Adoody" isn't a Saudi financier, but rather a joke by America's longest-tenured fourth-grader.
Batman and Robin meet the Green Hornet and Kato (1967)
It was no Supergirl meeting the Flash, but Green Hornet teaming up with Batman was an even bigger crossing of universes (Hornet had no connection at all to Batman's DC Comics roots). The two-part Batman episode showcased Hornet's stars (with Bruce Lee's Kato typically stealing the show), but the campy fun of Batman was too-little, too-late to boost the fortunes of the more-serious Green Hornet, whose last episode would air just weeks later.
Alf meets Gilligan's Island (1987)
Probably no show on this list took part in more crossovers — bizarrely, all of them after the show's cancellation — than Gilligan's Island, whose castaways would go on to meet Scooby-Doo and the cast of Baywatch. But no crossover was as dark as the 1987 episode of Alf, "The Ballad of Gilligan's Island," which featured Gilligan mainstays Bob Denver, Alan Hale, Dawn Wells, and Russell Johnson reprising their characters in a dream sequence in which they continued to be marooned on the island for more than 20 incredibly depressing years. (The only show with a longer gap between crossing over series was the 1995 Mad About You episode featuring Carl Reiner as his Dick Van Dyke Show character Alan Brady, who had last been on TV almost 30 years earlier.)
Law & Order meets Homicide: Life on the Street (1996)
Thanks to Richard Belzer's Homicide character John Munch having appeared in more than ten different TV series (including Arrested Development and The X-Files), the world of police procedurals can practically all claim to be interconnected. This early crossover — connecting a NYC subway explosion to a similar one in Homicide's Baltimore — was the first of three team-ups between the two shows. A fun bit of trivia: Law & Order actress Jill Hennessy's identical-twin sister doubled for her in scenes where her character was present, but had no lines, allowing the two shows to film simultaneously.
The X-Files meets Cops (2000)
This season-seven episode of The X-Files, "X-Cops," was penned by Vince Gilligan, who blended the tropes (as well as theme song, cast, and crewmembers) of the popular reality show Cops with a typical monster-of-the-week (this time out, a werewolf) installment of X-Files to great effect. The future Breaking Bad and Better Call Saul creator was at the top of his X-game here, using elements of one of his then-favorite shows to shake up the status quo in this episode where the events unfolded, like an episode of Cops, in real time.
Magnum, P.I. meets Murder, She Wrote (1986)
Mystery writer — and finder of lots of dead bodies — Jessica Fletcher (Angela Lansbury) leaving Cabot Cove, Maine, for a Hawaiian vacation is just enough premise for a two-part story that crossed her show with the almost-entirely dissimilar Magnum, P.I. Apart from both shows having mystery writers as part of their premise (Fletcher on Murder, reclusive Robin Masters on Magnum), this was a crossover that couldn't possibly work, if not for the considerable charm of the two series' leads.
The Jeffersons meet The Fresh Prince of Bel-Air (1995)
A late-season episode of Fresh Prince puts a quarreling Will (Will Smith) and his fiancée Lisa (Nia Long) face to face with Sherman Hemsley and Isabel Sanford in their roles from the 1970s hit The Jeffersons. If you ever wanted to see stars of the past make "your mama" jokes on network TV, this one's for you. The Jeffersons would also appear on Prince's series finale, along with Diff'rent Strokes stars Conrad Bain and Gary Coleman.
The Six Million Dollar Man teams with The Bionic Woman (1976)
Crossovers between The Six Million Dollar Man and The Bionic Woman weren't that unusual — after all, Woman was a spinoff of the more-established Man, and the two lead characters had an on-again, off-again romance — but their team-up in "The Return of Bigfoot" to fight Bigfoot, a.k.a. Sasquatch, a robot (played here by the Addams Family's Lurch, Ted Cassidy) built by aliens, was the stuff of eight-year-old fans' dreams.
St. Elsewhere visits Cheers (1985)
They were both set in Boston and both aired on NBC, but otherwise there was no good reason for hospital drama St. Elsewhere and sitcom Cheers to intersect, and the result was, well, distressing. As the super-serious doctors of Elsewhere visited a local bar, their interaction with the wisecracking world of Cheers only served to remind viewers that, in real life, going to that bar as an outsider would likely be a terrible experience. Additionally, as the St. Elsewhere finale would establish that show's entire continuity as being a child's especially vivid dream, that implies that the kid also dreamed up the entirety of Cheers, along with its spinoff Frasier. Someone get that kid a development deal.