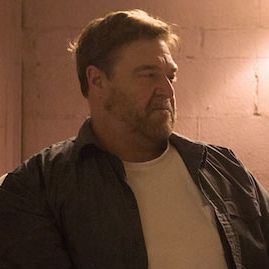 Photo: Michele K. Short/Paramount Pictures
Clever marketing made 10 Cloverfield Lane, the surprise movie no one knew about, into a hit this weekend. The movie, a pseudo-sequel to Cloverfield but which has very little, if anything, to do with Cloverfield other than the word "Cloverfield" and J.J. Abrams's involvement, made $25.2 million on a $15 million budget. It stars a very scary John Goodman as a sexist survivalist with an underground bunker and a very scared Mary Elizabeth Winstead as a woman held captive. Zootopia, which does not star John Goodman as a scary survivalist but does have a lovely anti-bigotry theme, added another $50 million to its now-$142.6 million haul domestically, $431.3 million globally. Deadpool keeps killing it, making $10.8 million in its fifth week, on a $58 million budget; it just beat out the xenophobic London Has Fallen, which made $10.6 million, for a $38.8 million two-week total.
Sacha Baron Cohen's Brothers Grimsby, which garnered considerable pre-release scuttlebutt for its depiction of demagogue Donald Trump getting AIDS through fairly outlandish means, did not do well, making $3.1 million, which is $.3 million less than The Young Messiah made on 500 fewer screens. On the indie side, Kelly Reichardt's sublime 1994 feature film debut, River of Grass, which was re-released this weekend, made $3,370 on one screen.