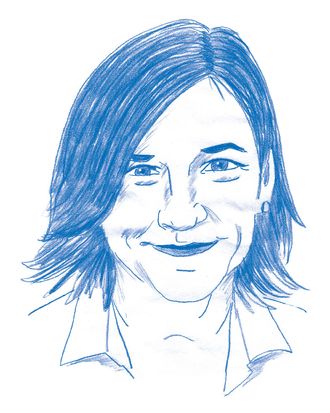 Cynthia D'Aprix Sweeney.
Illustration: QuickHoney
Younger debut novelists might consider a million-dollar advance an annunciation; 55-year-old Cynthia D'Aprix Sweeney, whose first book, The Nest, is out later this month, "just laughed — and drank a lot of whiskey." Like the four middle-aged New York siblings in her deftly braided novel, left rudderless after a trust fund evaporates, Sweeney has known highs and lows, ambition and compromise, Park Slope momhood and an empty L.A. nest. (Her husband, Mike Sweeney, is Conan O'Brien's head writer.) On a visit to New York in February, it was going to take more than burst pipes and freezing rain to ruin her homecoming.
Sweeney was in from L.A. for a week of meetings, and her former Prospect Heights neighbor, Times food writer Melissa Clark, had meant to gather friends for a house party stocked with sardines on focaccia and Turkish-pepper deviled eggs. But Clark's plumbing gave out in subzero temperatures, and the group repaired to nearby faux-rustic Flatbush Farm instead. Karen Rush, a recipe tester, smuggled in a couple of treats to supplement the bar menu; her husband, Esquire cocktail historian Dave Wondrich, was sadly liquorless.
"I guess you could call us the Brooklyn parenthood survival group," said Wondrich, who wore a long, wiry gray goatee. Back when Sweeney still lived here, their circle organized some of the neighborhood's best-provisioned playdates. "Dave would make drinks, and Karen likes to cook," Sweeney said, congratulating herself on her canny taste in friends: "among some of my greatest accomplishments." Coleen Cahill, an ad exec from Sweeney's former book club, sidled over to praise Sweeney in turn. "She was wildly popular as a Brooklyn mother" and a clutch player in their book group, Cahill said. Sweeney shrugged and sipped from her first Manhattan.
Before conquering brownstone Brooklyn, Sweeney grew up in Rochester — one of four siblings in a family that resembled the Plumbs in The Nest only in their occasional squabbles. "I wasn't exposed to actual wealth until I moved to New York," she said, apropos of the novel's upmarket locales — a tony suburb, the Grand Central Oyster Bar, an Italianate brownstone very much like the Sweeneys' old house. She worked her way through an upstate Catholic college and moved immediately to New York, besotted with Esquire and The New Yorker and the contemporary fiction she hoped to emulate. "I would have loved to go into publishing, but I would have had to have two jobs." So Sweeney, whose father was a marketing consultant, went into corporate communications.
"Fiction lived in this elevated place," Sweeney said. "All my friends were in finance or law or advertising." At one party, she met a lawyer who was quitting his job to become a stand-up comic. She was about to leave her own job as a corporate copywriter, contemplating fiction but "without a decent plan in place." She married Mike in 1991; four years later, he got a job writing for Late Night With Conan O'Brien. After halfheartedly trying to write, she went back to marketing, taking time off to be a mom. (The couple have two sons, 18 and 21.)
Looking out a brownstone window, Leo Plumb, the novel's overgrown enfant terrible, muses on Brooklyn's "quiet lives of aspiration." The Sweeneys moved there from the West Village in 1997, joining the gentrifying childbearers of the creative class. "Once I had kids, a much more creative world opened up to me," Sweeney said. After September 11, her employer went under, and she started writing seriously again, but the idea of measuring up to the other parents at the Berkeley Carroll School seemed ludicrous: "When you see [writers like] Elissa Schappell and Colin Harrison at pickup, you're just like, 'I can't tell them about my Mediabistro writing class.' "
Another subclass of Brooklynite fueled the novel: the trust-fund listless. "There was always that confounding moment: You've got that house, and nobody works … I was fascinated by how unhappy some of those people were." The Nest's fiction-writing sibling, Bea Plumb, combines the two anxieties, financial and creative. Bea skyrocketed to fame years ago with a flashy story collection only to recede into blocked obscurity, returning the advance for a novel she couldn't finish. "Almost every editor I spoke to when the book was on submission said, 'I know who you modeled Bea on,' " said Sweeney, "and they were all different people, some of whom I'd never even heard of." She said she feels fortunate to have dodged the fate of the wunderkind: "I was spared my bad books."
Sweeney published a few light essays in the aughts but agonized over darker material until her friend Liza Powel, a Columbia M.F.A. grad who happens to be married to Conan O'Brien, suggested she write it as fiction. Around that time, she joined an online group of creative women, including would-be Transparent creator Jill Soloway. They were nice connections to have, in more than one sense: "It was like having a bunch of therapists who were smart, funny, female, and did not shy away from being prescriptive," Sweeney said. "It was 'empowering,' to use a slightly old-fashioned word."
When Conan moved west for The Tonight Show, the Sweeneys followed. "The first six months were really hard," she said. "We were all miserable, and I think that opens up possibilities." She gave herself a year to commit to writing, at the end of which she applied to Bennington's low-residency M.F.A. program. In her last year there, a teacher suggested turning one short story into a novel and ditching the others. By 2013, she had more than 100 pages of what would become The Nest. By the end of the following year, Ecco Press paid seven figures in a preempt deal.
Well into her second Manhattan at Flatbush Farm, Sweeney was matter-of-fact about her midlife renaissance. Bennington was simply "a shortcut: deadline, structure, community. You write that check, you get those things." With or without the M.F.A., she was determined to be so persistent that if she failed, "it's a failure of talent." Of course, reimagining your career "is an easier thing to do when you don't have two kids running around."
Asked about her success, her erstwhile neighbors began attesting to "inner confidence" before Sweeney cut them off. "We're not people who are flashily trying to get attention," she said. "Whatever props we get, it's just because we're diligent workers." She looked at her friend Katherine Schulten, who'd read multiple early drafts of The Nest. "This girl works so hard," Schulten said. "I love to tell the story of Cynthia to friends. You did not start writing fiction until you were in your mid-40s, right?" Sweeney nodded. "So that gives hope to the middle-aged everywhere, doesn't it?"
*This article appears in the March 7, 2016 issue of New York Magazine.