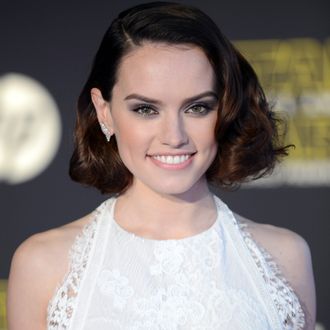 Photo: Albert L. Ortega/Getty Images
Because she's a decent person/Luke Skywalker's secret offspring, Daisy Ridley had a very sweet, extremely candid reason why she could not accept college student Kevin Carlock's musical invitation to his Davidson College formal, which went viral as these things do. As Ridley points out, she is currently locked in a years-old staring contest with her maybe-father in the outer reaches of space. God, their contacts must be so, so dry right now.
Perhaps more pertinently, Daisy Ridley is currently filming a movie. Sure, plenty of celebrities like Ronda Rousey have attended normal-people events after someone's ask went viral, but stars have stuff to do. If you expect Disney to pay to shut down production on Star Wars: Episode VIII for a few days so you can slow dance with Rey, Kevin, just be prepared for everyone in the world to sort of hate you. You can watch Kevin's invite below. It's clearly very heartfelt. Good luck next sequel, bud!