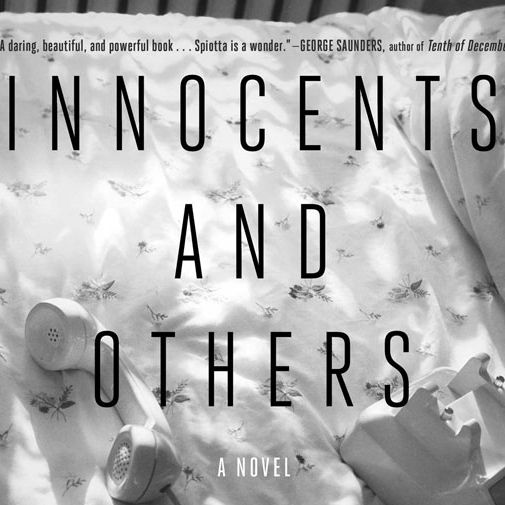 Dana Spiotta's fourth novel, Innocents and Others, tracks the life and career of Meadow Mori, a maker of experimental films that blur lines between the documentary and the fictional and enter into murky ethical territory. It's a measure of Spiotta's daring that her emphasis falls on her fictional artist's works more than on the little dramas that sometimes fuel her and, less often, distract her. (Meadow can be a bit cold to those close to her.) There's a tension inherent in this design: The novel that we're reading is in competition with the films that we're reading about — films that don't exist outside its pages. Part of the novel's circuitry is that we're told that the films aren't entirely successful, and just how they fail. What that means for the novel itself is another question.
Spiotta's 2001 debut, Lightning Field, was a trenchant study of frustrated lives on the fringes of Hollywood, told in a lyric prose that rendered spellbinding quotidian images like the soaking of a sugar cube in a cup of diner coffee. The prose of her next two novels was more restrained — with shorter, less sinuous, if no less lovely sentences — but each had a more elaborate narrative and historical framework. Eat the Document tracked members of the underground through the revolutionary '70s and their '90s afterlives ("A commune and a corporate community aren't all that different"). In Stone Arabia a sister observes her frustrated brother in middle age creating an elaborate false autobiography of his life as a rock star. All of these books are tales of people who conjure alternate selves to cope with the way popular culture, consumerism, and political upheavals render their real identities inadequate. It's a theme tackled head-on in Innocents and Others, when an artist whose business it is to render other people's alternate selves meets a woman who might be her ideal subject. The new book dispenses almost entirely with narrative niceties (which might get in the way of that big idea), and its shifting points of view, conspicuous elisions, and false leads heighten the stakes.
Meadow Mori, like many of Spiotta's characters, is a native of Los Angeles with familial ties to the film industry. (Spiotta's family moved to L.A. when she was 13, and her father ran Francis Ford Coppola's studio Zoetrope.) Meadow is the sort of high-school student whose class projects tend toward elaborate homages to Orson Welles and Andy Warhol. Welles is one of her abiding obsessions, and the novel's opening section is a straight-faced faux memoir of an affair she had with him as a 17-year-old. "Fanfiction," one of her students later calls it: Her Welles recites Shakespeare, has a perfect memory, does magic tricks, and writes her love letters he leaves in the books she's reading, until the day he croaks. Meadow is given to self-mythologizing and pursuing the fulfillment of others' myths. After high school, in the mid-1980s, she moves to Gloversville, New York — a real town, northwest of Albany — and sets up in a warehouse she calls Volta Cinematograph, after a failed movie theater James Joyce founded in Dublin; Meadow fancies herself following in the footsteps of Nicholas Ray, who formed a collective with his students upstate after he was abandoned by Hollywood in the 1970s. The region is also the ancestral home of the Fonda clan. (Innocents and Others spills over with film trivia; "thank you to the internet for always being there for me," Spiotta writes in her acknowledgments, somewhat giving away the game.) It's in Gloversville that Meadow's progress begins, with attempts to make a film about trains.
When the train film goes nowhere new, she turns her camera on her boyfriend, an oversexed androgynous local teenager nicknamed Deke. "I do fuck all the girls I can," Deke says in a transcript of their interview. He also tells of being picked up by a middle-aged man, whom he then assaults and leaves bleeding by his car. "His poor stupid face. Like I think about him sometimes and I fucking hit my head to make it go away, I am so ashamed." On-camera, he's drunk on whiskey and in tears, and Meadow cuts the film so that he's seen sober, watching her edit the footage, "what the Maysles brothers did to Mick Jagger in Gimme Shelter." With the help of her high-school friend Carrie, now a film student at NYU, she places Portrait of Deke in festivals and wins a couple of prizes. Meadow's career is launched.
By this point a separate narrative strand has been creeping in that will soon join with Meadow's. Jelly is a "phone phreak" who makes calls to powerful men in the entertainment industry and cultivates intimate relationships with them that never carry over into face-to-face encounters. Meadow will later make a film about Jelly and one of her interlocutors, Jack, producer of soundtracks for Robert Altman. As Spiotta acknowledges, she took inspiration for this "proto-catfishing" strand of the novel from Bryan Burrough's 1999 Vanity Fair account of "Miranda Grosvenor," a Louisiana woman actually named Whitney Walton, who cultivated similar phone relationships with Buck Henry, Billy Joel, Quincy Jones, the journalist Alexander Cockburn, and the record producer Richard Perry, among many alleged others. Walton herself, who with photos and other frauds led the men to believe she was a leggy blonde Tulane student and a model (the few who met her would learn otherwise), was at one point under contract to write a memoir of her phreaking, but the book was eventually canceled. Though Burrough found Walton in Baton Rouge, his account relies largely on Henry's, Perry's, and Joel's testimony. With the exception of some quotations of flowery letters, her voice was missing.
In fictionalizing this story, Spiotta takes a different tack: Instead of ventriloquizing, she theorizes. She's interested less in talking as a means of seduction than in the act of listening and the medium of the telephone. Most people listen with the intent of forming a response, but not Jelly:
Jelly had a different purpose in listening to anything or anyone. It had something to do with submission, and it had something to do with sympathy. She would lie back and cut off all distraction. The phone was built for this. It had no visual component, no tactile component, no person with hopeful or embarrassed face to read, no scent wafting, no acid collection in the mouth. Just vibrations, long and short waves, and to clutch it with your own thoughts was just wrong. A distinct resistance to potential. A lack of love, really. Because what is love, if not listening, as uninflected—as uncontained—as possible.
Spiotta gives Jelly — who calls herself Nicole on the phone but whose real name is Amy — an intriguing and sympathetic backstory. A resident of Syracuse, she suffers from impaired sight in her early 20s and at a support group meets a blind man named Oz who introduces her to phone phreaking, and explains to her the intricacies of Ma Bell. (Oz's thing is mechanical tones.) Jelly gets a job at a call center and there perfects her skills at cultivating her relationships with unseen strangers. When her vision comes back, she spends a lot of time at the movies. Thus her interest when a friend moves to Los Angeles, takes a job as a house-cleaner, and discovers a high-powered Rolodex.
Yet as plausible and well drawn as Spiotta's portrait of Jelly is — and she does well to skirt its scandalous potential — it's never quite as engaging as Meadow's own story. When the two vectors of the novel intersect, Meadow arranges the long-deferred meeting, on-camera, of Jelly and Jack, which can lead nowhere but to their mutual humiliation. Meadow comes to doubt her own motivations and methods. She comes under fire for another of her films, about the children of those disappeared by Pinochet's junta and their adoptive parents (the perpetrators of the crimes against their birth parents). Her relationship with Carrie, a friend who's stuck by Meadow despite her little acts of neglect, and, meanwhile, found her own success as a pop filmmaker, comes under increasing strain. Carrie helps Meadow undertake a project about a mother accused of an act of arson that took the lives of her child and abusive husband, but the material proves too combustible. All this leads to a crisis of conscience that causes her to put down her camera, perhaps for good.
Innocents and Others is an asymmetrical novel told in fragments, and frustrating readerly expectations is part of Spiotta's intentions (in this she's like her heroine). We often see Meadow through Carrie's eyes, as she wonders what's become of her friend and their friendship. Vain, selfish, amoral, pretentious — Meadow is at times all of these things; but it's no secret that those traits can be very useful to artists. And like Meadow's films, this novel has an essayistic quality. That it ends with an artist all but renouncing her art — a new self founded on notionally altruistic self-negation — is puzzling, but the lives of artists don't tend to be neat. Innocents and Others is Spiotta's strangest, darkest, and most mature work.