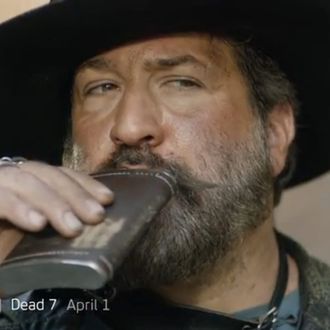 These zombies better quit playing games with your heart (i.e., eating it). Dead 7, an original movie for Syfy, follows a band of boys — composed of former members of the Backstreet Boys, 'N Sync, 98 Degrees, and O-Town — as they try to rid a small town of zombies in the postapocalyptic West. (Justin Timberlake pulled an Olsen twins on this one. Will everyone turn to the camera and make a joke about how he's not there because he's "doing really well in the music biz"?)
Dead 7 was produced by Nick Carter and production company the Asylum, which explains why Carter plays the lead. In addition to Nick, you'll see fellow Backstreeters A.J. McLean and Howie Dorough, 'N Sync alumni Joey Fatone (naturally) and Chris Kirkpatrick, 98 Degrees legend Jeff Timmons, and O-Town's Erik-Michael Estrada, Jacob Underwood, Trevor Penick, and Dan Miller (they got a lot of residents from O-Town).
Watch the trailer here; tune in to Syfy Friday, April 1, at 8 p.m. ET/PT; and then call it a day on April Fool's.