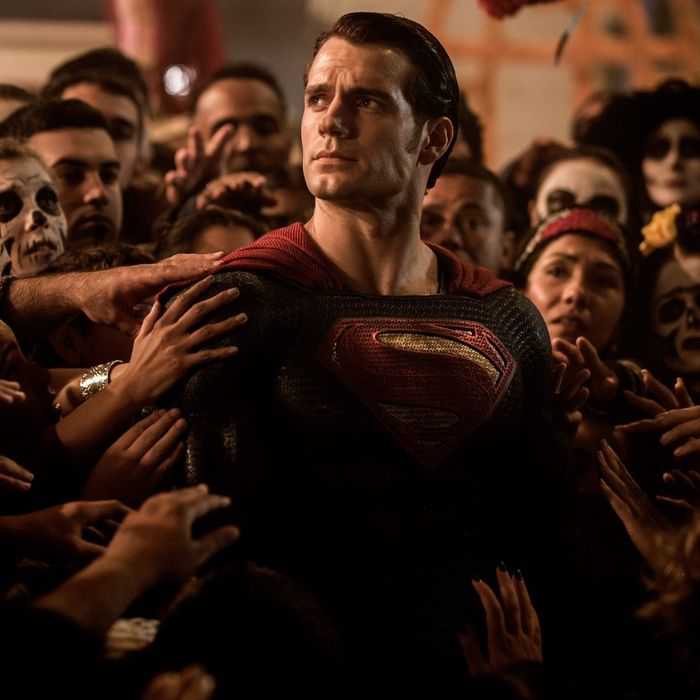 There are two unassailable facts about the release of Batman v Superman: Dawn of Justice. First: It's an undeniable hit, with the fourth-largest worldwide opening of all time. Second: Critics despised it, making it the first movie ever to open above $150 million with a Rotten Tomatoes score lower than 63 percent. (It's at 29 percent, which also makes it only the fifth movie ever to open above $100 million with an RT score below 30 percent.)*
The intersecting of these two narratives sparked a lot of "critics are obsolete!" talk on Twitter this weekend, with publications of note taking both sides, mostly to wager emotional arguments along the lines of "criticism is an art" and "people tweet now." But there's another complicating factor to take into account when assessing the reception of this film: Audiences didn't seem to like it much, either. According to CinemaScore, a company that polls moviegoers on opening night to determine their reactions, Batman v Superman scored a B. Critic Matt Singer pointed out that that's the same grade Green Lantern got, and nobody likes Green Lantern.
But … we all went to school. A B doesn't sound that bad. So what's the real story here? How should we view BvS's box-office numbers? Do critics really not matter? Does this mean that my freshman-year calculus grade was worse than I thought? Let's parse these one at a time.
THE BOX OFFICE
Make no mistake: BvS was not a failure. It's now the highest-opening March release of all time domestically, and, barring international revolt, it should have no trouble cruising past the $1 billion global mark.
But its opening does reinforce, for better or worse, a couple of phenomena that have taken hold of the movie industry. This might be the most potent manifestation yet of the proven concept that people will pay to see established, beloved properties onscreen. Batman and Superman are two of the best-known fictional characters in American popular culture, and Wonder Woman is of particular interest in a male-dominated superhero dynamic. Even if the title was all anyone knew about the movie — maybe especially if the title was all anyone knew about the movie — that would be enough for many casual fans and fanboys.
Additionally, the film is a strong example of what I like to call the Cinema of Obligation, an idea that goes like this: Most of the major blockbusters released by studios nowadays are part of some universe, franchise, or greater architecture, with all these films intertwined, sometimes subtly, sometimes essentially. And because of the internet's first-responder status, the rate at which these films pollute the media atmosphere is nearly instantaneous. Both of these phenomena, then, encourage fast and furious moviegoing for anyone invested in either mainstream cinema or the individual comic-book universes that each release fits into, because to miss any one means that you'll be out of the loop, and to not see it on the first weekend means you're at great risk of spoilers, that most reviled of cultural tropes.
You can see this in the openings, which are coming to represent more and more of a movie's theatrical run. But you can also see it in the tickets that get sold before opening night. Batman v Superman broke Fandango's pre-sale record, hinting that a larger-than-ever-before audience knew, for sure, that it wanted to see this film. Whether these viewers wanted to see it because they were excited or because they just felt obliged, they were going to see it, because if they didn't, they'd be left out.
Now, we'll see how long a tail this kind of film can have. Much has been made of the fact that BvS had the biggest Friday-to-Sunday drop of any superhero movie, but there are plenty of holes in this argument: Most important, it's absurd to compare a release that makes $82 million on Friday with one that earns half that, or even one-tenth. There just isn't the same size of audience left, and it shouldn't be held against the film that most of those eager to see it came out as soon as they could. Yes, Avengers: Age of Ultron had a much better hold at a similar level of Friday business, but The Dark Knight Rises, which had the second-worst Friday-to-Sunday drop, ended up making a smaller percentage of its money at the box office on opening weekend than Avengers did. Plus, it had an A CinemaScore, which means that it wasn't as if people were walking out and telling their friends not to see it. The reality is, this metric is measuring too small of a sample size, both in days and in films considered, to tell us much about the fate of BvS at the box office, especially because it doesn't take into account foreign markets — which will be the X factor anyway.
Batman v Superman had a nice opening weekend, and though there are warning signs at the box office, there's nothing that should keep Warner Bros. execs up at night. But what about in its reception?
THE CRITICS
As we consider the plight of the movie critic, those pre-sale numbers are important. They represented a group of people, a historically substantial group of people, who were willing to buy tickets to Batman v Superman before the metric of reviews and reception could be considered. Of course, an audience that decides it's going to see something before reviews even come out is going to be critic-proof; the choice has already been made.
Before we wade into the murky bog of whether critics are irrelevant or not, there's a point worth making. According to the popular imagination, critics have been waging a long war against superhero movies, the perceived bane of Cinema, a kneeling to the lowest common denominator. At least on a macro level, this isn't true. Recent superhero movies tend to be almost uniformly well reviewed: Every single one of the Marvel Cinematic Universe's releases have been certified fresh by Rotten Tomatoes.
Yes, superhero movies have missed the mark before, but often, it's just barely: Man of Steel managed 56 percent on Rotten Tomatoes, X-Men: The Last Stand scored 58 percent, and The Amazing Spider-Man 2 eked out 53 percent. X-Men Origins: Wolverine represents the bottom of the barrel, with a 38 percent rating, but they still made a second one, with another yet to come. It just isn't the case that critics are taking a widespread stance against superhero filmmaking, and the argument that these RT numbers are diluted by a bunch of internet fanboys doesn't really matter: Rotten Tomatoes is unquestionably the gold standard for how people, both industry- and lay-, determine whether a movie is well reviewed or not. This isn't to say that most critics are trumpeting these films for Best Picture, but they are validating their worth over and over, and with such little aberration that it stands to reason that viewers would stop looking to critics to make their decisions about whether or not to see the movies — particularly combined with that sense of obligation discussed earlier.
Could the critics have an effect on the long tail at the box office? Those people on the fence, who didn't want to deal with opening-weekend crowds? For sure, though much of the film's financial success has already been solidified, not to mention its status as a box-office hit. But Ben Affleck said that the fans are the real audience for BvS, not the critics. What if they didn't like it?
THE AUDIENCE
Batman v Superman got a B on CinemaScore! That's the same as Green Lantern! Egads! But wait: a B is … a B. Can't movies do a lot worse than that? What's the deal?
The industry loves CinemaScore, but it can be weird. If you look at the list of current releases, the movies graded as As are a strange group: 13 Hours, a disappointment at the box office; Eddie the Eagle, a disappointment; Deadpool, a runaway hit; Kung Fu Panda 3, a hit; Race, a so-so performer; and Zootopia, a runaway hit. Meanwhile, the sole A-plus belongs to Miracles From Heaven, and the worst-rated films in theaters are the Coen brothers' Hail, Caesar! and critical darling/low-key hit The Witch.
The thing to keep in mind with CinemaScore is that, because it polls those viewers who chose to go see the movie, it's basically measuring expectations. If the movie fulfilled the viewers' expectations and was what they came to see, it tends to score well; if it wasn't what they expected, it usually scores poorly. That's why two great movies like Hail, Caesar! and The Witch can get such bad ratings: Viewers go to the former expecting a George Clooney/Scarlett Johansson/Channing Tatum romp and they get a weirdo send-up of studio-system Hollywood; they go to the latter expecting a genre film and they get an art-house flick with dialogue from the 17th century.
A B isn't bad. It's not great, but it isn't bad. The Revenant had a B-plus, and it was a slow-burning smash. 10 Cloverfield Lane, a movie generally regarded as a critical and box-office success, scored a B-minus. But it is true that superhero movies don't tend to score so low, generally because audience expectations do get met. Among the other B CinemaScore superhero movies are Daredevil, Elektra, and Catwoman, not exactly a luminescent bunch. Man of Steel scored an A-minus. And the Avengers movies scored an A-plus and an A, respectively, with most of the other Marvel releases in the A-minus to A range, the lowest being Thor's B-plus.
What BvS scoring a B likely means is that viewers were a bit disappointed. They didn't hate the movie, but they also didn't love it, particularly considering how excited they probably were for it. That's in line with a Twitter poll Entertainment Weekly movies writer Anthony Breznican held, which received more than 3,500 votes and showed a plurality at three stars. (An equal percentage of respondents voted for four stars and two stars.)
SO WHAT?
So what, indeed. What this all seems to suggest is that, while Batman v Superman wasn't the universally despised disaster the internet would have you believe, it does have serious obstacles standing in its way moving forward. But Warner Bros.' fail-safe, as I mentioned, is the international market, where very few of these caveats apply — moviegoers abroad are operating with less information and fewer options than American consumers, making big-budget action films and familiar properties powerful trump cards. Based on returns so far, BvS looks like a billion-dollar movie, and if so, everyone goes home happy, with DC's universe plans to continue apace, though maybe with some adjustments for the domestic crowd. Let's not forget: Batman v Superman may feel like a culmination, but it's just the beginning. Just wait until the Justice League assembles.
*Those movies, since you're no doubt curious: Transformers: Age of Extinction; Transformers: Revenge of the Fallen; The Twilight Saga: Breaking Dawn – Part 1; The Twilight Saga: New Moon