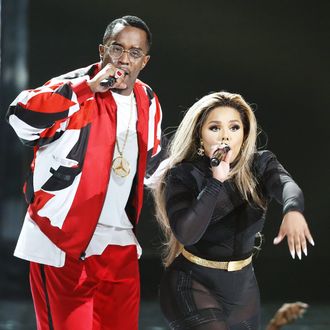 Aw, nostalgia.
Photo: Michael Tran/FilmMagic
In May, the Notorious B.I.G. would've turned 44 — an age not many people would go all out to celebrate, but this is Diddy we're talking about. Puff Daddy (the name he still goes by musically) has announced he's reuniting his Bad Boy family for one helluva star-studded concert on the day before Biggie's birthday, May 20. It'll go down in Biggie's backyard, at the Barclays Center, and will feature performances from Faith Evans (who has a collaborative album with her late husband, featuring his unreleased verses, out in September), Lil Kim, Mase, The Lox, Total, 112, Mario Winans, and French Montana. Jay Z and Mary J. Blige are also expected to make special appearances. And according to Diddy, this reunion will happen on a much grander scale than the one he staged at the 2015 BET Awards.
"This isn't just another concert — this is hip-hop history," Puff said in a press release about the event (words he's surely used for many, many others before it). But you have to wonder: Will the one-night-only special also feature the big man himself? Hologram USA — the Alki David-owned business that virtually resurrected Tupac — confirms that it has been in talks with reps for Biggie about making a Biggie hologram. Evans has said she'd ideally like a Biggie hologram to appear with her in a video for their upcoming collaborative album. But, uh, count on Diddy to override everyone's plans. Tickets for the reunion concert go on sale April 2.
Update: After the initial show sold out in minutes, Diddy has announced a second Bad Boy Family reunion show, slated for May 21 (Biggie's actual birthday) at Barclays. Tickets go on sale April 11 at 10 a.m. EST. As Diddy advises, don't play yourself this time.