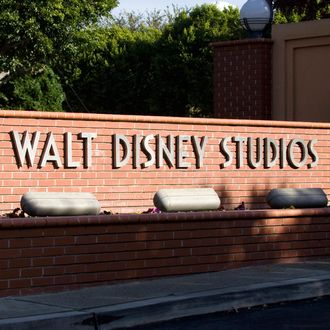 Disney headquarters.
Photo: Bloomberg Finance LP/Getty Images
Disney has been cozy with the government of Georgia in the past few years, but their relationship is going through a rough patch. A week ago, the state's general assembly voted in favor of new legislation preventing individuals from having to perform or attend same-sex marriages, as well as allowing faith-based groups to refuse social and other services if those services "violate such faith-based organization's sincerely held religious belief." It would also let those organizations refuse to employ people "whose religious beliefs or practices or lack of either are not in accord with the faith-based organization's sincerely held religious belief." The Disney-owned Marvel Studios, enticed by the state's generous tax breaks, has used Atlanta's Pinewood Studios to film Ant-Man, Captain America: Civil War, and Guardians of the Galaxy 2 — and they're none too happy about the bill.
Governor Nathan Deal has yet to sign the legislation into law, and Disney says they'd walk away from the state if he does. "Disney and Marvel are inclusive companies, and although we have had great experiences filming in Georgia, we will plan to take our business elsewhere should any legislation allowing discriminatory practices be signed into state law," a spokesman said today. A representative for Deal has said the governor will weigh his options during a review of the bill in April.
UPDATE: AMC, which films The Walking Dead in Georgia, has also voiced its opposition to the bill. "As a company, AMC Networks believes that discrimination of any kind is reprehensible," a spokesman said in a statement. "We applaud Governor Deal's leadership in resisting a previous version of this divisive legislation and urge him to reject the current version as well."