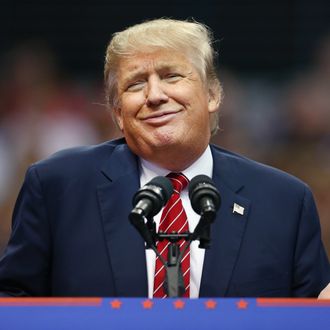 Donald Trump.
Photo: Tom Pennington/2015 Getty Images
Carter! The four celebs above made headlines this weekend for speaking out about the contentious Republican, but the former child star was the only one who waxed supportive. He told GQ on Saturday he finds Trump's campaign persona relatable. "I like what he's doing for taxes for the people. And I like what he's focused on. Like, let's worry about our deficit right now. And about our country. And about how we can actually make it great again," Carter said, in an attempt to explain a prior endorsement. "He's proving that sometimes you have to file for bankruptcy and rebuild." But Carter (who revealed he filed Chapter 7 bankruptcy because of childhood tax issues) clarified he doesn't support everything about Trump. The "Aaron's Party" singer doesn't agree with building walls, for example, and he added that "if Trump can't change some of his ways of thinking, then I'm just going to sit this one out."
Elsewhere in the music realm, John Legend took a more critical stand, calling the politician racist. The comment came in a Twitter exchange with Donald Trump Jr., tied to Friday's canceled Chicago rally. Trump's son had pointed out that some protesters who were interviewed afterward couldn't articulate what they were protesting, but Legend offered to clear that up:
And T.I. reiterated previous disapproval via Instagram. "I know u got plans for my people that are contrary to OUR BEST INTERESTS," the rapper wrote Sunday night. "I have a family, I have children, I have ancestors that I WILL NOT LET DOWN." The video had harsher words:
It was Johnny Depp, however, who got the most creative: The actor and Hollywood Vampire did a Trump impression at Arizona State University to illustrate his viewpoint. "There's something creative about him, in the sense of bullydom," Depp, who recently starred in a mock biopic about the business mogul, said Saturday. "But what he is, I believe, is a brat."
Despite this 3-1 roundup, Carter isn't alone. Jon Voight recently shared a glowing endorsement — and there are quite a few other pro-Trump celebs out there. Still, regarding political and pop-culture updates, Trump probably wants to tell this weekend to get outta here.