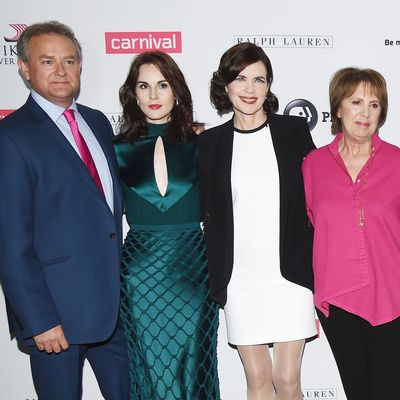 Photo: Kevin Winter/Getty Images
Downton Abbey came to a close in the U.S. Sunday night, but for its stars the show has been over for a good seven months. Where does one go careerwise after starring in one of the most popular television series of the past decade? Quite a lot of places outside the constraints of a Yorkshire country estate, it appears — read on and see for yourselves. (Note: We've only included actors whose characters appeared in every season. Sorry, Matthew and Sybil.)
Michelle Dockery (Mary Crawley)
Moving stateside, Dockery will be donning an American accent in TNT's upcoming drama series Good Behavior, where she plays "a con artist recently released from prison with a country twang and a lot of demons who … gets caught up in a hit man's plan to murder someone's wife." She recently wrapped production of an adaptation of the dramatic novel The Sense of an Ending and will soon be seen in a supporting role in Consider Yourself: The Lionel Bart Story, a biopic about the famous British composer and writer. Her fiancé sadly died of cancer late last year.
Laura Carmichael (Edith Crawley)
Carmichael is currently starring alongside Uzo Aduba in the well-received The Maids, a contemporary stage adaptation of Jean Genet's 1970s radical play, in London's West End. She has a supporting role alongside David Oyelowo and Rosamund Pike in the upcoming film A United Kingdom, about a scandalous interracial love affair between "Prince Seretse Khama, the heir to the throne of Botswana, [who] has fallen in love and married a young, white English girl." She'll be returning to British television as a leading role in Marcella, a "multi-layered noir thriller" set in contemporary London. A fun side-note — she's reportedly dating "downstairs" servant Andy Parker (actor Michael Fox) in real life.
Hugh Bonneville (Robert Crawley)
Besides showing up on Galavant every now and then as a pirate king, he'll be the leading man alongside Gillian Anderson in the historical drama Viceroy's House, which chronicles "the turbulent final days of British rule in India in 1947." He also appeared in a recent episode of the popular British miniseries The Hollow Crown as Humphrey, Duke of Gloucester.
Joanne Froggatt (Anna Bates)
Froggatt has a pretty packed 2016. She'll be back on television later this year in Masterpiece's two-part miniseries Dark Angel, where she'll play Victorian serial killer Mary Ann Cotton. She also has three films on the horizon — the romantic drama A Storm in the Stars, an adaptation of the dramatic yet feel-good novel A Street Cat Named Bob, and the relationship-drama Starfish.
Maggie Smith (Violet Crawley)
She has yet to announce her future acting plans or actually watch Downton (she's living her best life, okay?). So in the meantime, go watch The Lady in the Van, which netted her a Golden Globe-nomination last year.
Brendan Coyle (John Bates)
Coyle has a busy year ahead. He'll be starring as Augustine Birrell in the Irish biopic drama The Rising: 1916 (about the infamous Easter Rising Rebellion); the original romantic drama Me Before You; and an adaptation of Carol Shields's novel Unless, alongside Catherine Keener.
Allen Leech (Tom Branson)
Leech is playing a supporting role in the upcoming action-thriller Hunter's Prayer, which revolves around a hired assassin who bonds with his intended female target and helps avenge the death of her family. Outside the acting realm, you can hear his voice in the video game The Witcher 3: Wild Hunt.
Elizabeth McGovern (Cora Crawley)
McGovern is starring alongside Uzo Aduba and Adam Brody in Showing Roots, an indie drama about "two women who work in a local beauty parlor [who] see the town's balance turned upside down when the slavery miniseries Roots hits the airwaves and are inspired to integrate their community." It'll be out later this year. She's also in a toe-tappingly fun indie-rock band called Sadie and the Hotheads.
Rob James-Collier (Thomas Barrow)
Downton's favorite rapscallion most recently played the lead in the family-friendly holiday film A Christmas Star. Surprise, surprise, he played the baddie.
Sophie McShera (Daisy Mason)
She's happily singing and dancing on ABC's musical comedy Galavant, where she plays yet another servant. She also has a recurring role as a work-shy slacker on the British comedy series The Job Lot.
Jim Carter (Charles Carson)
Carter has been devoting his time to his charity, WandAid, which puts on theatrical events to raise funds for "communities impacted by natural disaster, political crisis, and disadvantage." He also has a damn fine head of hair.
Penelope Wilton (Isobel Crawley)
You can see Wilton as the Queen of England this July in Steven Spielberg's The BFG and in Brief Encounters, a British television drama about Ann Summers, seller of sex toys and lingerie. In a perfect world, there will also be a Third Best Exotic Marigold Hotel in our future.
Phyllis Logan (Elsie Hughes)
Like Smith, Logan hasn't solidified her post-Downton plans just yet, but to get your Mrs. Hughes fix you can watch her in a Bones episode from about a year ago.
Lesley Nicol (Beryl Patmore)
Nichol's currently lending her voice chops as the Fairy Godmother in the animated children's series Goldie & Bear (it's cute!). She also had a brief guest role on the CW's long-running Supernatural last year.
Kevin Doyle (Joseph Molesley)
Doyle joined the British crime drama Happy Valley for its second season, where he'll be playing a complex and flawed detective. It'll be available to stream on Netflix later this month.
David Robb (Dr. Clarkson)
He most recently portrayed Thomas Boleyn in the Golden Globe-winning miniseries Wolf Hall, adapted from Hilary Mantel's famed historical novels. His next film, Sacrifice, is a Shetland Islands-set murder-mystery and has wrapped production.
Samantha Bond (Rosamund Painswick)
Bond currently stars as one of the leads in another British period drama, Home Fires, which centers around rural Women's Institute members during World War II. A second season has been ordered.