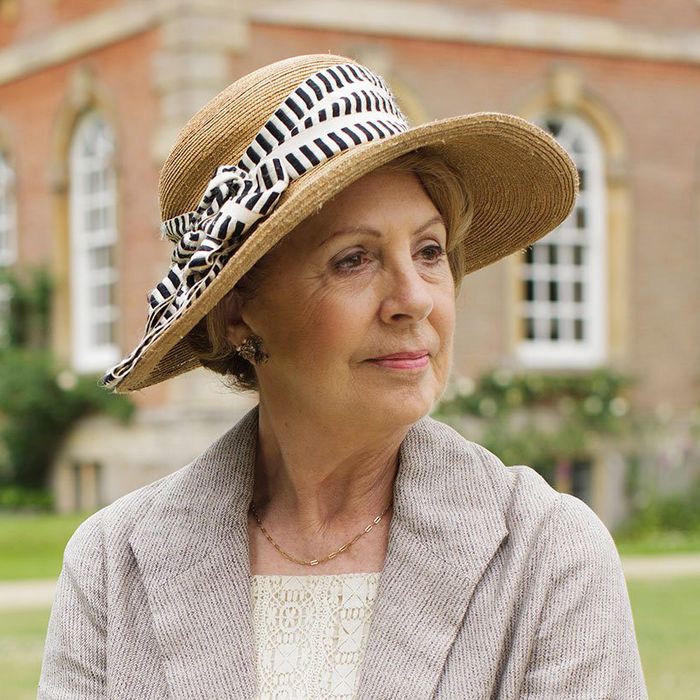 With all of the ill-fated romances peppered throughout Downton Abbey, it's sometimes easy to forget that a strong, relatable friendship has been sitting in front of us the entire time with Isobel and Violet Crawley. We've seen the pair spat over familial matters, drink customary afternoon tea, fight about the local hospital, and play relaxing games of cards. But through it all (and after an initial prickly reception) they've become close contemporaries who always have the other's back.
"Their relationship started on a pretty rocky basis because they were juggling new conditions," Penelope Wilton, who plays Isobel, told us over the phone from England last week. "Isobel was not a pushover, she didn't come from the same class, and she honestly didn't really want to be there. She came with certain prejudices about the upper classes, and Violet had similar prejudices about Isobel and where she came from. But over the time the series ran — we went from 1912 to 1925 — their relationship blossomed because of personal things that happened to both of them and the breakdown of those terribly vast 'class rules.'"
Wilton stresses that the friendship isn't such an odd pairing — the two are more alike than they seem. "They both were very strong personalities who would not be frightened of taking each other on," she says, adding, "They found each other when they were no longer running houses for themselves. They were older and independent with money and had their own lives. I think sometimes they were a little lonely. They enjoyed each other's company and the sparring that went on."
As for her own happily ever after, Wilton was pleased that Isobel ended up marrying Lord Merton in the finale, especially after a tumultuous courtship (and his near-death anemia scare). "He seemed to be a rather forward-looking man from Isobel's point of view, and he was honest and sweet. He just wanted to have companionship and love," she says. "He was truly, truly fond of her and loved her, and she grew to love him very much. I was very happy when they got together." And what might the future hold for the newlyweds? "I think she and Lord Merton will continue on, and they might travel. In reality, we're talking about 1925, so the Second World War didn't start for a few more years. There's a window there where they will really have a nice life together. I think it would've included Violet as well."
Now that's a spinoff we could get behind.
Downton Abbey airs on Masterpiece on PBS.