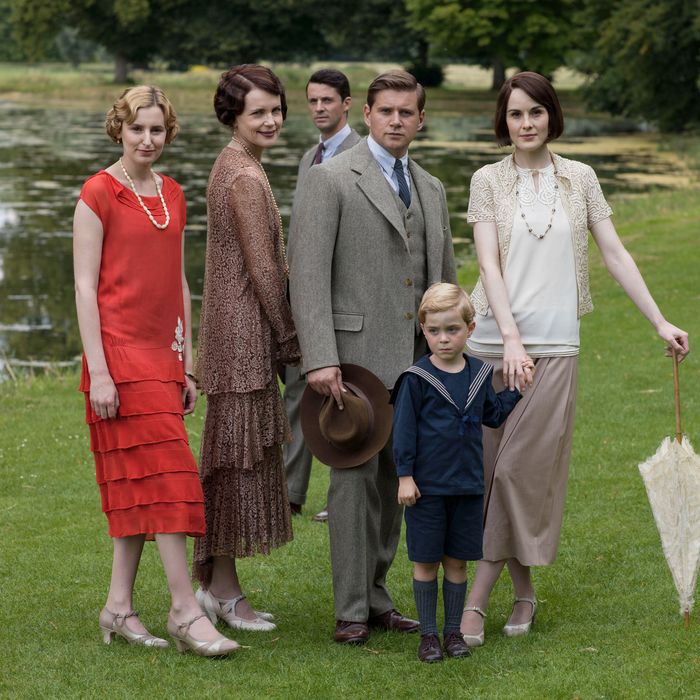 There's something about them …
Photo: Nick Briggs/Carnival Film & Television Limited
There's no question that within the context of the new golden age of TV, Downton Abbey, which ended its six-season run Sunday night, was a bit of an anomaly.
Its narrative did not center on a "difficult man" of the Tony Soprano, Don Draper, or Walter White variety. It didn't air on a cable network or stream on Netflix or Amazon. Its story lines were not edgy or Zeitgeist-y or ripped from the headlines, unless you've been reading websites where "Woman's maid attempts to make soup for the first time" counts as breaking news. This is a show with Masterpiece connections, a preponderance of lords and ladies, and a fixation on under-butler protocol. It starred a whole lot of very white people, none of whom could utter the word diaphragm but who frequently and enthusiastically used the term golly. It aired on PBS, for heaven's sake, long considered the stuffy old classics professor of TV networks. Yet it became a phenomenon, one too popular, acclaimed, and firmly entrenched in our popular culture to ignore.
Downton Abbey is not just the most-watched series in PBS's 45-year history; it was a widely watched series by any measure. The premiere of season six in January attracted 9.9 million viewers, an enviable number for most network series these days and one that comes close to or wildly surpasses the viewerships for recent event TV moments like the finales of Breaking Bad (10.3 million) and Mad Men (4.6 million).
The series has amassed a stunning array of Emmy nominations so far, including a Best Drama nod for every season it's been on the air, except for its first, when it was nominated and won in the Best Miniseries category. If the number of homages and parodies a TV show inspires are a reflection of its impact — and I would argue they are — you don't have to look far to see how much the ongoing saga of Carson & Co. mattered. It was name-checked on Parks and Recreation, 30 Rock, The Mindy Project, Brooklyn Nine-Nine, and How I Met Your Mother; satirized on Sesame Street, Saturday Night Live, Late Night With Jimmy Fallon, and an entire Comedy Central series, Another Period, whose existence was predicated on Downton Abbey's success; and referenced in major motion pictures like Iron Man 3 and Trainwreck. As the latter movie taught us, Downton was so big, even LeBron watched it.
But why? What was it about this show that gave it such cultural stickiness and kept so many tuning in, every January, for more than half a decade? When the future think-piece writers of America contemplate Downton Abbey's relationship to its time and place, I have no doubt they'll notice the fact that it debuted in 2010 in the U.K. and 2011 here in the U.S., when we were still slowly recovering from the global financial crisis that took root in 2007. It was an era when the public should have had the least possible interest in watching rich people deal with rich-people problems. Yet, via Downton, we did exactly that.
These weren't even wealthy people we could justifiably dislike. (There were exceptions to that rule, of course; for more on this, please report to the character named Larry Grey, and while you're there, please punch him in the face for me.) Lord and Lady Grantham, their family, and their social equals were sometimes clueless or foolish or drowning in so much white privilege that they turned moments of drama into comedy. But the show invited us to empathize with them to the same degree we were asked to empathize with the working-class characters who toiled away downstairs.
I don't think Schadenfreude was a motivating factor for most viewers either. Even though the series repeatedly reminded us that aristocratic British society was disintegrating and life at Downton was changing, it never felt like there was any palpable, immediate danger to the social order or the Crawleys' livelihood, nor does that danger seem to exist in the Downton future we won't get to see. As Robert said of the family estate in one of the more on-the-nose pieces of dialogue in the series finale: "We never know what's coming. Who does? But I'd say we have a good chance." There was no therapeutic delight to be found in watching Downton's one-percenters suffer because it never seemed like real suffering would come.
If anything, Downton Abbey enabled us to feel better about the 21st century's increasingly wide gap between rich and poor by watching how symbiotically rich and poor co-existed under one roof. With occasional exceptions, the series handled early 20th-century British society with the gentlest of white-gloved hands, making the working conditions for everyone at Downton challenging, but not as grueling or demeaning to the degree they probably were for many cooks, butlers, and lady's maids who lived and worked at the time. And while there was never any question that there was a difference in stature between, say, Mrs. Hughes and Lady Edith, the relationships across classes slowly morphed into emotional bonds between equals. Tom Branson's transformation illustrated that; so did the striking image in the finale of Anna Bates, postdelivery, tucked happily into the luxurious bed of the lady she served. It's possible that, at least on a subconscious level, watching Downton Abbey reinforced the pleasant but false notion that the divide between wealthy and wanting isn't necessarily so great, even if all those elaborate dinners and posh surroundings clearly said otherwise.
Downton Abbey's popularity may be explained more accurately in the way the series straddled another divide: the one between low brow and high. This was an unapologetically soapy soap opera, filled with behind-closed-door romantic entanglements, rampant blackmail, murder mysteries, betrayals, brides jilted at altars, and tragic, shocking deaths. But because it was British, and a period piece with meticulously realized production values, graced with fine acting, and riddled with instances of Dame Maggie Smith saying things that made you think, Damn, look how smart I am for totally understanding why that's funny, it also felt like a superb work of quality. If its plotlines sometimes descended to basement level, the overall experience of the show remained pure black tie and tails; even when its pleasures were basic, they were not guilty.
In many ways, Downton Abbey was ideal for the way we watch TV now, when viewers contain enough multitudes and DVR space to embrace both The Bachelor and Fargo. Our standards for quality television are higher than ever, but so are our desires to snarkily livetweet trash television. Downton allowed us to do both, within the same hour.
As many of my recaps over the past several seasons attest, it was often impossible to watch this show without poking fun at the absurdity and veddy Britishness of it all. But just when you were ready to unleash a hashtagged tirade about how stupid it is for Thomas and O'Brien to be plotting against each other because of some goddamned missing dress shirts, Thomas would exhibit some vulnerability. Or Joanne Froggatt, as Anna, would break down in tears over one of the innumerable injustices in her life. And suddenly you'd care about these characters to a degree that made Downton satisfying, rich, and — at least until Carson got his cummerbund in a twist about something idiotic again — immune to mockery.
Then again, maybe millions of people watched Downton Abbey so religiously for a simpler reason: because, even when TV is changing faster than the technology that forced Mrs. Patmore to use a toaster, there is always a place for things that are classic. Jane Austen novels will never go out of style. Neither will Masterpiece, an institution on PBS since 1971, or juicy prime-time dramas and British period pieces in which women wear bejeweled headbands that are just to die for.
Downton Abbey had the qualities of something classic, a family saga set in a specific time, and is therefore timeless. Even though this glorious, maddening, flawed, and spectacular series just ended its TV run, something tells me it will always maintain its appeal, that just like its wise old Dowager Countess, Downton Abbey will never die.