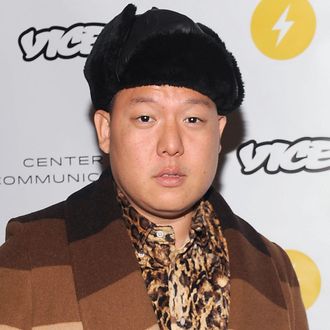 Eddie Huang.
Photo: Brad Barket/Getty Images
Chef/author Eddie Huang's 2013 memoir Fresh Off the Boat focused largely on his childhood in Washington, D.C., and Florida. His upcoming second book, Double Cup Love: On the Trail of Family, Food, and Broken Hearts in China, finds Huang on a quest to his ancestral homeland and falling in love in a bar in Brooklyn. The memoir tracks the author and restaurateur's journey to China with brothers Evan and Emery to find out how his food stacks up in the Chinese food scene. Enjoy an exclusive look at the cover of Double Cup Love below, the inspiration for which Huang describes to us as:
"I started imagining what it would look like if Grimace from McDonald's overdosed on Actavis but right before he fell out got stabbed by O.J. and then run over by an Uber Pool — or no, a Chevy Volt Lyft. Grimace would get bodied by a Chevy Volt Lyft and then mumble passages from the book with his last breath: words about epic love, race in America, the motherland, opiates, Fast Food Formalism, and a takedown of the sharing economy."
Sounds like a fun audiobook bonus feature. Double Cup Love will be released May 31.