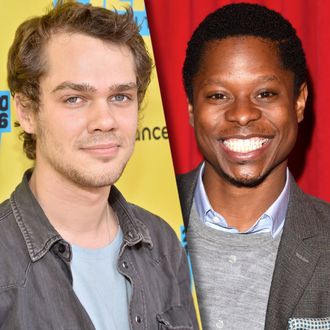 Ellar Coltrane and Jason Mitchell.
Photo: Getty Images
Variety reports that Barry, Vikram Gandhi's upcoming film about Barack Obama's early-80s adventures at Columbia University, has cast Boyhood's Ellar Coltrane and Straight Outta Compton's Jason Mitchell, who join a cast that already includes The Witch's Anya Taylor-Joy, and newcomer Devon Terrell* as Obama. No word on who Mitchell and Coltrane might be playing, but here's hoping for a Hamilton-style twist in which they play young Barry's best friends, Alan Keyes and Mitt Romney.
* This post originally stated that the rapper Devvon Terrell had landed the role of Obama. The future president will be played by the actor Devon Terrell, a different person.