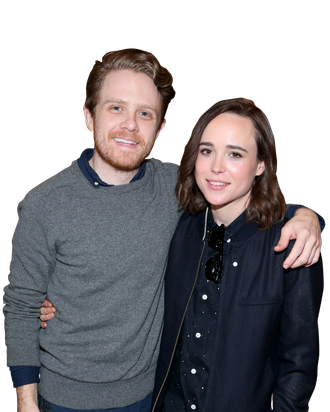 Photo: Jonathan Leibson/Getty Images
Ellen Page created Gaycation, a new documentary series for VICELAND, with her best friend, Ian Daniel. In it, the two travel to explore LGBT culture, and the state of LGBT rights, in countries around the world. The first three episodes take them to Jamaica, Brazil, and Japan. Our friend John Horn, host of the KPCC radio show and podcast The Frame, interviewed Page and Daniel about the discrimination and violence they witnessed across the globe and the courageous LGBT people and activists who are fighting it.
The two of you met in Oregon while you were taking a class.
Ellen Page: We were both in Oregon in a place called Lost Valley studying permaculture design and ecovillage development. We were both feeling a similar way in our lives, which is what brought us to this place. We describe it as love at first sight. We just immediately connected and ever since then have been the best of friends. I don't know who I would be without Ian, quite frankly.
Ian Daniel: I just remember [coming in to the class late and seeing Ellen] and we looked at one another and we felt like a thread was connecting us. [At Lost Valley] we were also taking little trips to Portland and learning about urban permaculture and I feel like this is just a natural extension of our friendship journeys around this country.
The first episode starts like a travel show: It's a lighthearted and fun dive into the culture there, but very quickly it gets very serious, and toward the end of the episode, there's a gay man who is coming out to his mom, and you guys are with him for it. The episodes that follow are equally intense. Was that always the intention of the series — to get to these moments that reflect what LGBT youth are up against around the world?
ID: Yeah, when we were discussing what the show would look like and how it would feel, you want to hit on as many emotions and truths as possible. The show is about the triumphs, the joys, the nightlife. Sadly, a part of the show is about the discrimination people face and how oppression affects people's lives.
The coming-out scene you're talking about is so powerful because you're seeing every emotion in a 15-minute span on television, and I don't think I've seen anything quite like it on TV. It's endearing at first and it's strange on some level that this young man is hiring someone to be there to be his gay friend and be supportive to come out to his mother, and when he comes out, at first the mother rejects the idea and then comes back and accepts it on some level and is able to express her love. It's a perfect scene that shows all of the emotions we want the entire series to have.
What were you thinking during the scene?
EP: My response was pure emotion. It was just uncontrollable. For me it was an experience of watching this young man in pain and his nerves and his discomfort, and, of course, we felt for the mom. We felt for the fact that we were strangers sitting in her son's apartment with cameras. It really was an unusual situation to say the least, and, for me, it might be something I reflect on more in the future. All I can say is I had a very intense emotional response, and I, for the most part, was just trying to hide it because it felt inappropriate.
ID: I think what's important in that scene also is when the young man looks to Ellen for advice, so clearly your emotional experience of coming out yourself and being able to share that gave him confidence to keep going with the decision he made. That was all tangible — the young man's need for us to be there. Ellen and I were also discussing with the producer the ethics of the situation. At any point, they can tell us to get out of the room or this is not what I wanted and I don't want this to be on TV. We're just in a very small environment. I've never experienced anything so raw emotionally and so intimate between a mother and a son. The mother-son relationship really affected me because I was raised by a single mother. It was very important to me that my mother accepted my sexuality, which she does and pretty much always has without question. So I was thinking about my mother and what she went through and relating it to what that mother might be going through and trying to offer some sense of comfort and advice from my own personal experience, understanding that it's important that they really support one another.
Ellen, you had a very similar experience of your own coming-out on camera in front of a big crowd at the 2014 Human Rights Campaign in Las Vegas. In that video there's a beautiful moment where you hesitate for just a second and then you say, "I'm gay," and the audience stands up as one and applauds, and you really were thinking about what happened to you when you watch this young man go through almost the same thing.
EP: I still get emotional [about that moment]. And I think that is a moment that a lot of people relate to in their lives. Just that raw emotion of being ready to move past those fears you had or the shame. And I think of those who are so much less fortunate than me all the time. I came out to people clapping and an outpouring of support, and the reality is for a lot of people, they get kicked out of their homes or they're faced with violence or they're outed and faced with violence. I just can't imagine what it's like for those who don't have the privilege I have.
But you were surrounded by a group of mostly strangers who embraced you, and so much of this show is about how family and friends reject people who come out.
EP: That's why we really wanted to make the series. We wanted to have representation for LGBT people and offer a platform for those who don't always get a chance to share their voice or perspective. And to really shine a light on the struggles that so many face, because a lot of the time people just don't know. If you're perpetuating discrimination, you're perpetuating inequality. Let's look at how that really does affect people's lives around the world and in America still. I really think that is what the show is: going around the world and meeting some of the most extraordinary, brave, courageous human beings you could ever even dream to have the opportunity to meet and how much that inspires you to do more.
In the third episode, where the two of you traveled to Jamaica, the country is incredibly homophobic as a whole and has no rights for the LGBTQ community. You talk with a dance-hall musician named Beenie Man. The dance-hall music scene is very vibrant but the lyrics are unbelievably hateful. They actually encourage listeners to kill gay people, and in this interview it starts to get a bit hostile when you talk about this musician's views on the LGBTQ community in Jamaica. Before you started shooting the show, did you ever expect to be put in situations where it was going to be that hard and awkward for the two of you?
EP: Yeah, we always knew this was going to be a part of the show, to talk to those who do not like the LGBTQ community. As you can hear in that interview, he's still not very comfortable with LGBTQ people, despite saying he respects them and he respects everyone. But there seems to be a lot of contradiction, and that obviously doesn't seem to be quite accurate.
You go to Jamaica, you go to Brazil, you go to Japan and then you come back to the United States where, in theory, there's not as much intolerance, but you end up having a conversation with Senator Ted Cruz, and this is an encounter that goes viral. Senator Cruz is eating a pork burger, I think, and you go up and engage him in a conversation.

EP: LGBT people are worried that they will directly be discriminated against …

Ted Cruz: But we don't have a right to force anyone to abandon their faith. It is one of the foundational commitments of who we are as Americans to respect diversity.

EP: Sure, but for example still in a lot of states LGBT people can be fired for just being gay or for just being trans. That's totally legal. How do you feel about that? That just doesn't sound very American to me.

TC: We're seeing Bible-believing Christians being persecuted so, for example …

EP: For discriminating against LGBT people …

TC: No, for living according to their faith. So, for example …

EP: Yeah, but then people would've used that argument in [the] segregation era.

TC: I'm happy to answer your question but not to have a back-and-forth debate.
Joe Biden says you won the debate and Ted Cruz is no slouch at debating. How do you prepare yourself for interviewing people and asking tough questions?
EP: I don't feel like I'm walking into a debate. That's not where my head's at. I'm a human being and I'm gonna go engage with a human being, and we're gonna talk about this. I guess it does become some form of a debate. What can I say other than, this is something I'm passionate about and [this show has made me] so much more aware of [my] privilege. My privilege as a human, my privilege as a gay person living in Los Angeles. I want to know what's going on and I do want to do what I possibly can to be a visible member of the community. I feel like it's something I read about and try to understand, so when I do get the opportunity to talk to a GOP candidate for president, some part of me feels like I can have that conversation. Some part of my being does disconnect a little from the situation. I don't think it's until I walked away [thinking] Oh, we were surrounded by cameras and that was Ted Cruz and it's probably going to be on the internet in a couple of minutes.
In the first episode in Japan, after you've seen this young man come out to his mother, Ellen, you remain very optimistic about the LGBTQ community and its acceptance in mainstream culture going forward. You say, "When someone in their life comes out, the change is fast. It's not always super easy at first, but I feel like people evolve quite quickly and I think it's because we all understand love and desire it and can understand what that means for other people." Having done the entire series, do you still feel this optimistic? How does it change the way in which you see the future for gay people?
EP: Ultimately, yes, I'm optimistic. Everywhere we've gone so far, we've met people that are so extraordinary and so inspiring, braver than I could ever possibly be in my lifetime. At the end of our trip in Jamaica we were able to go to and film the very first public pride celebration, and, honestly, that's one of the most extraordinarily moving things I've ever seen.
ID:  I'm certainly optimistic. But you also have to reflect on [whether] that optimism comes from our own privilege in our country. Is it optimistic for the homeless youth in Jamaica who don't see a lot of progress happening in their country right now? They may not be so optimistic. But what we saw when we met people like that around the world is that there still is such a perseverance and a real fighting spirit against discrimination and violence, and so that makes me feel optimistic and truly humbled. You come home and you feel fortunate for your own space in this world and  are inspired to use your privilege to help make a difference as much as possible.