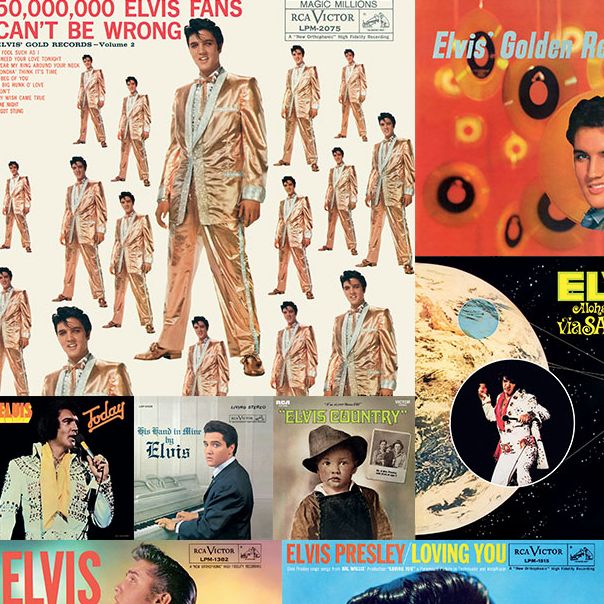 Despite some recent hiccups in Las Vegas, 39 years after his death, Elvis Presley's career is still going strong — his estate earned $55 million in 2015. This year, to commemorate the 60th anniversary of the release of Presley's first record, his widow, Priscilla, and RCA have put together a massive box set presenting the King's original recording career, pretty much unabridged.
For Elvis fanatics, this is probably a godsend. For everyone else, things get dicier. Despite his undeniable talents, Elvis was a wildly uneven recording artist. The string of soundtracks he released in the '60s (largely at the behest of his exploitative manager Colonel Tom Parker) give the term formulaic as bulletproof a definition as anything in algebra, and consist of his shoddiest material. Yet even under those constraints, he could inhabit just about anything asked of him within the affable-sexy spectrum, leading to a range of results sentimentally perfect ("Can't Help Falling in Love") or perfectly ridiculous ("Song of a Shrimp," his fond send-off to a family of crustaceans). In any case, he had the privilege and the burden of a voice that sounded legit trying out everything from a quavery tenor to a hubristic baritone, unafraid of operatic grandeur or gruffness or languor, with vibrato and falsetto and commitment, traces of which are present even when one can hear the poor guy itching to get out of the studio and back to his Graceland. The received wisdom regarding his albums — which prizes the Sun Sessions (which, had this ranking included compilation albums featuring no new or previously unreleased material, would've been a strong contender for the top-spot), Elvis's first records for RCA, and his '68 "comeback" recordings — overlooks some worthy stuff within the often indistinguishable heap making up the rest of his corpus. Even Presley's worst soundtrack filler may get you there.
So, with a hip-swivel and a lip-curl, here's our ranking of every LP containing new or previously unreleased tracks put out by RCA during Elvis's lifetime.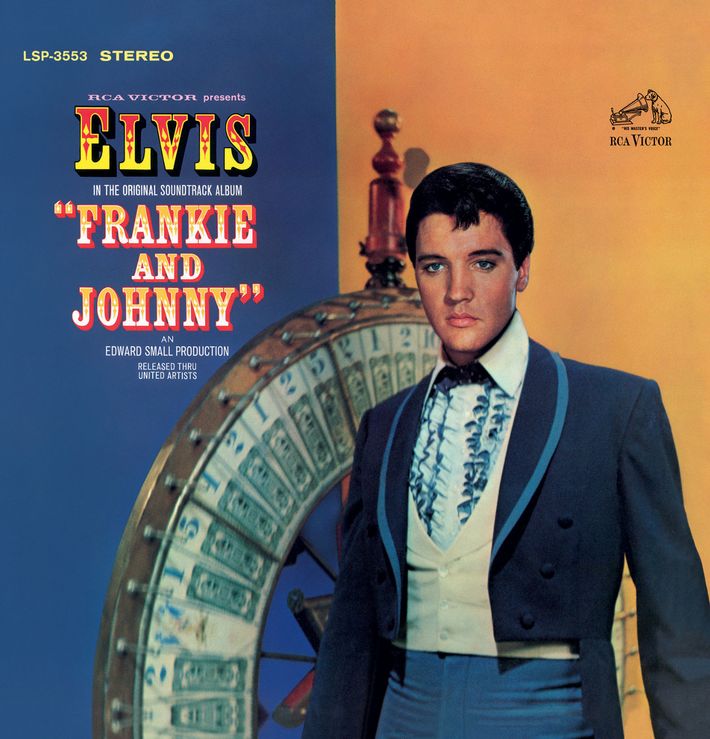 57. Frankie and Johnny (1966)
Elvis was so fed up with the soundtrack recording process at this point in his career that he threw a tantrum in the studio and had to record his vocals separately from the musicians. This album was the painful result, a mix of new ones like the ultra-sexist "What Every Woman Lives For" and "Petunia, the Gardener's Daughter," and traditional songs with an ersatz Dixieland flavor for this movie's story of a 19th-century riverboat gambler. There's also blues, gospel, and gypsy music at their cheesiest.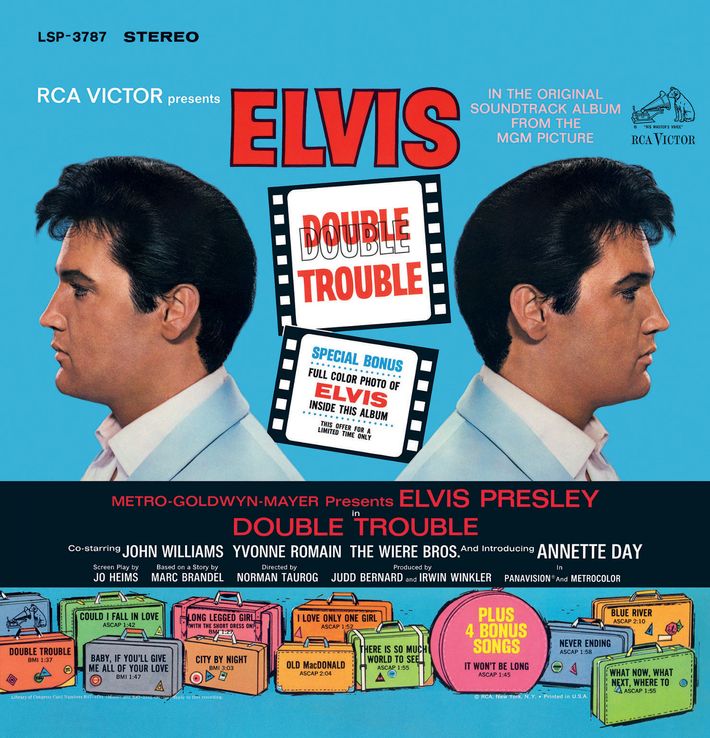 56. Double Trouble (1967)
Advertised as an "adventure filled with dames, diamonds, discotheques, and danger," this movie featured a soundtrack for which the recording sessions once again got Elvis so mad that he stormed out of the studio.  It could have been because he was expected to sing about "Old MacDonald" having a farm and going "E-I-E-I-O," with the addition of embarrassing new lyrics about chicken fricassee, pork and beans, and burgers. Or it could have been because he had to perform the rest of this familiar mishmash of pseudo-smooth ("City by Night"), pseudo-rocking ("Long Legged Girl"), and pseudo-polka ("I Love Only One Girl") and release it on the same day as his supreme acolytes the Beatles released Sgt. Pepper's.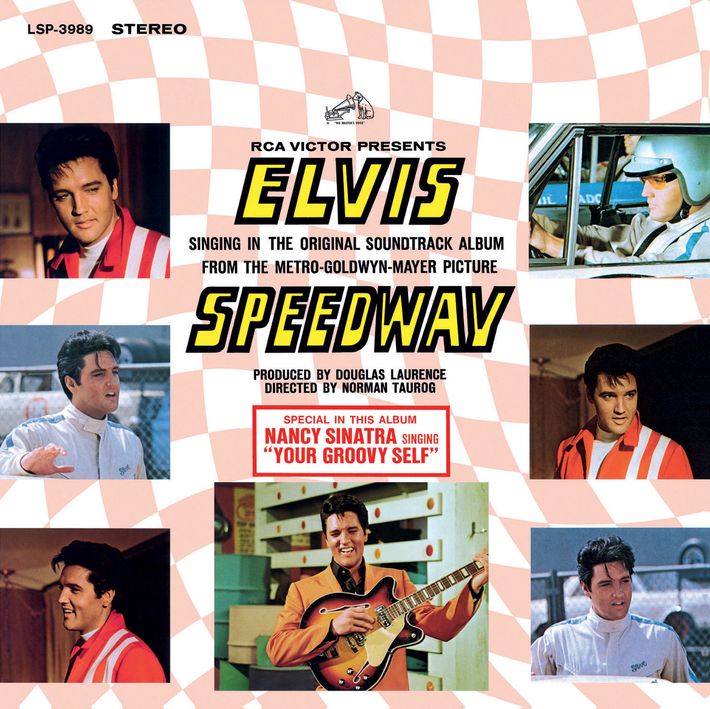 55. Speedway (1968)
During the Summer of Love, Elvis was recording these iffy songs for his third onscreen appearance as a race-car driver, and it became his lowest seller yet — it was also the last time he would release a full soundtrack album. The title track tries to explain how to get your best girl excited on the drag strip and, despite the occasional genuine revving sound, never fully turns over. "There Ain't Nothing Like a Song" tries to get you stoked about songcraft by getting you to chew on a tired rock groove with awkward interjections by the film's co-star Nancy Sinatra.  "Let Yourself Go" has an unconvincing psychedelic flavor, but might be the most fun thing here, along with Nancy Sinatra's take on Lee Hazlewood's cynical "Your Groovy Self." The existentialism-light of "Who Are You (Who Am I?)" and the communist-baiting patriotism of "He's Your Uncle, Not Your Dad" fare much worse.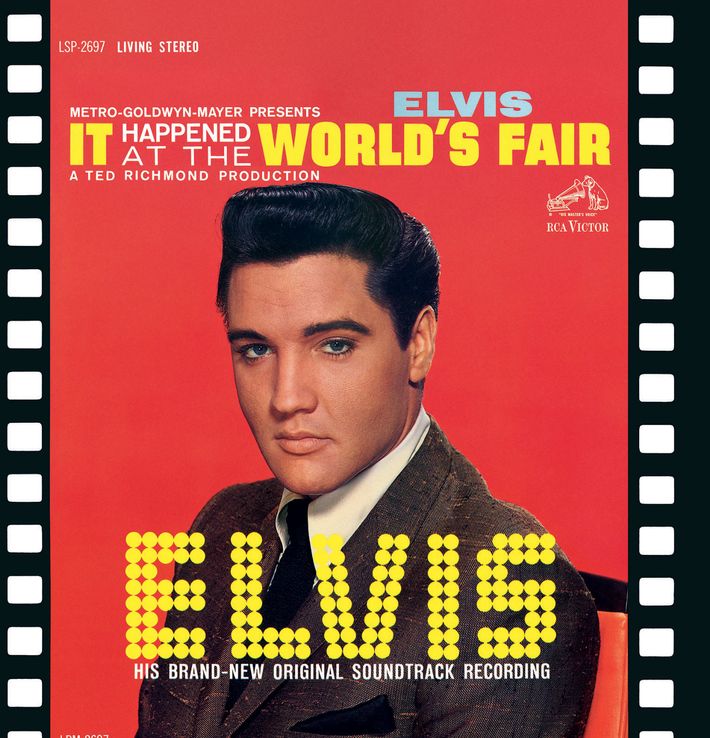 54. It Happened at the World's Fair (1963)
The soundtrack to Elvis's expensive Space Needle romp begins with a bland song about going into the unknown ("Beyond the Bend") followed by a remake of "Fever" called "Relax," which advises listeners to "defrost," and is set to slimy finger-snapping. "Cotton Candy Land" repositions Mr. Sandman's dream as a terrifying sugar high, and the saccharine "How Would You Like to Be?" is sung to a kid in the film to placate her, but frazzles every other listener; "Happy Ending" is another unhappy event.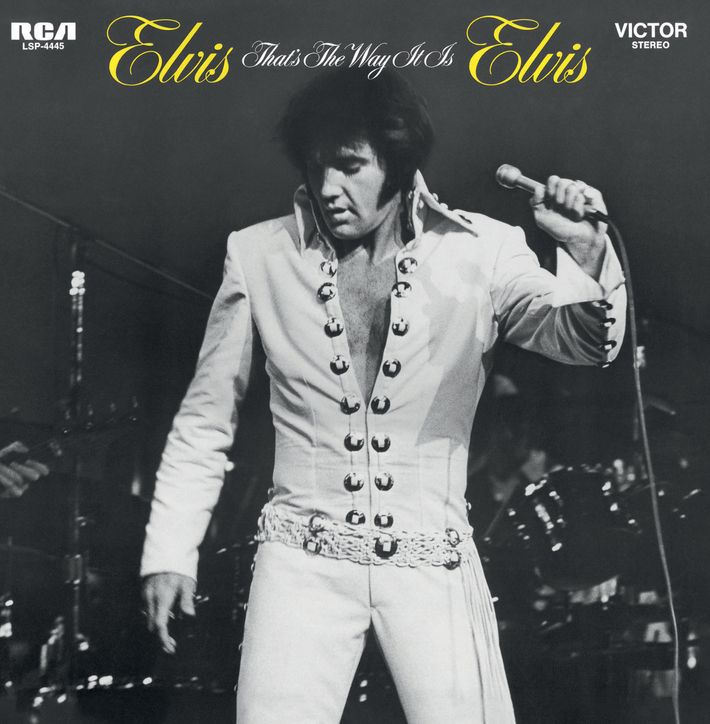 53. That's the Way It Is (1970)
Elvis was cranking out records in 1970, and this one was a cocktail of Jumpsuit Elvis from his longstanding tenure at the International Hotel in Vegas and some Nashville studio stuff loosely tied to a documentary film. The concert material is mainly of the showy countrypolitan variety, smooth but less exciting than his earlier live albums.  However, we get Elvis tearing eagerly into "You've Lost That Lovin' Feeling" and "Bridge Over Troubled Water." The studio tracks tend to be sluggish and overwrought, with lyrics about tasting the "icing on the cake we've been baking with the past," on "The Next Step Is Love."  As tragic songs about cake go, it's no "MacArthur Park."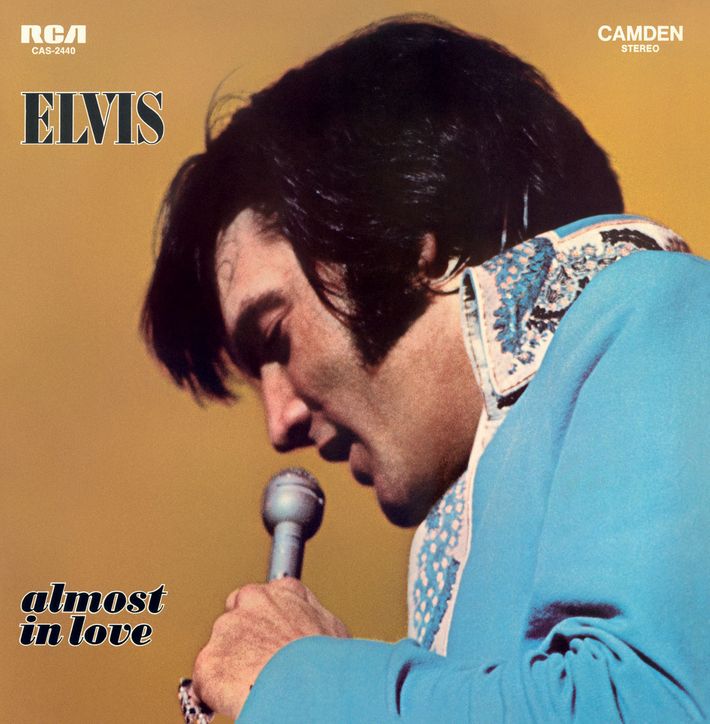 52. Almost in Love (1970)
This budget-price collection of 45s and EP-only tracks, culled mainly from soundtracks, redundantly includes "Stay Away, Joe," which was already included on other compilations.  Elvis does his best Sinatra imitation on the crooning title track, "U.S. Male" is a driving version of a choice pun about an extremely threatening M-A-L-E persona, "Long Legged Girl (With the Short Dress On)" is as irritating as it was on the Double Trouble soundtrack, and the silly funk of "A Little Less Conversation" and "Rubberneckin'" ultimately worked better as techno-remixes in soccer and Toyota ads.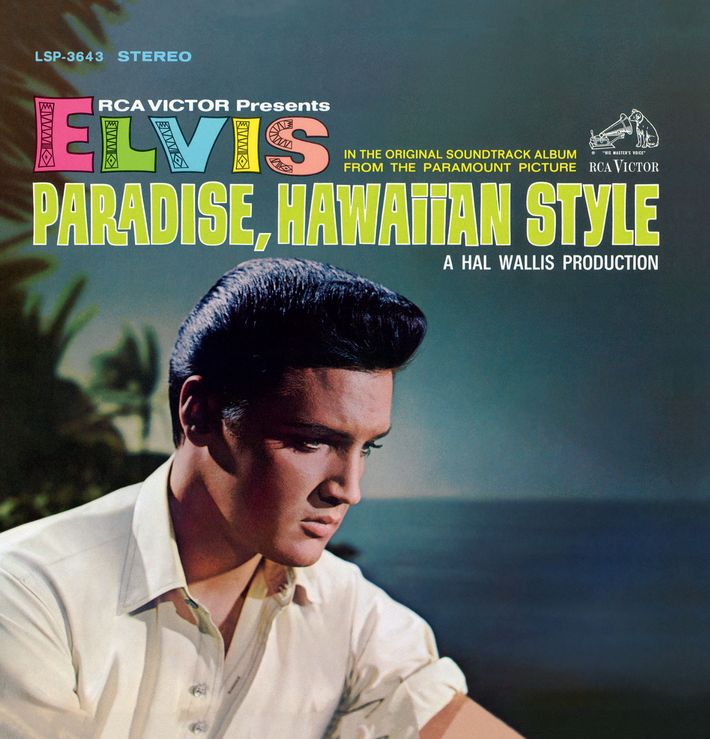 51. Paradise, Hawaiian Style (1966)
Elvis plays a rugged chopper pilot in this, his third Hawaiian movie, and again he cranked out a soundtrack with his regular studio gang and stable of songwriters. He knew it was a stinker from the get-go.  On "Scratch My Back," Elvis coaxes his lover to "get rid of our itch together," and "Queenie Wahine's Papaya" turns the soothing fruit into an aggravating tongue-twister.  This may do if you want more of what Blue Hawaii had — pedal steel, tropical content — but with a quarter of the charm.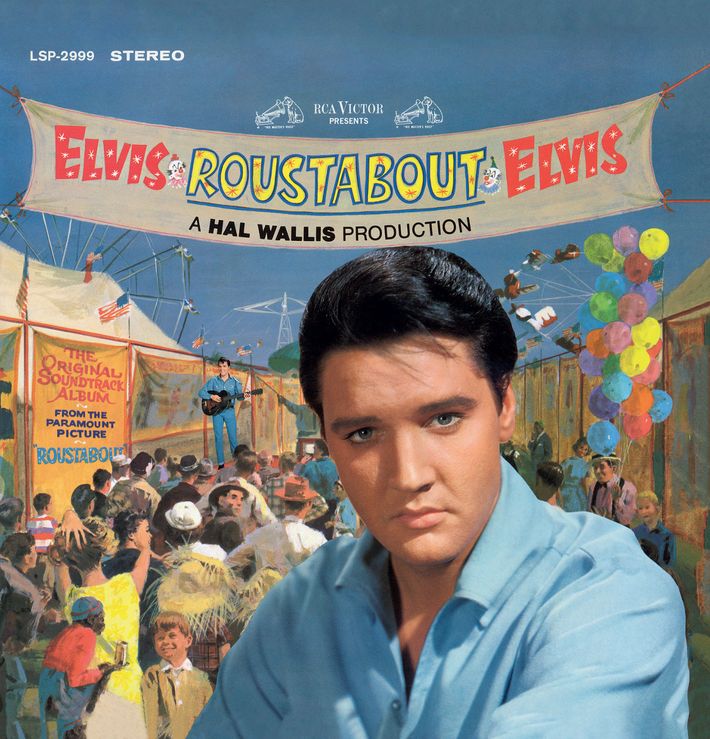 50. Roustabout (1964)
Elvis's slickster manager, a former carny who dubbed himself Colonel Tom Parker (formerly Dutch immigrant Andrea van Kuijk), got a picture made for his star which took place in Parker's old milieu, with Elvis playing the title fairground worker — who could sing mellifluously while performing motorcycle stunts. They got this hit soundtrack out of the odd concept, and a bit of insulting fun out of the repurposed Coasters' tune "Little Egypt" about a guy having his mind blown by an exotic dancer, which is the highlight. Panty raid rhymes with lemonade in "Poison Ivy League," one of several unconvincing songs here, sung from the perspective of a striving underdog — which Elvis had stopped being years prior.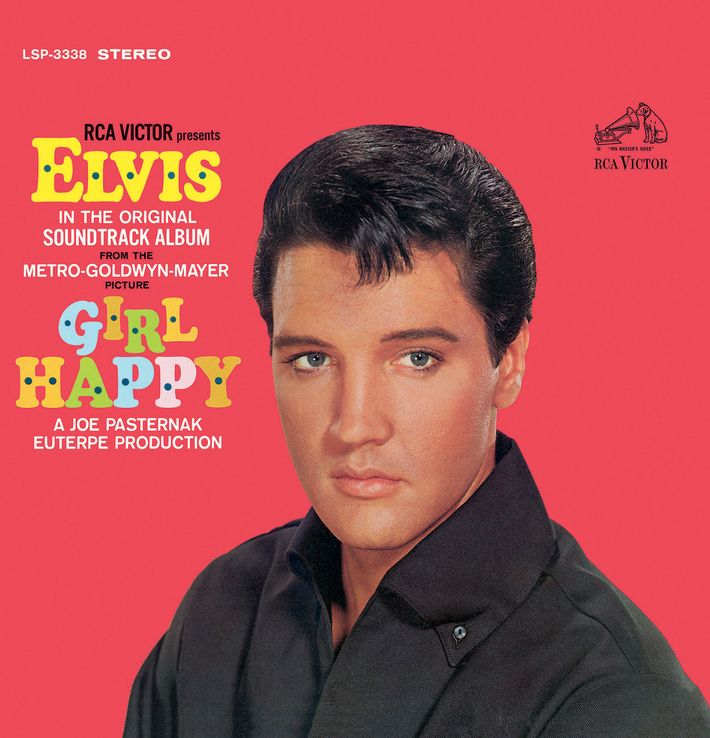 49. Girl Happy (1965)
Elvis was so embarrassed by most of this soundtrack to his spring-break fantasy flick that he asked for his vocals to be lower in the mix on the exuberant title track. He's an impatient lover for the umpteenth time on "Do Not Disturb," and chastises "The Meanest Girl in Town" on the closest this album gets to rock and roll. The sole non-soundtrack inclusion here, a song Elvis wrote with a pair of buddies called "You'll Be Gone," has melodramatic Spanish flavor leading to an operatic crescendo — a trick Elvis had mastered and deployed repeatedly by the mid-'60s. This is also the home of Diddley-beat-plus-bongos kitsch master class "Do the Clam."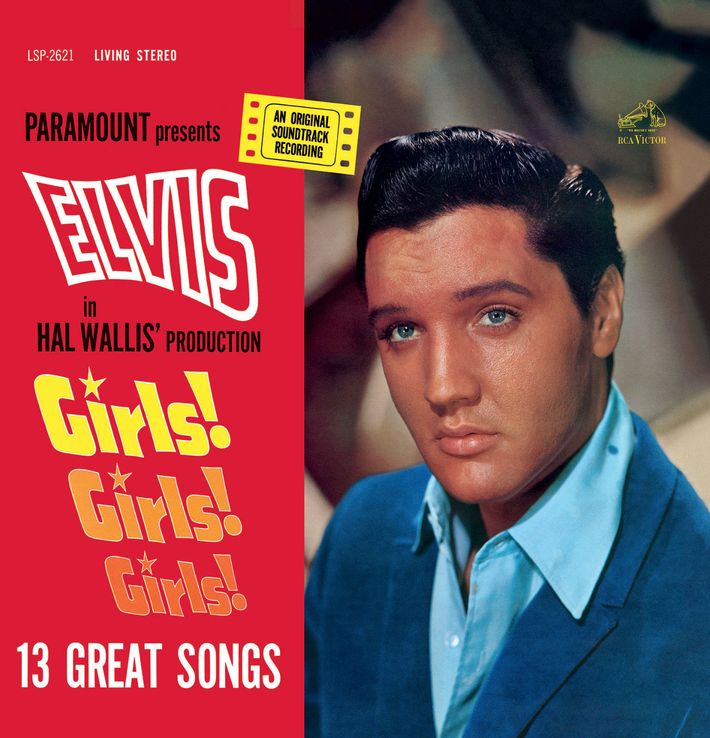 48. Girls! Girls! Girls! (1962)
Poor Elvis doesn't get to finish his sandwich because, as he tells us on the title track, he's too busy desiring something "small and sassy," which might make for a realistic glimpse of his inner state, but not quite a recording for all-time, and neither is this soundtrack to Elvis's second Hawaiian flick. In its favor: "Return to Sender."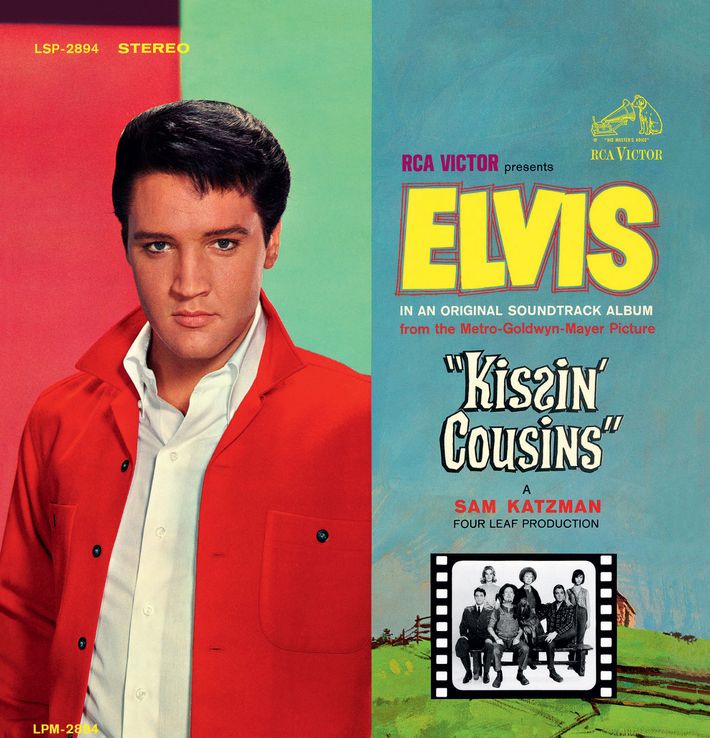 47. Kissin' Cousins (1964)
"Elvis feudin', Elvis lovin', Elvis swingin' … as he joins his mountain kinfolk for a hey, hey, hayride to good ol' mountain music" reads the movie-poster copy. Elvis plays an Army man meeting his lookalike cousin and a couple of sexy relatives for the first time in rural Tennessee, set to discomfiting songs about polygamy ("One Boy, Two Little Girls") and smooching technique. The standout ballad "Tender Feeling" wasn't in the film, but got tossed in here as a pot sweetener.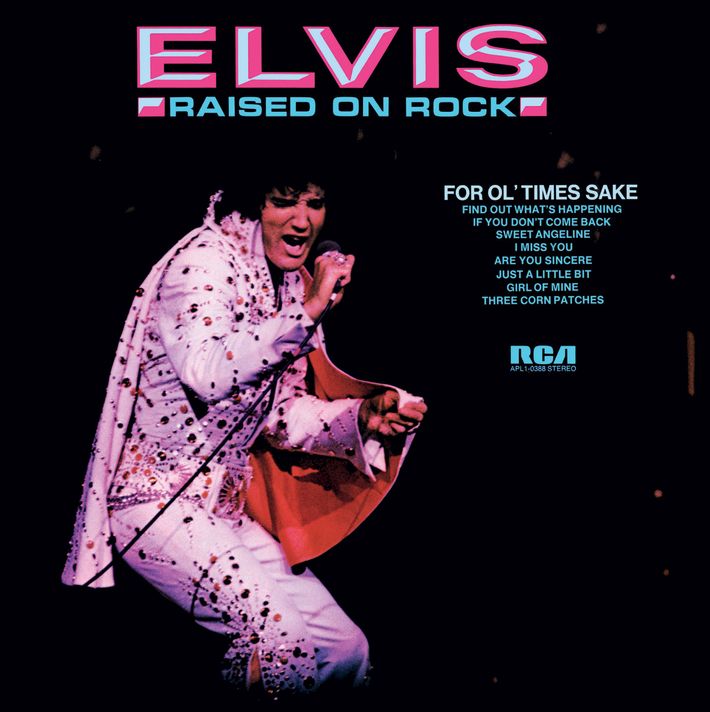 46. Raised on Rock (1973)
After the success of Elvis's 1973 Hawaiian TV special, an album only needed to have E looking like an impassioned eagle on the cover to sell well. The contents, sadly, aren't nearly as soul-wrenching. The newly written title track, released as the single, is lyrically unique as a fairly detailed rundown of Elvis's musical upbringing, but doesn't especially rock.  The ballads also fail to ignite, making the record a bit of a slog.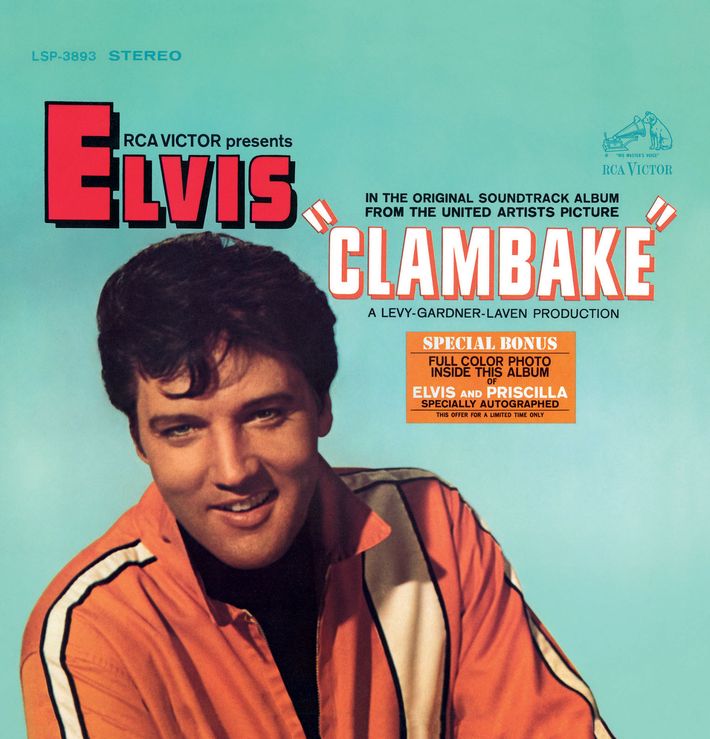 45. Clambake (1967)
Only about half of the songs that make up the Clambake soundtrack were actually in the movie Clambake; they are ludicrous ("Who Needs Money?"), bland ("A House That Has Everything"), or annoying (the chirpy "Confidence"), and Elvis sounds audibly exhausted throughout. It's padded out with a few decent newer recordings that Elvis actually chose to sing, like Jerry Reed's funky "Guitar Man" and Eddy Arnold's classic of misunderstanding "You Don't Know Me."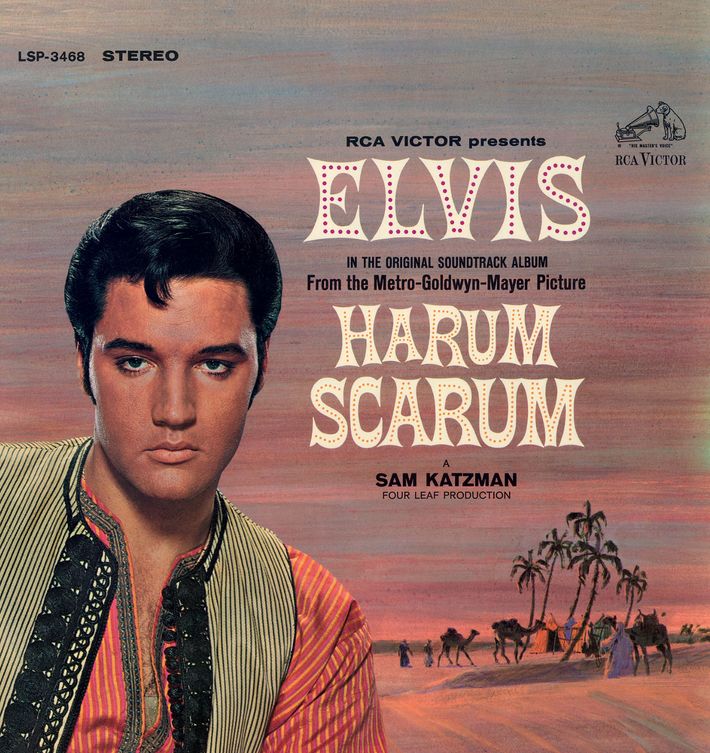 44. Harum Scarum (1965)
The film was billed as "1001 Swingin' Nights" and the plot involves Elvis bringing an enchanting princess back to Vegas from the Middle East. "Harem Holiday" speculates about "Romeo" (Elvis) abandoning his "Juliet" (whichever current flame) for some action, "My Desert Serenade" attempts to make a "brand-new world appear" with arabesque flute and oboe, and the rest is equally ridiculous. It takes you to another world — just not the one it was going for.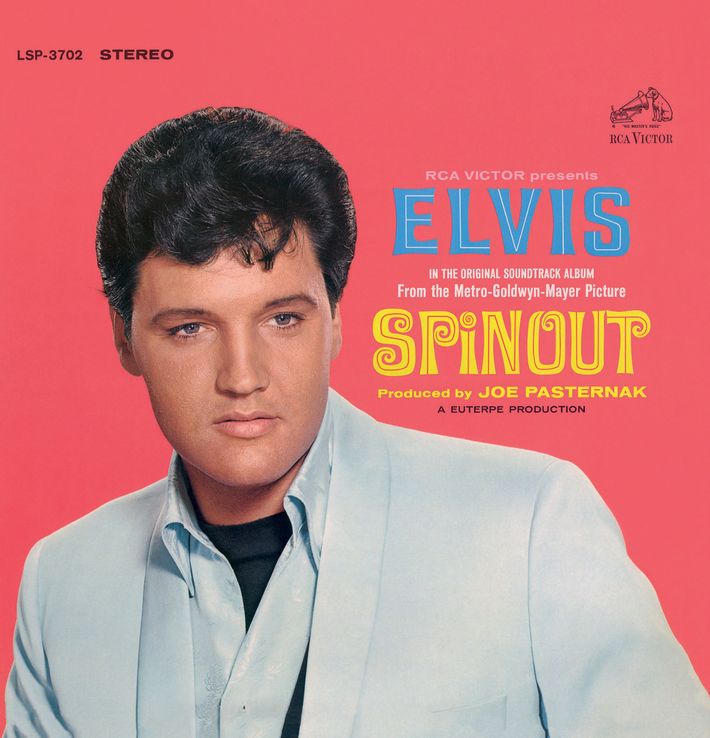 43. Spinout (1966)
The older rock-and-roll tune "Stop, Look and Listen" that kicks off another Elvis race-car musical brings some heat that his last few soundtracks lacked, followed by an energetic but misogynistic song called "Adam and Evil" and a couple silken ballads like the self-doubting "Am I Ready?" that go down easy enough. The obvious killer is Elvis's beautiful cover of Bob Dylan's despondent "Tomorrow Is a Long Time," left over from an unrelated gospel session.  Spinout could be the best soundtrack Elvis put out around this time, but that's not saying a lot, and it still has oodles of eminently skippable stuff, like the sex-is-food equation "Smorgasbord."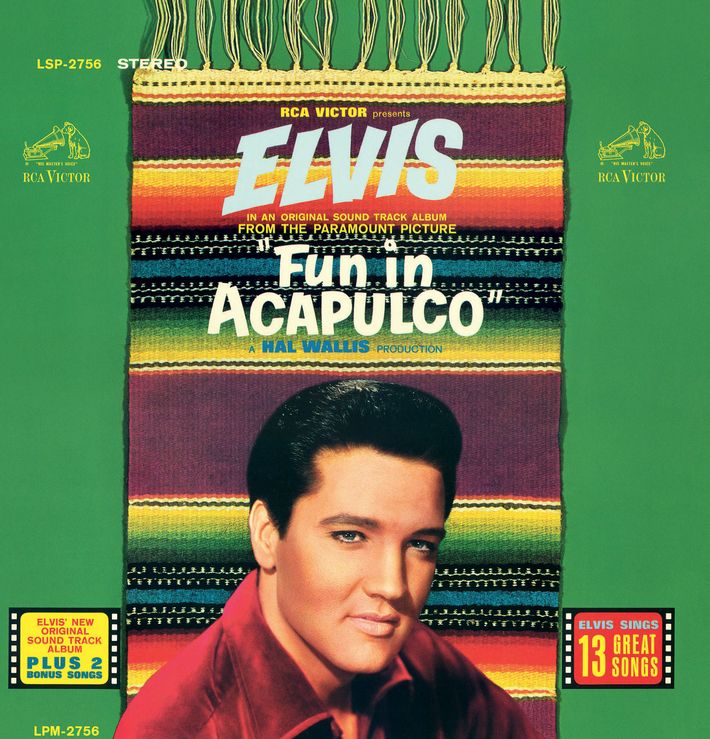 42. Fun in Acapulco (1963)
Presley plays another romantically persistent boat worker in this movie, and we get another soundtrack of Elvis exotica. A dash of then-trendy bossa nova is sped up and rendered unintelligible for the lead single, and Elvis sings that "(There's) No Room to Rhumba in a Sports Car," which encapsulates the stilted rhythms here, incongruously imported from Brazil and Cuba, despite the fact that the film is set in Mexico.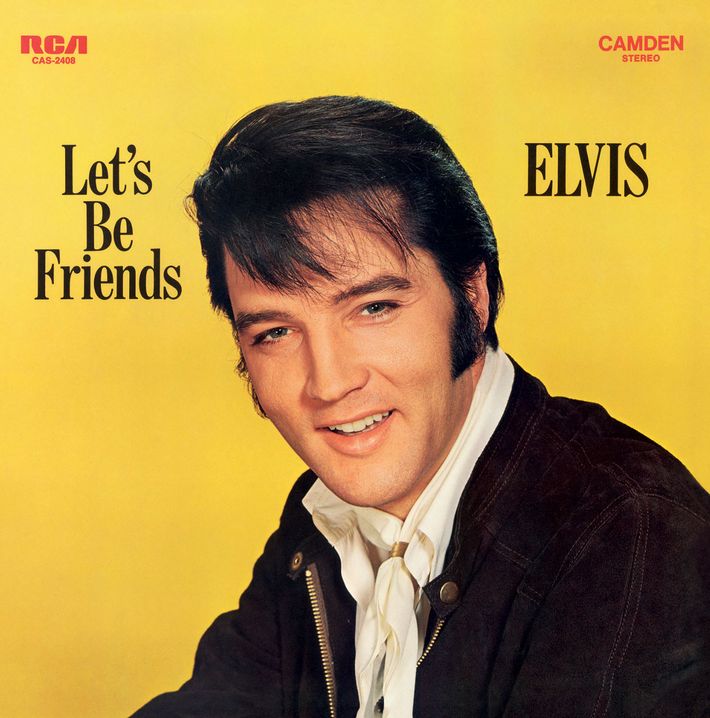 41. Let's Be Friends (1970)
Another budget-price compilation off-loading unused soundtrack material and a couple new ones. Opening hootenanny "Stay Away, Joe" has a strong "stay away, listener" subtext, but the next song, the soulful ballad "If I'm a Fool (for Loving You)" draws us back in. We could stick around for the rest of this pleasantly pat stuff — like the fuzz-funk moralizing of "Change of Habit" — if we accept the platitudinal invitation extended by "Have a Happy" to "let your address be sunshine place."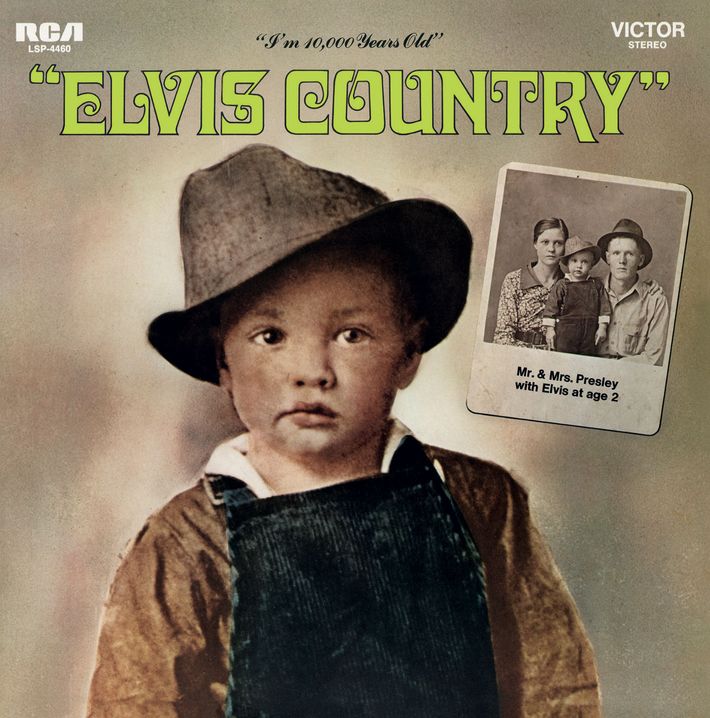 40. Elvis Country (I'm 10,000 Years Old) (1971)
Cut during the same sessions that produced the studio portion of That's the Way It Is, this is similar stuff, but features a somewhat better selection of tunes that had previously been hits for Willie Nelson, Bill Monroe, Jerry Lee Lewis, Anne Murray, and others, presenting a wide variety of its styles (bluegrass, outlaw, Bakersfield, honky-tonk) played smoothly by studio pros. Each song nonsensically ends with a tiny snippet of the title "theme" song, sung from the perspective of an all-knowing, ever-present Neolithic being who hung out with Moses, giving the record a vaguely conceptual feeling, but sounding like an error every time.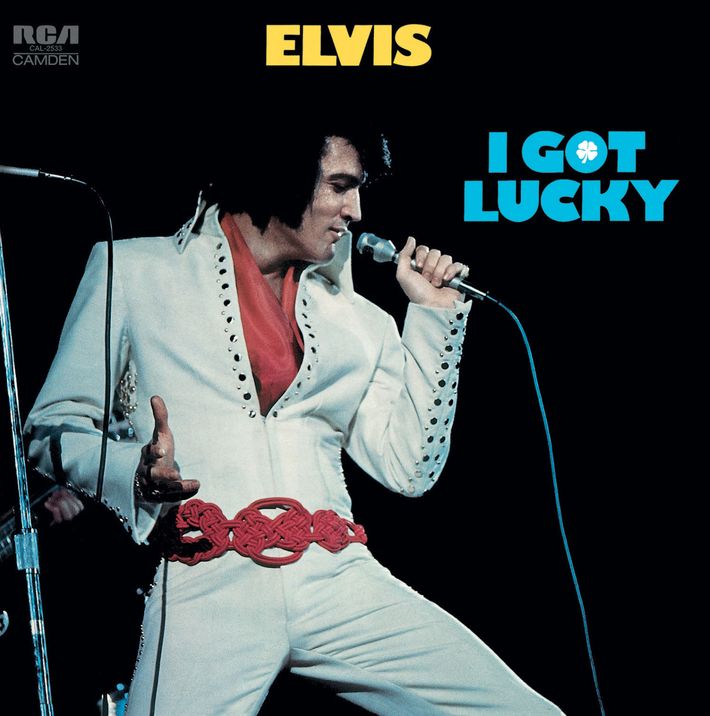 39. I Got Lucky (1971)
These are the rest of the songs from the four '60s Elvis movies without soundtrack LPs that had been previously compiled on C'mon Everybody. Like that earlier collection, the tone is mostly light — but in this case, often grating: "Yoga Is As Yoga Does" gets Elvis tied up in an embarrassing knot, and "The Love Machine" awkwardly feeds Elvis through a fortune-telling scenario. But there's also "I Need Someone to Lean On," a beautiful ballad from Viva Las Vegas in the vein of Chet Baker.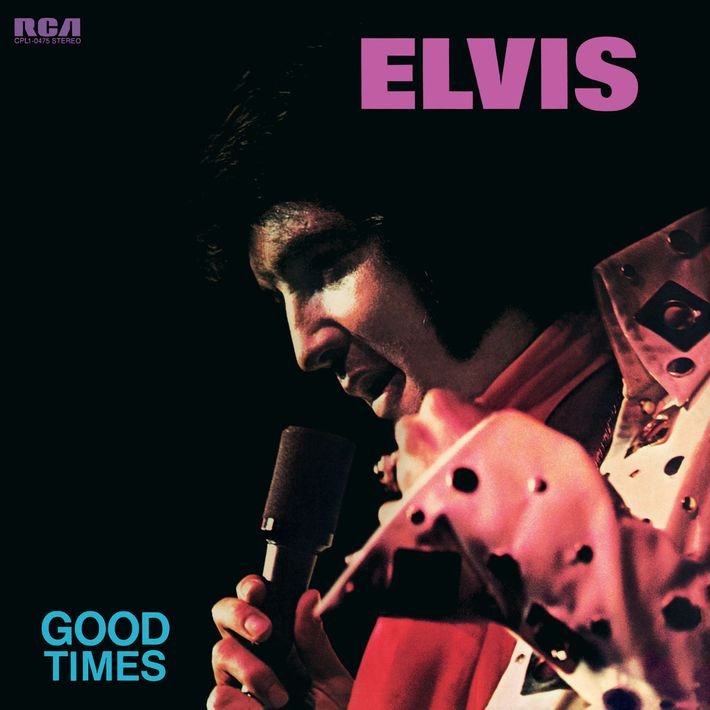 38. Good Times (1974)
Okay times. "I Got a Feelin' in My Body" is especially okay church-revival funk, and lots of swelling gospel-group vocals and string arrangements get busy throughout this Stax Studio–recorded batch. You could get dangerously lost in the King's "Spanish Eyes," if you favor the European Romantic quadrant of his repertoire.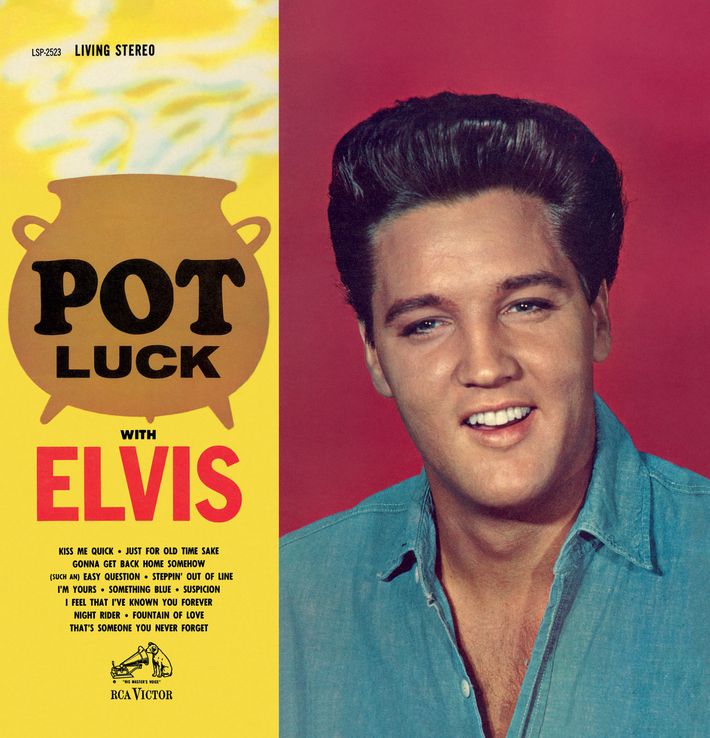 37. Pot Luck With Elvis (1962)
Given the album title, this is predictably uneven. It's a rare Elvis album from the '60s that was recorded with the intention of forming a distinct record — i.e., it wasn't yet another soundtrack. On the eccentric "I'm Yours," we have the rare experience of hearing Elvis close-harmonizing with himself over some weirdly isolated organ, providing a nicely unsettling hall-of-mirrors effect. The hit "Kiss Me Quick" is a sly and sleazy keeper, and only the operatic ending of "I Feel That I've Known You Forever" brings us closer to laughter than romance. (Okay, "Night Rider" and "Fountain of Love" are an awkwardly hilarious back-to-back pair, too.) The closing track, "That's Someone You Never Forget," credited to Elvis and his high-school buddy Red West and which may or may not be about the passing of Elvis's beloved mother, Gladys, is haunting, though tonally far out of step with the rest of the record.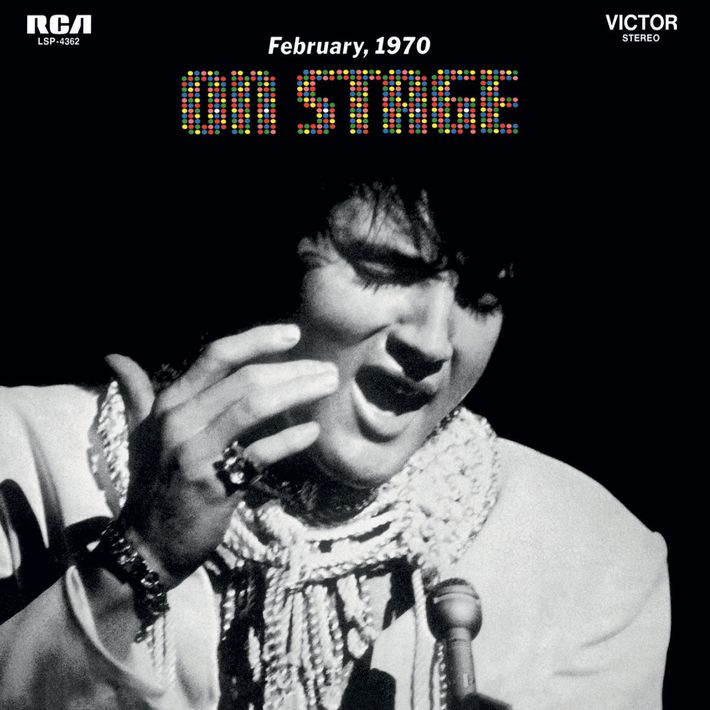 36. On Stage (1970)
Elvis's second live album is mostly compiled from a few Vegas dates, collecting versions of hit songs associated with other people, like Neil Diamond's "Sweet Caroline" and Creedence Clearwater Revival's "Proud Mary," and it's fine — though why not listen to Neil Diamond or CCR or the Beatles or Del Shannon or the Everly Brothers if you want to hear these songs? Unless, that is, you thought the originals lacked gloopy string arrangements. On Stage opens with the zippy take on blues standard "C.C. Rider" that became the Elvis Show's frequent intro music, after which Elvis gurgles water into his mic, admits to being lost onstage, and indulges his love of sob stories on "Release Me" and new hit "The Wonder of You."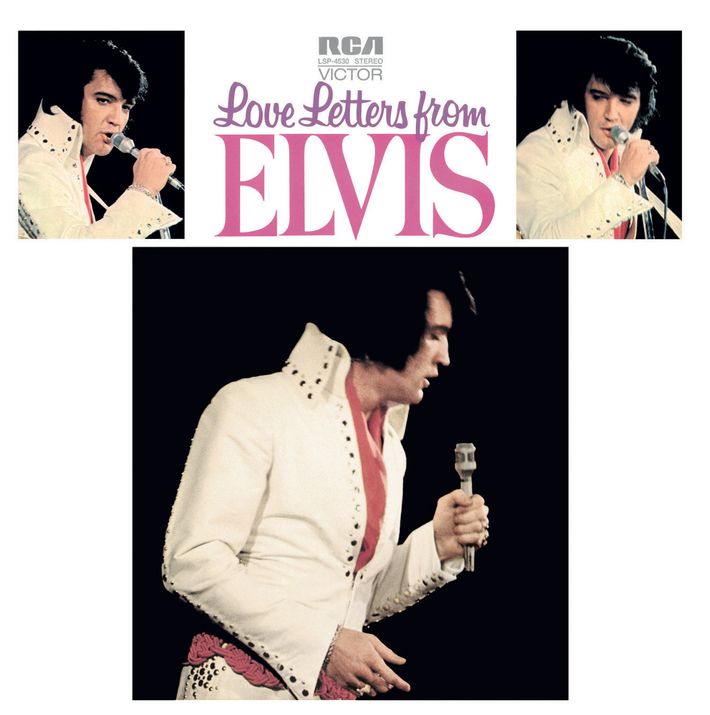 35. Love Letters From Elvis (1971)
Why not get three albums for the price of two?  This is the third album recovered from the epic 1970 sessions that produced the competent light-country of That's the Way It Is and Elvis Country — it's also the rejects. This is definitely a rougher batch than the first two albums from these sessions, but there's something charming about the personnel worn out and flailing their way through these downcast ballads. If you're eager for a letdown that unwillingly owns its weariness, including a few outright duds like the depressing waltz "This Is Our Dance," this'll suit your low expectations.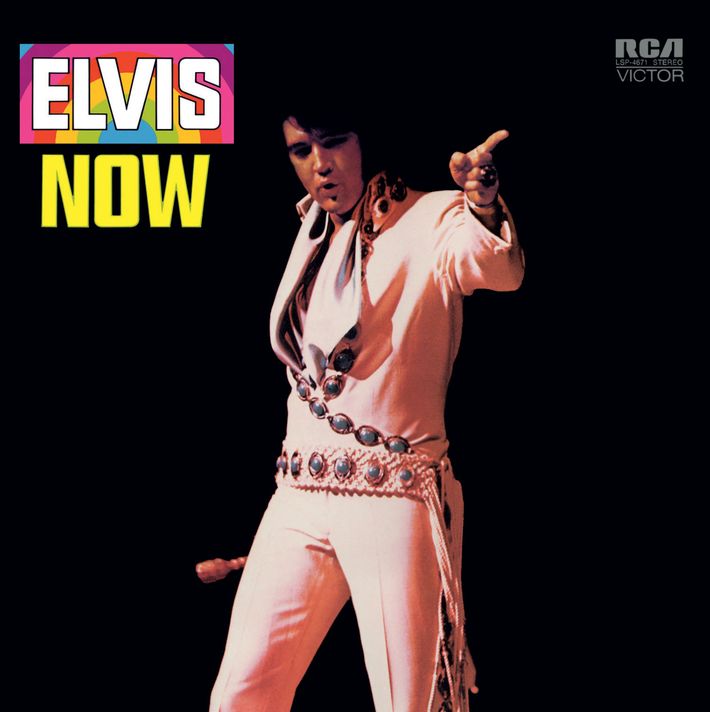 34. Elvis Now (1972)
Elvis Now would've been more accurately titled Elvis Recently, presenting a variety of unrelated recordings from '69-71, many better as hit songs for other artists. Though the record doesn't exactly make sense or leave an indelible mark, the song selection and singing are solid — a cockily sensitive version of Buffy Sainte-Marie's "Until It's Time for You to Go," the rousing gospel of "Put Your Hand in the Hand" —  a major exception being the goofy history lesson in the final tune "I Was Born About Ten Thousand Years Ago," which is no more vital here than it was when broken into snippets and sprinkled throughout Elvis Country.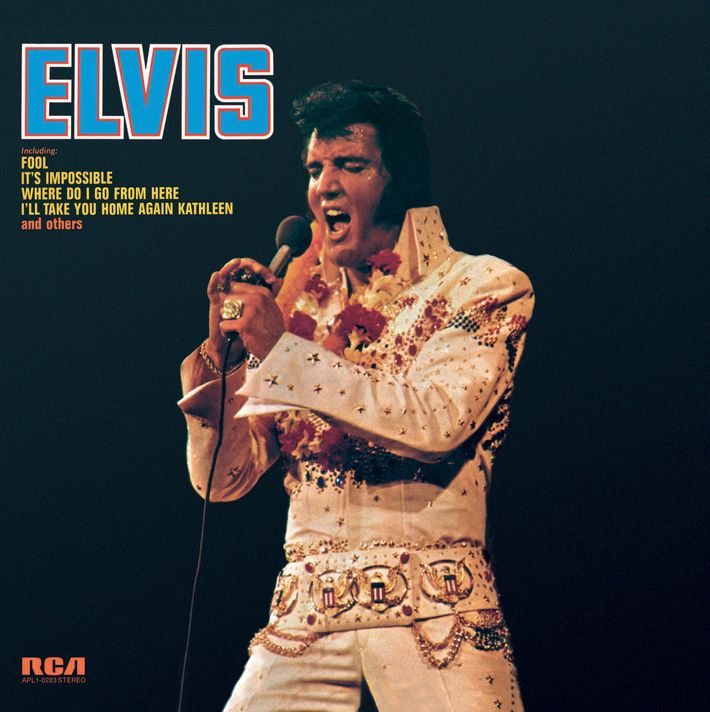 33. Elvis (1973)
This one's known as The Fool Album among Elvis cognoscenti, because a superior record called Elvis had already come out in '56 … and also because this leads off with the self-flagellating "Fool." (Elvis calls himself a "fool" again on the next song, and "not a wise man" on the third.)  It's another group of castoffs from the studio, plus an endearingly schlocky one from a performance at the Las Vegas Hilton, rendered into another one of his vaguely conceptual wholes by the unwise crooner's sense of desperation and self-contempt, at its most moving when Elvis is seated at the piano for a few songs, like on Ivory Joe Hunter's gorgeously understated "It's Still Here."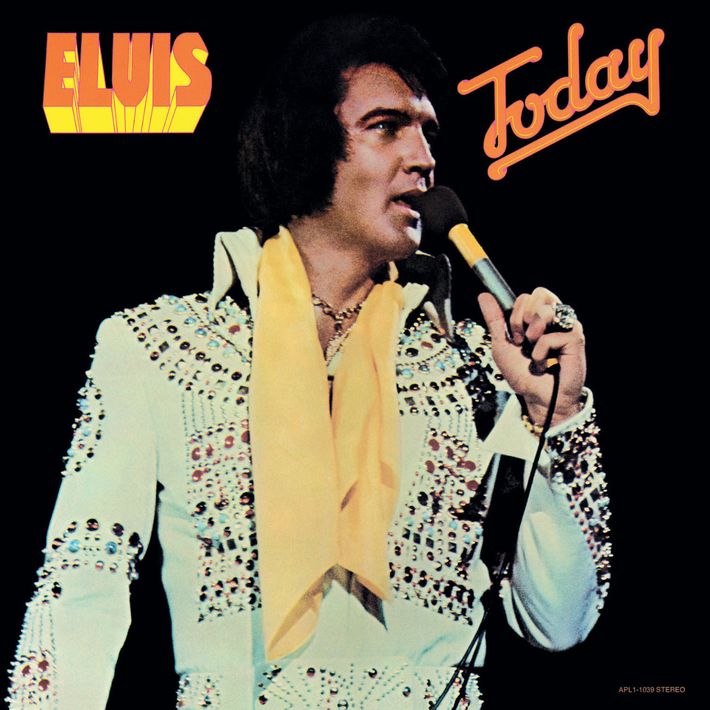 32. Today (1975)
Elvis leads off by spelling out "T-R-O-U-B-L-E" and rocking through an echo box like a crueler, sloppier proto–Garth Brooks (Travis Tritt made a later hit of this song), but the rest consists of fine adult-contemporary music that's easy to hear if hard to love — Perry Como here, Don McLean there, a nostalgic hit from Elvis-favorite Tom Jones the most affecting of the bunch  — though there's plenty of sassy heat on the Pointer Sisters' breakup declaration "Fairytale."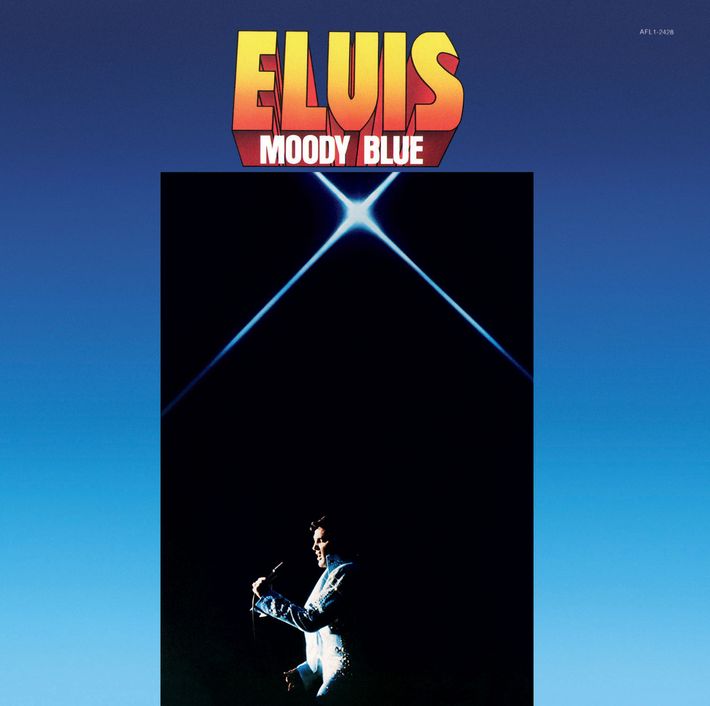 31. Moody Blue (1977)
Unable to get a full studio set out of Elvis, RCA settled for this combination of tracks recorded at Graceland and live versions of never-released songs from his final concerts, including his legendarily decrepit but moving version of "Unchained Melody" (which you're better off watching on YouTube). Though this is Elvis's last LP, released a month before his death, it's not as depressing as the album that came before it, From Elvis Presley Boulevard, Memphis, Tennessee, which was recorded entirely at Graceland in February '76. The title track on Moody Blue is a would-be camp classic from Mark James, who also wrote "Suspicious Minds," and the live half has a couple of enjoyably bouncy countrified versions of Olivia Newton-John hits in "If You Love Me (Let Me Know)" and "Let Me Be There," as well as a goofy take on the doo-wop classic "Little Darlin.'" Of the final studio cuts from October '76, "Way Down" is an up, and "Pledging My Love" is a strong-enough musical declaration.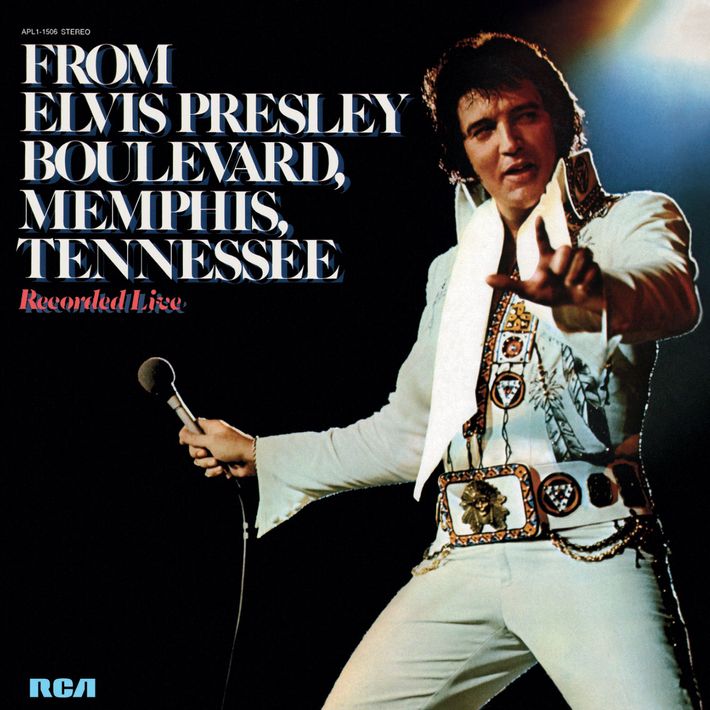 30. From Elvis Presley Boulevard, Memphis, Tennessee (1976)
It's not a live concert album, but an album recorded live at a makeshift studio, and a powerful downer that gets us close to Elvis's pain and far from rock and roll. The Polynesian furniture was cleared out of Graceland to make room for a recording setup to capture performances from the waning singer in between his obsessive viewings of Charles Bronson in Death Wish.  "Hurt" is the open wound that gets this off to an epically melodramatic start and, at its best, ragged interpretations of songs like "Danny Boy" and "Blue Eyes Crying in the Rain" keep the album compellingly bottomed-out. This is definitive feel-bad Elvis.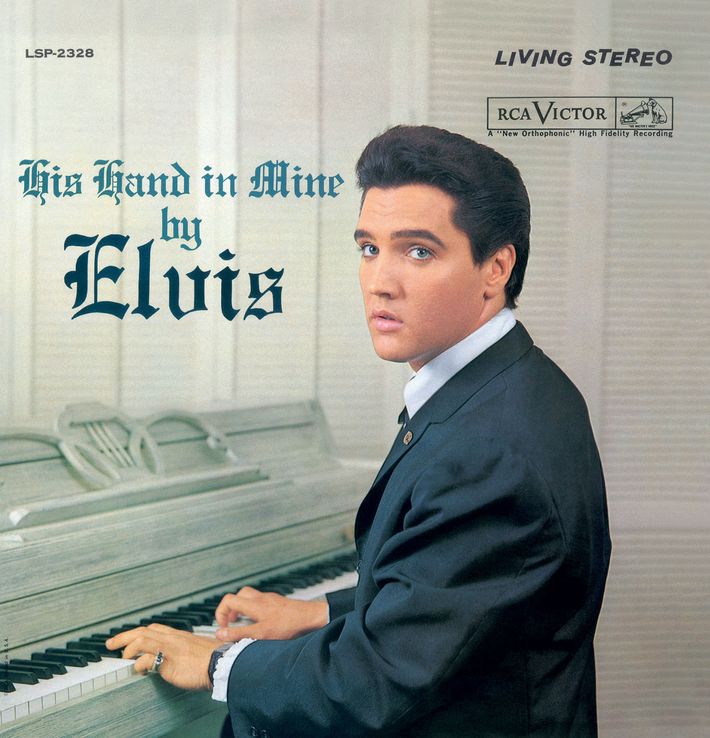 29. His Hand in Mine (1960)
One long Halloween night session yielded Elvis's first gospel quartet-style LP, a passion project featuring a few of the singer's own arrangements of traditional material. If you're less into the lascivious side of Elvis, and crave angelic sanctuary that may put you to sleep, this should be a go-to. When he croons, "My eyes may grow dim," on "I Believe in the Man in the Sky," you'll believe him.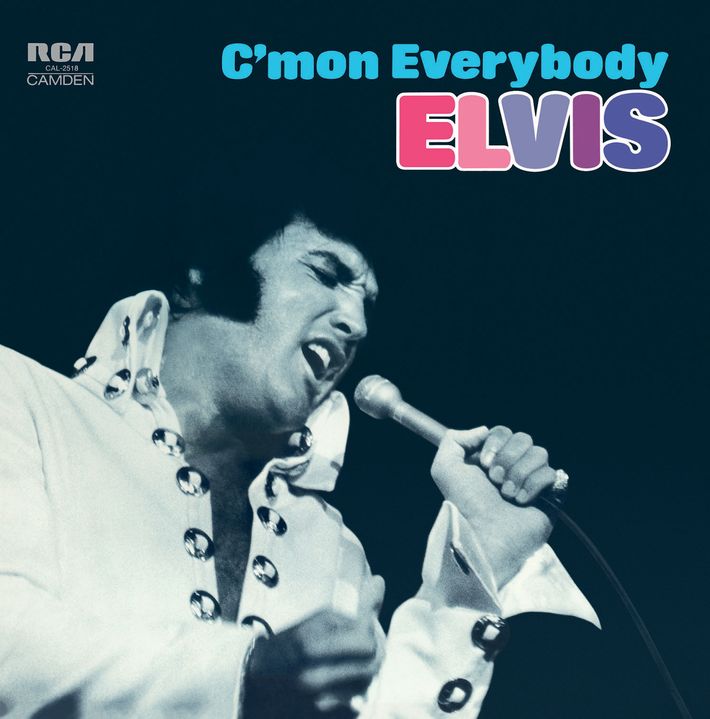 28. C'mon Everybody (1971)
Even though he's wearing a '70s-era jumpsuit on the cover, this is another easy way to hear selections from the slew of '60s soundtrack recordings that never made their way to an LP, taken from Viva Las Vegas, Follow That Dream, Kid Galahad, and Easy Come, Easy Go. Elvis doesn't quite convince you to rock out with the explicit dance instructions on the title track (clap your hands real loud and turn your head to the left) but it starts the album off with vim, which is followed by Elvis's pleasant request for heavenly kisses on "Angel." The rocker "Easy Come, Easy Go" comes and goes easily, as does this whole album, which sustains a light tone, unlike the laborious country-oriented material on Elvis's other LPs from this period.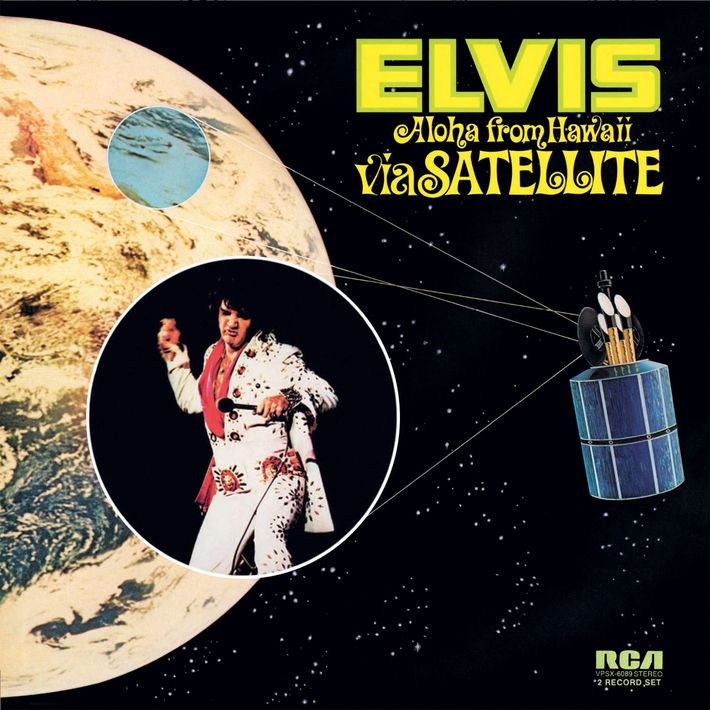 27. Aloha From Hawaii Via Satellite (1973)
On the same day as Super Bowl VII, Elvis attempted to outdo that extravaganza with his own "super magic for the tube," as he put it, donning an American Eagle jumpsuit to appear in the most expensive televised live special thus far, broadcast to over a billion people worldwide. The vinyl version of the complete show went No. 1 on the country and pop charts. This is his big show, with the addition of a Honolulu orchestra, opening with the 2001: A Space Odyssey theme and an elaborate version of "See See Rider," and continuing with a mix of early successes, new hits like "Burning Love," concert staples ("My Way" and "I'm So Lonesome I Could Cry") that hadn't yet appeared on an Elvis record, and other popular covers.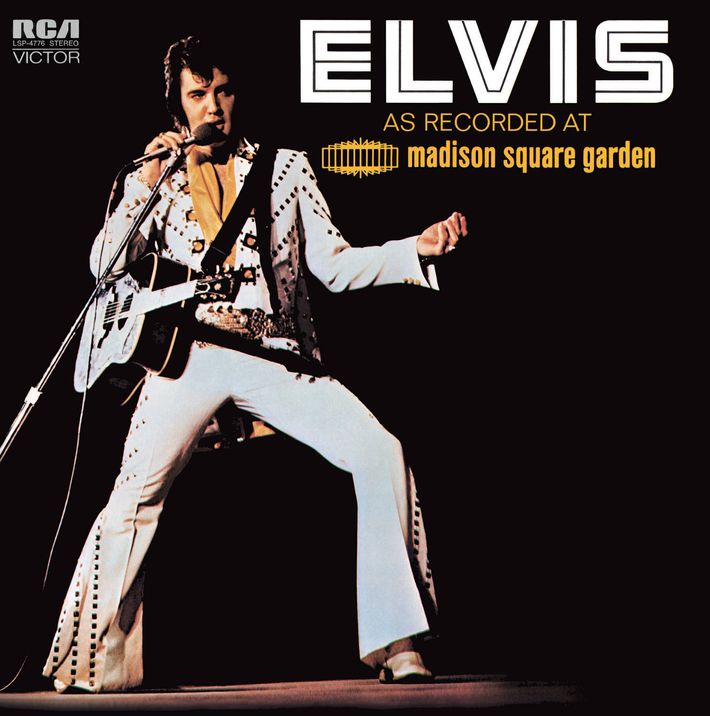 26. Elvis As Recorded at Madison Square Garden (1972)
Taken from one show during his only set of New York concert appearances (he'd performed on TV in the city during the '50s), then released in a hurry, this transports Elvis's early-'70s Vegas show to a much bigger venue, with enormous orchestral flourishes (accompanied by a backing band of New York jazzers), and the usual mix of Elvis-identified songs and songs that were hits for others like Three Dog Night and the Righteous Brothers. The album kicks off with the cosmos-summoning theme from the film 2001: A Space Odyssey and then goes into a high-speed take on "That's All Right," with able support from a horn section. It's fun to hear the swaggering ebb and flow of the full Elvis package of this era captured on tape, unlike the smaller samples offered by previous live albums, though it's never as raw and nervously idiosyncratic as his vaunted NBC-aired "comeback" special of 1968.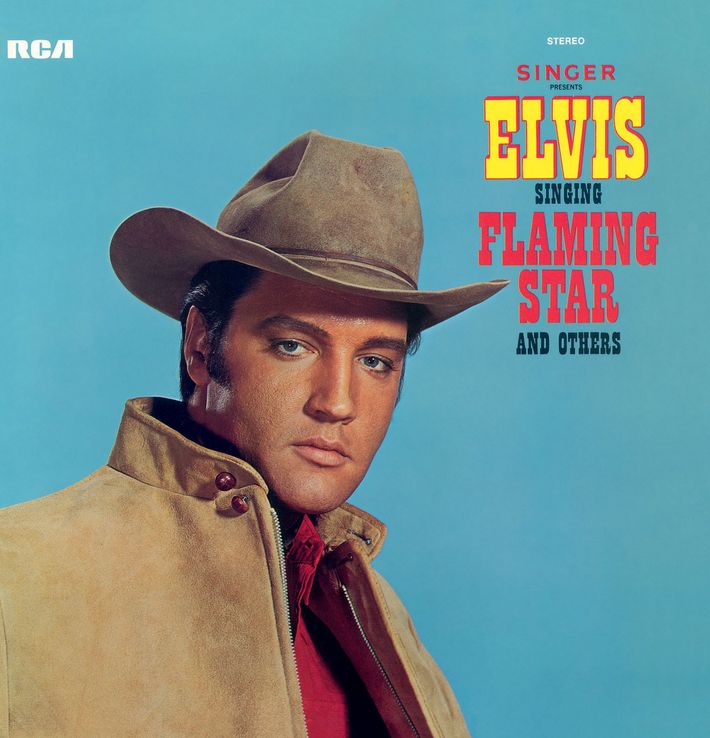 25. Singer Presents Elvis Singing "Flaming Star" and Others (1968)
This budget-priced compilation mostly consists of unreleased soundtrack recordings from the '60s, aside from a version of Chuck Berry's "Too Much Monkey Business" that was recorded as a warm-up and the sloppily energized "Tiger Man," which is the most exciting thing here: a sneak peek of the upcoming "comeback" special. The title song conjures mysterious Western astrology, and "Night Life" introduces some of the urbane shine of Viva Las Vegas. In this scattered context of cutting-room scraps, even the most ridiculous stuff like "She's a Machine" and "Do the Vega" contributes to an entertainingly cubist rendering of the King.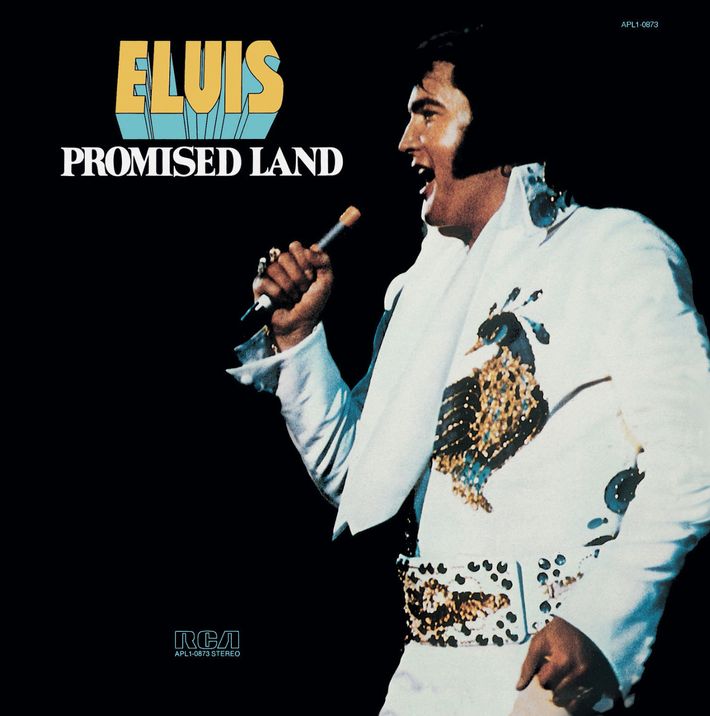 24. Promised Land (1975)
A 40th-birthday gift from E: the release of a second batch of songs from the same Stax sessions that wrought the middling Good Times, though Chuck Berry's title track opens this album with more energy than its predecessor (even if there are too many words for the singer to enunciate). The album's strong B side starts with the chilling "It's Midnight," then makes a touching mantra of "Your Love's Been a Long Time Coming."  Promised Land is one of his better mid-'70s records, though it's laden with a pair of duds in Elvis's plea to "Mr. Songman" and his far-from-actualized "Love Song of the Year."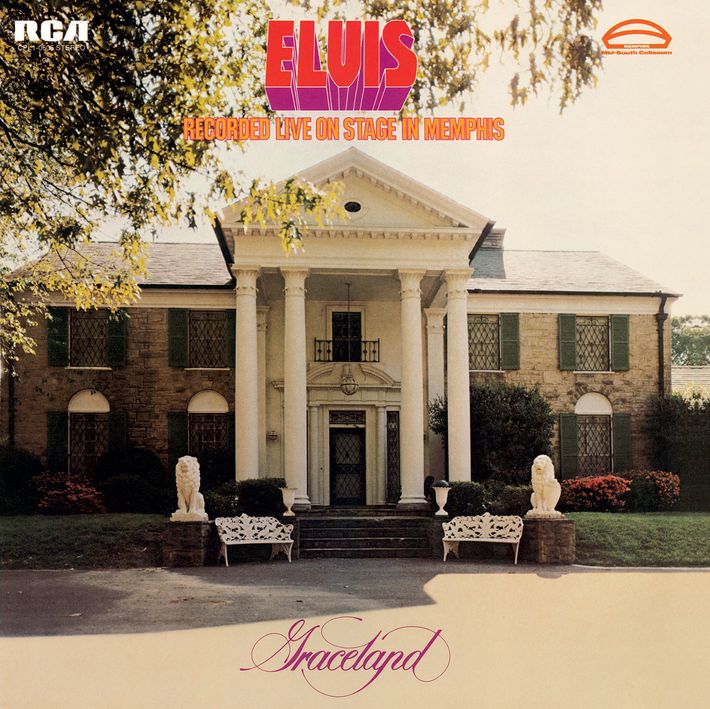 23. Elvis Recorded Live on Stage in Memphis (1974)
At this point, Elvis hadn't played his hometown in 13 years, so why not make a major commercial enterprise of the last show of a big tour? Tighter and more pleasurable than the previous bombastic New York and Hawaii live albums, this excises a lot of flab (while, this being an Elvis album, retaining some) and adds gospel grit via J.D. Sumner's lower-than-the-lowest-piano-note bass vocal leading off "Why Me Lord?" followed by a sensational "How Great Thou Art."  The album starts off strong with a dynamic "I Got a Woman" and a belted-out reworking of the Sun-era sex quest "Tryin' to Get to You," then closes with another pair of galloping '50s classics and the familiar Blue Hawaii charmer "Can't Help Falling in Love." It's no "comeback" special, but this is still some choice live Elvis.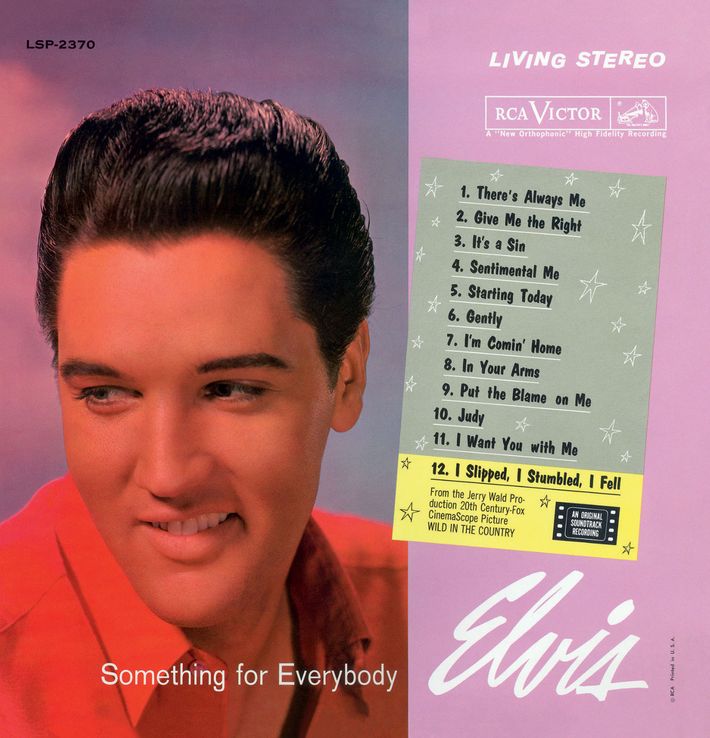 22. Something for Everybody (1961)
Elvis's third post-Army record (he served, mostly in Germany, from 1958 to 1960) opens with the moody and introspective Don Robertson crooner "There's Always Me," but ditches the midnight mood thereafter, instead continuing with well-sung country-pop. "I'm Comin' Home" attempts a rock-and-roll revival at the top of the B side and just about achieves it.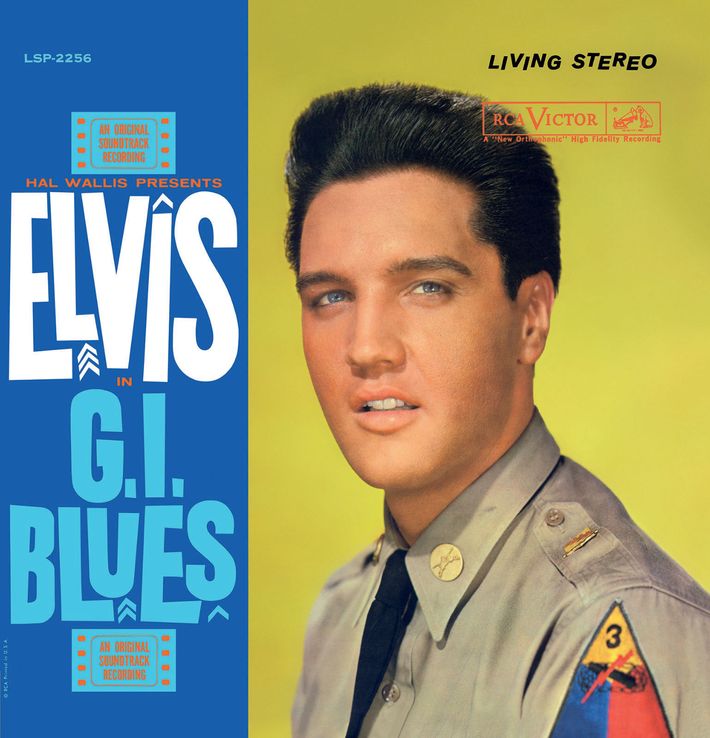 21. G.I. Blues (1960)
The most conceptually successful marketing tie-in to Elvis's military service was his first film after returning from serving abroad, which spawned this most-velvet-voiced and easygoing soundtrack. "Frankfort Special" jauntily celebrates the presence of enough "frantic fräuleins" to go around, there's a lullaby about daddy's nickname, "Big Boots," and a tender closer in "Doin' the Best I Can." "Wooden Heart" was the hit and offers the most lingering melody, a polka-spiced accordion ditty, half sung in German.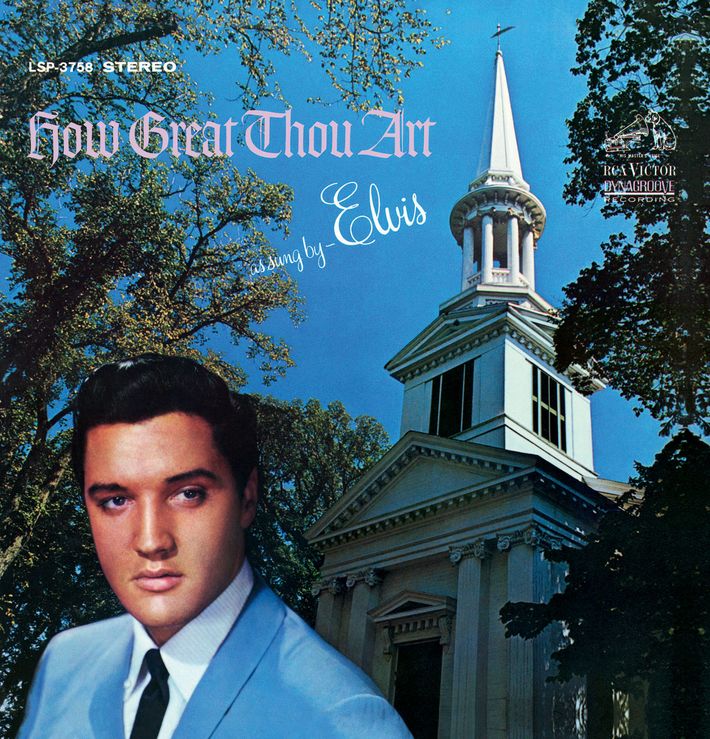 20. How Great Thou Art (1967)
Elvis liked to sing gospel as a means of relaxation between other nagging showbiz responsibilities, and How Great Thou Art was his second album of songs dedicated to, as one track here puts it, "Somebody Bigger Than You and I."  Finally, the singer got to perform music he cared about after years of churning out prefab soundtracks, and the results are more diverse and satisfying than his first gospel record, His Hand in Mine.  The title song simulates heavenly thunder over tinkling piano, and the rest of the A side is sweetly sung and gently soothing. A busier and often boisterous second half introduces elaborate group vocals, guitars, soul-summoning claps, snaps, cymbals, and saxes, with Elvis's arrangement of "Run On" a lean and tough version of that sinners warning.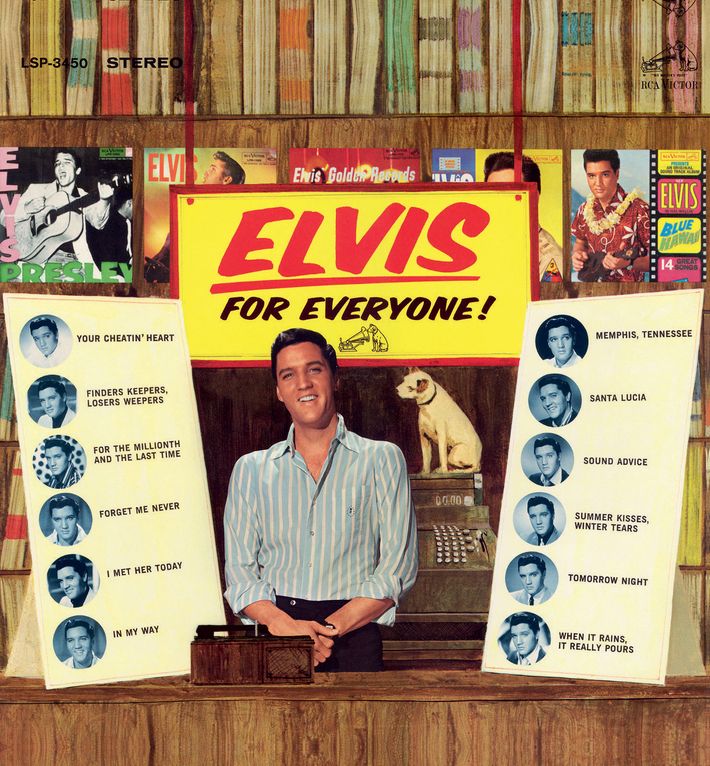 19. Elvis for Everyone! (1965)
After several so-so soundtrack albums in a row, Elvis returns to non-movie-related music, mostly, with a strong album released in celebration of the artist's ten years with RCA. Largely consisting of leftovers from the golden Sun days, as well as some scattered soundtrack material, Elvis for Everyone!  is a little all over the place (as expected from any mid-'60s Elvis record), featuring an unembittered version of Hank Williams's "Your Cheatin' Heart," a spirited take on Chuck Berry's "Memphis, Tennessee," and some tender ballads like "In My Way," "For the Millionth and the Last Time," and the movingly rough "Forget Me Never."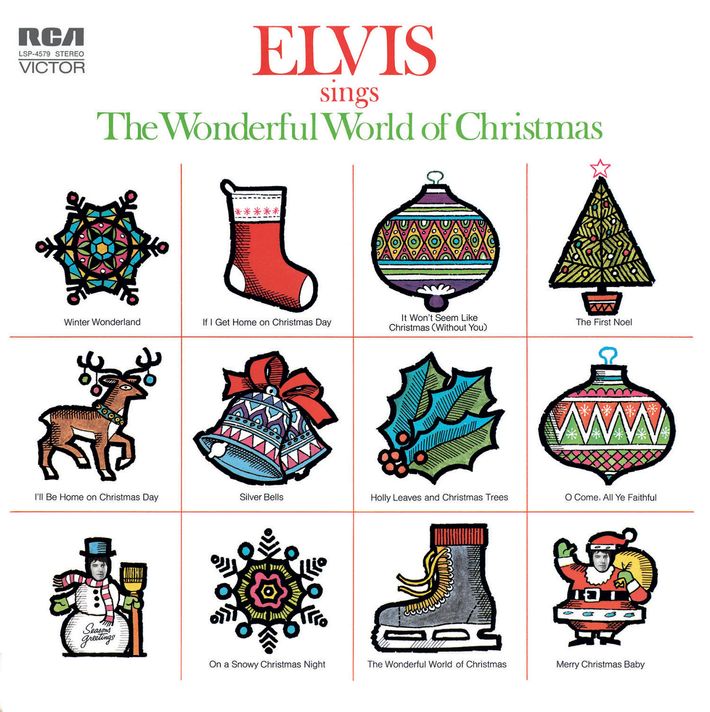 18. Elvis Sings The Wonderful World of Christmas (1971)
Elvis's second Christmas album isn't as rock and roll as his '50s go at a holiday recording, but it's infused with his later-period showmanship (check the extravagant flourishes of "Winter Wonderland") and deploys his bigger-band sound and powerhouse vocals to bolster a selection of overly familiar chestnuts. It adds up to an enjoyable mix of traditional classics ("O Come, All Ye Faithful" helped by the addition of a heavy bass line and funky drums), good new Christmas songs (the soulful "I'll Be Home on Christmas Day"), and newer songs like the stripped-down, randy "Merry Christmas Baby." The holiday spirit gave Elvis a rare and welcome unifying concept to work with — even though this album was recorded in May.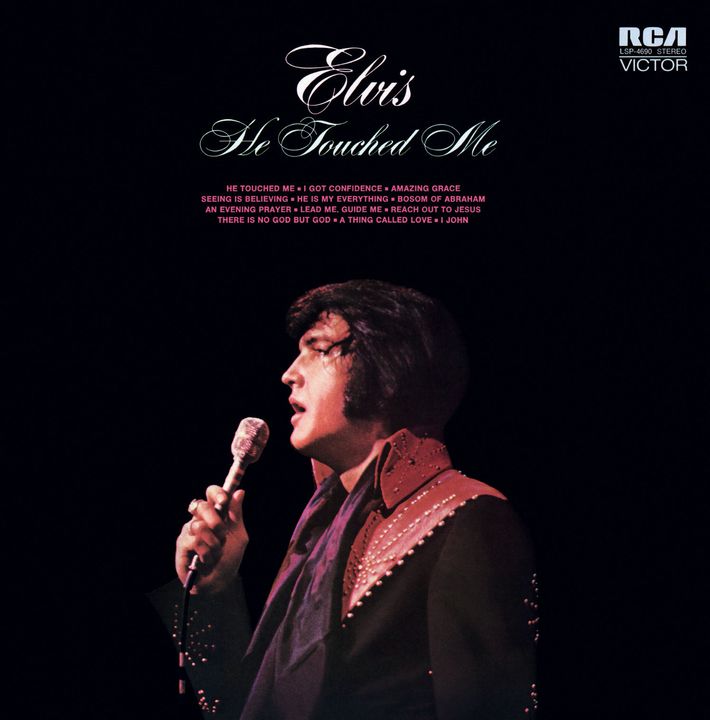 17. He Touched Me (1972)
Elvis's final gospel record is his most contemporary-sounding and diversely arranged group of devotional songs, with fewer lulls than its predecessors and beautifully calibrated vocals: tender and sweet when beseeching the Lord, massive once they have his attention. The band brings a bigger ruckus here than on Elvis's previous gospel outings, matching the levitating purport of songs like "I've Got Confidence" to a fierce instrumental attack, and the backing singers sound possessed when counting down angels against the lockstep groove of "I, John."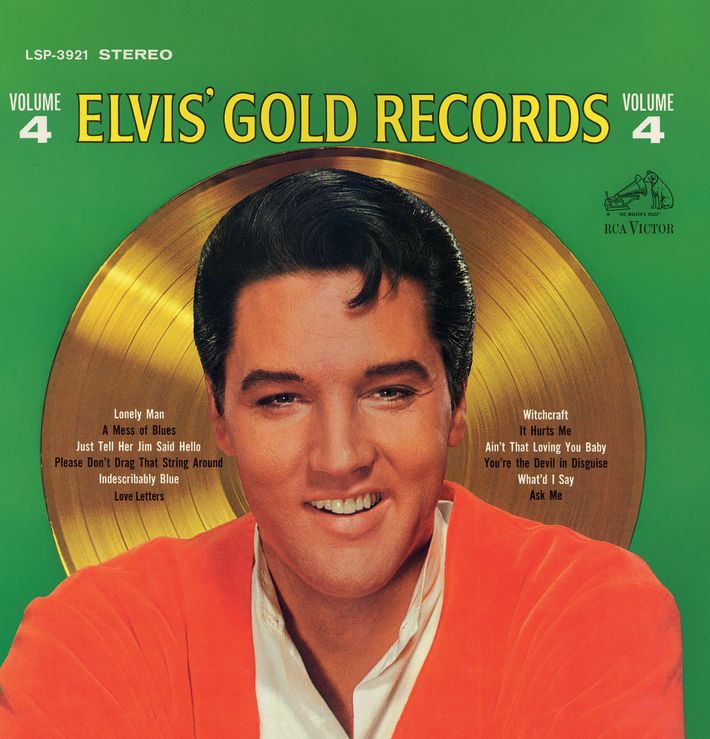 16. Elvis' Gold Records, Volume 4 (1968)
Not quite a collection of "hits" from the then-cooling star — only "(You're the) Devil in Disguise" went top-ten in the U.S. — this was the final "Gold Records" collection issued during his lifetime. Elvis may not have fit in with the revolutionary spirit of '68, but he delivered an enjoyable group of songs: impassioned ballads like "Love Letters" and "It Hurts Me," an energetic rendering of Ray Charles's "What'd I Say," and the playful "A Mess of Blues."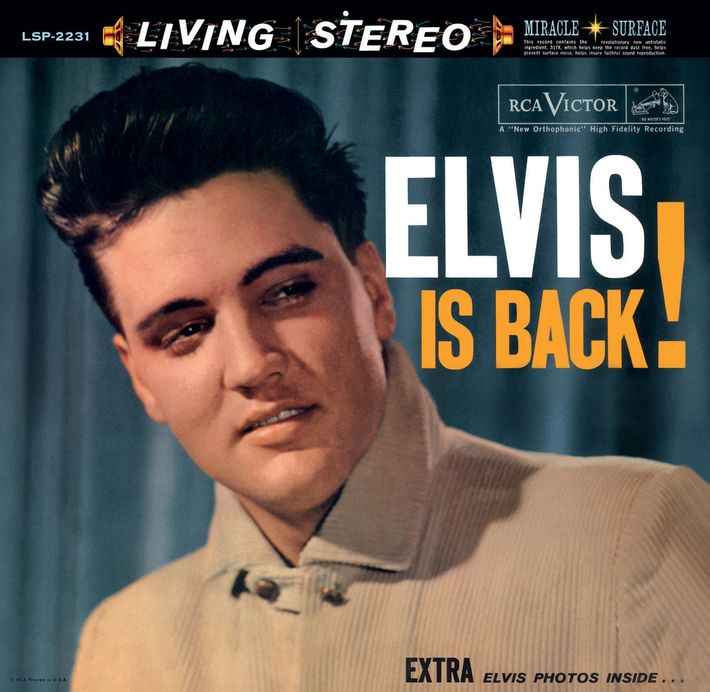 15. Elvis Is Back! (1960)
His first record made after returning to Tennessee from Germany is a solid recapitulation of his late-'50s prime. He overreaches on Peggy Lee's "Fever," but the album often achieves a mid-tempo grace, perfectly sprinkled with Elvis's signature corn, and "Reconsider Baby" has a convincingly bitter blues vocal. He charms on "The Girl of My Best Friend" and the saxophone-smothered "Like a Baby," and the topical "Soldier Boy" has a lovely bridge for this officer's pipes.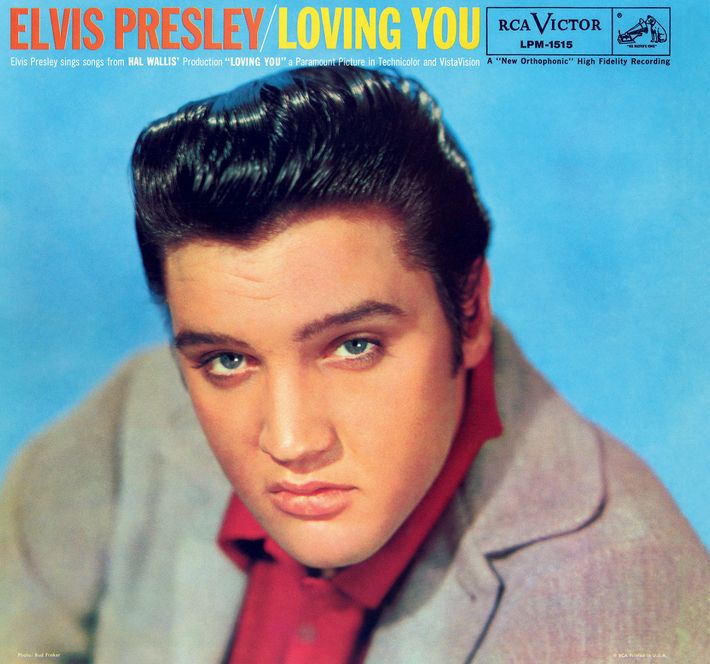 14. Loving You (1957)
The mainly zippy soundtrack to Elvis's first starring role (including a whole side of recent non-soundtrack cuts) transforms Elvis's singing delivery man into something nicely cuddly on the album's best known and biggest hit, "(Let Me Be Your) Teddy Bear," with a mean woman getting him good and hot on the scorching opener "Mean Woman Blues."  The loping drama of the Western number "Lonesome Cowboy" is a highlight, and there's a solid take on "Blueberry Hill" and a couple of sweet Cole Porter and Ivory Joe Hunter ballads.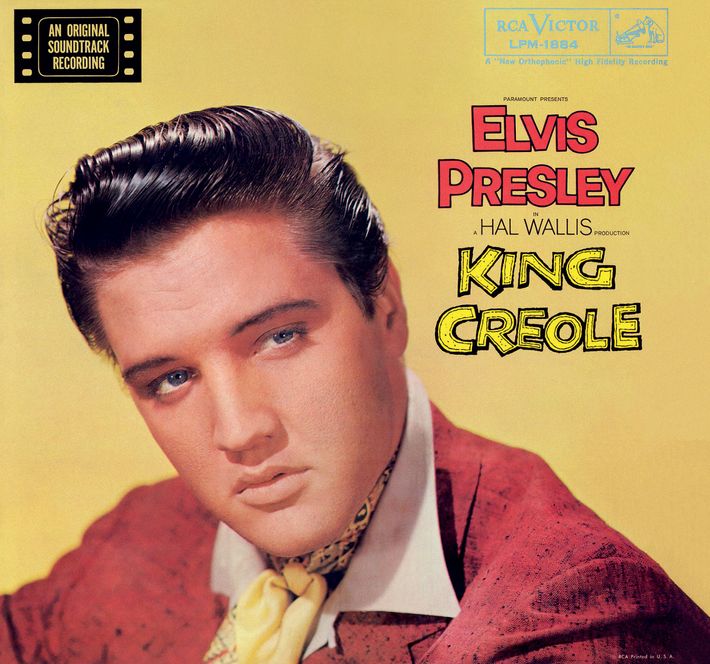 13. King Creole (1958)
Elvis's favorite movie role was as the new star of the King Creole nightclub, and the accompanying soundtrack album was also something strong. He's well-integrated with New Orleans brass on tracks like Leiber & Stoller's Muddy Waters' rip "Trouble," and has fun laying it on thick on their greasy title track. The lurching Kitty White duet "Crawfish" leaves a sinister impression regardless of fishy lyrical content. Some tunes are less rewarding, like the the cutesy "Lover Doll," but what's an Elvis soundtrack without its hitches?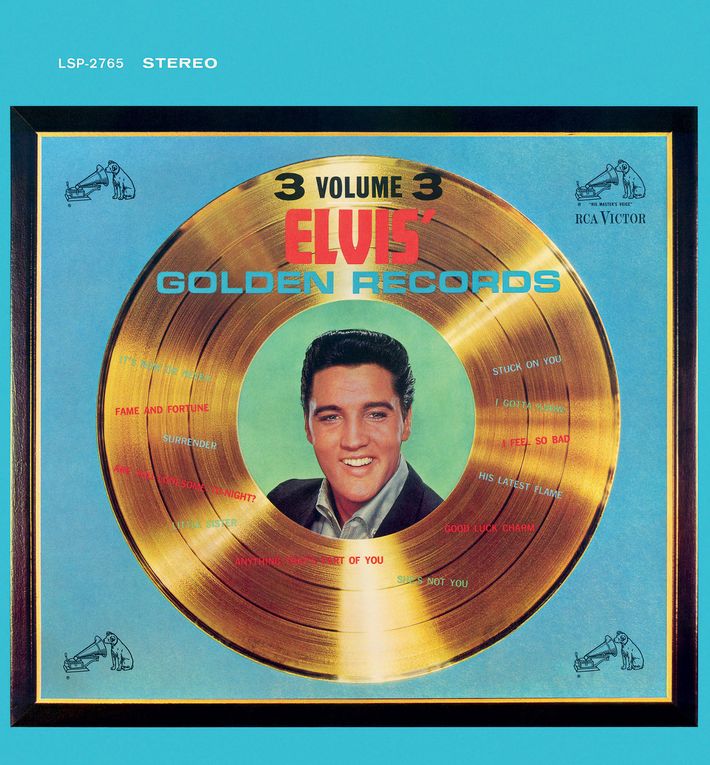 12. Elvis' Golden Records Volume 3 (1963)
The Colonel got it right when he convinced Elvis to resurrect the Neapolitan ballad "'O Sole Mio" as "It's Now or Never" for his biggest-ever international single, perfectly opening his larynx on the Caruso-channeling chorus, and he's equally but much more tenderly seductive on the soft-sung and partially spoken "Are You Lonesome Tonight?" This compilation shows how Elvis's early '60s singles consistently fried the schmaltz just right.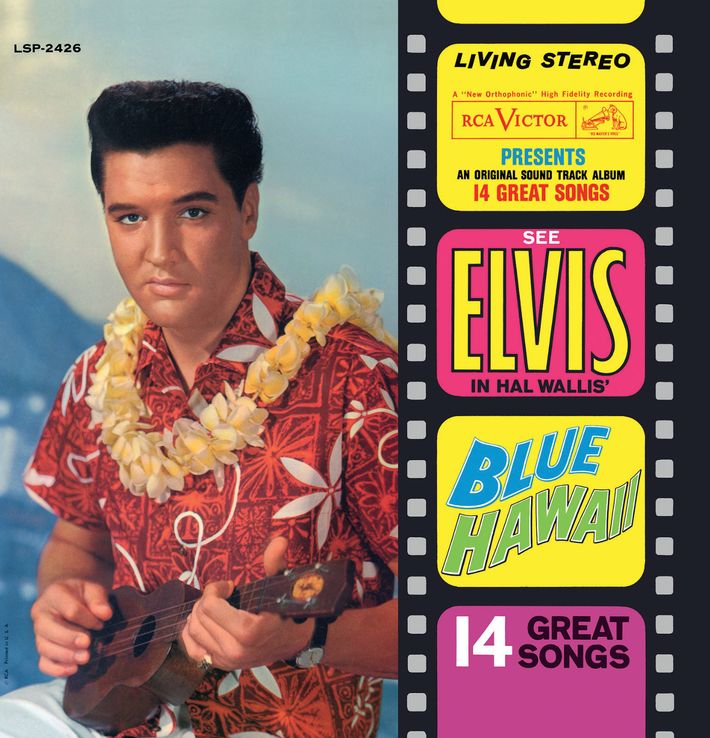 11. Blue Hawaii (1961)
The second-most commercially successful LP of the '60s (behind only the soundtrack to West Side Story) is this iconic soundtrack, which comes as close to having a unifying concept as Elvis ever got, Christmas and Christ excepted. It kicks off with the lush celeste and pedal steel of the title track, which is a sweet Bing Crosby update, and after the kooky saxophone and clonking sounds of "Almost Always True," the island mood remains sustained, complete with frantic ukulele intros. If your fantasies involve tropical adventure with a handsome tour guide — this lonesome beach boy — there is no better album.  "Can't Help Falling in Love" is the obvious peak, and even the silly calypso moment "Ito Eats" wiggles into its place.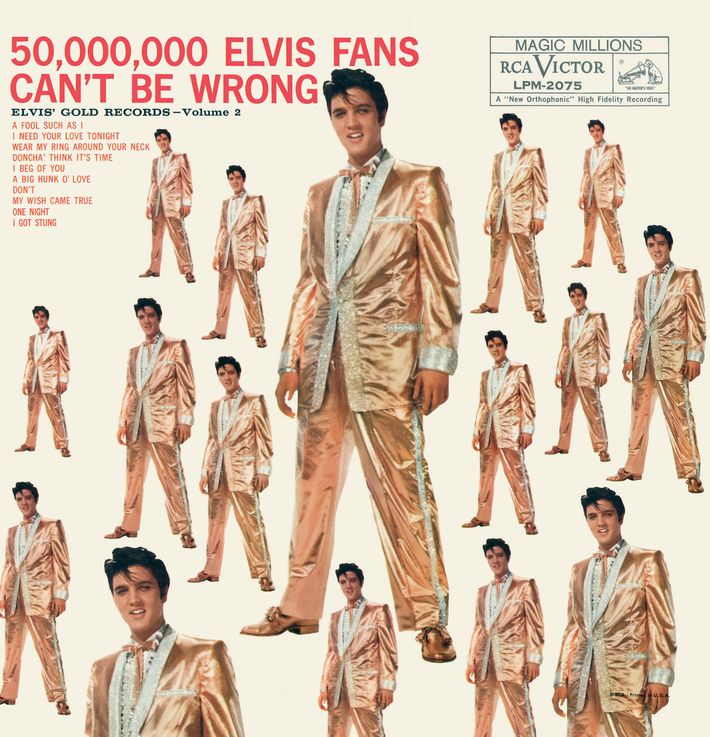 10. Elvis' Golden Records, Volume 2: 50,000,000 Elvis Fans Can't Be Wrong (1959)
Colonel Parker got fans stoked for Elvis's imminent release from German deployment with this collection of singles he released in '58 and '59 (thankfully, minus a pair of ho-hum tunes from King Creole), and this both rocks and allures, from the quick-change rhythms and doo-wop groans of come-hither "I Need Your Love Tonight" to pleading ballads like "Don't" and the verging-on-desperate drama of "One Night" and "I Beg of You."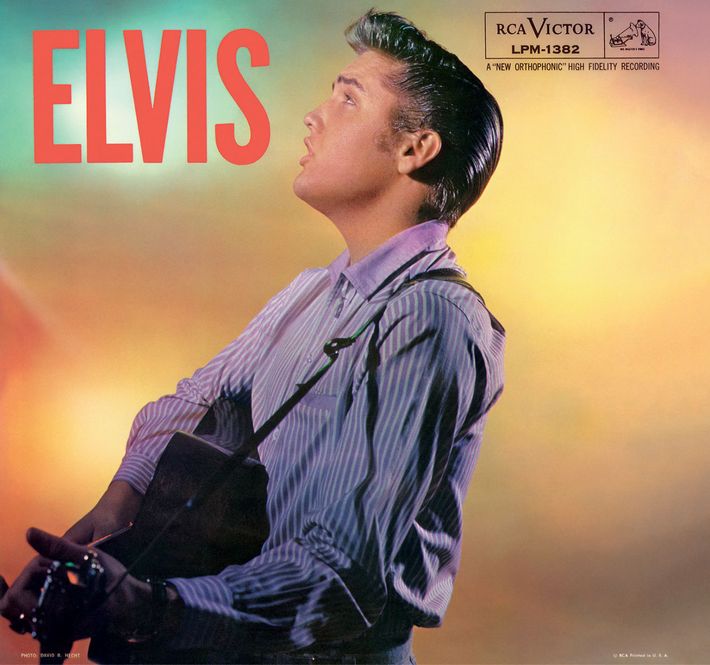 9. Elvis (1956)
Elvis is great, if not as strong as Elvis Presley from half a year earlier. Little Richard's "Rip It Up" starts the album off with plenty of oomph and one of the fiercest-ever Scotty Moore guitar breaks, and the two other Little Richard cuts are equally hard-hitting.  "So Glad You're Mine," a great mocking Arthur Crudup song left over from an earlier session kicks off the second side, and when Elvis's mournful desire peeks out on "How's the World Treating You," as elsewhere, the effect is spellbinding.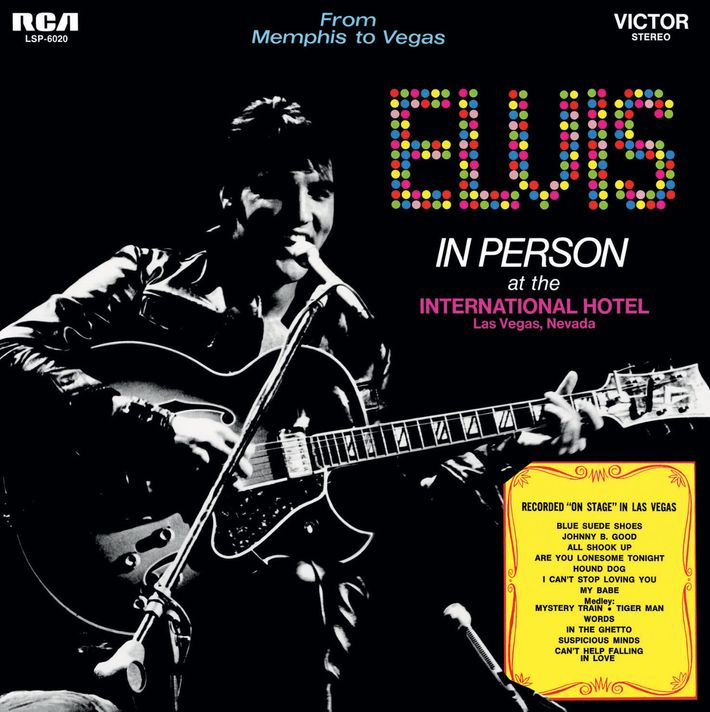 8. From Memphis to Vegas/From Vegas to Memphis (1969)
This could have been more understandably named From Nothing to Something, considering the full renovation of Elvis in the period following his 1968 comeback. Half material from a few Vegas hotel dates and half studio record, Elvis's first two-LP set shuffles us around the country to capture his first performances — for a general audience, not designed for TV — since 1961, and some of the soulful cuts left over from the great From Elvis in Memphis sessions. In the studio, he makes the most of Percy Mayfield's alienation on "Stranger in My Own Home Town" and a soft wet kiss from Neil Diamond on "And the Grass Won't Pay No Mind."  The live set is more fiery, starting with breakneck versions of classics like "Johnny B. Goode" and "Blue Suede Shoes" interspersed with the King's laughter and self-mocking banter: He calls himself "bigger now" (size-wise). It also includes an extended version of the new hit "Suspicious Minds," demonstrating that Elvis and his band know how eternally great the song is.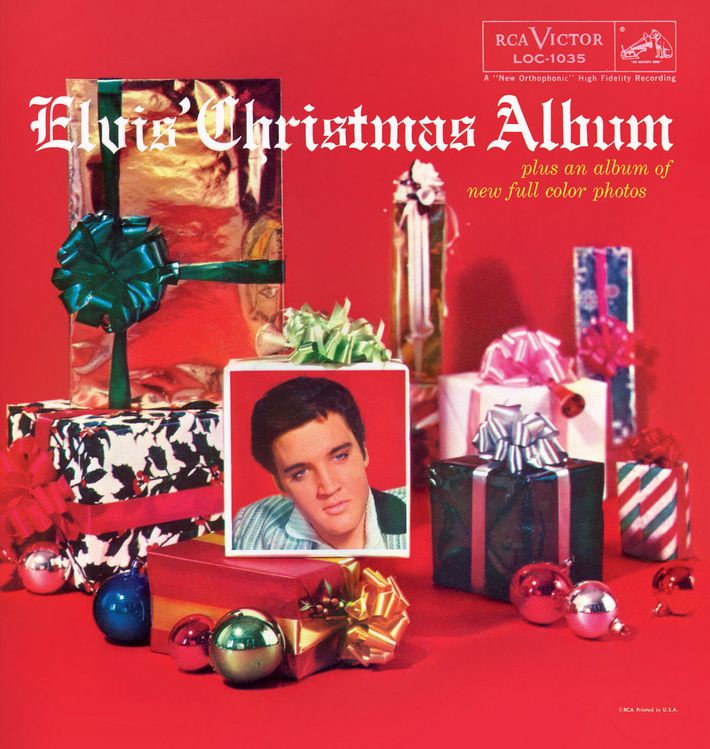 7. Elvis' Christmas Album (1957)
The all-time best-selling Christmas album in America is rounded out by four beautifully drowsy non-holiday gospel numbers. (This album irked "White Christmas" originator Irving Berlin and other purists, but you'd think they got over it.) Elvis brought a pine tree and presents into the studio to guarantee his seasonal mien on this one, sexily swaggering through classics and new gems like "Santa Claus Is Back in Town."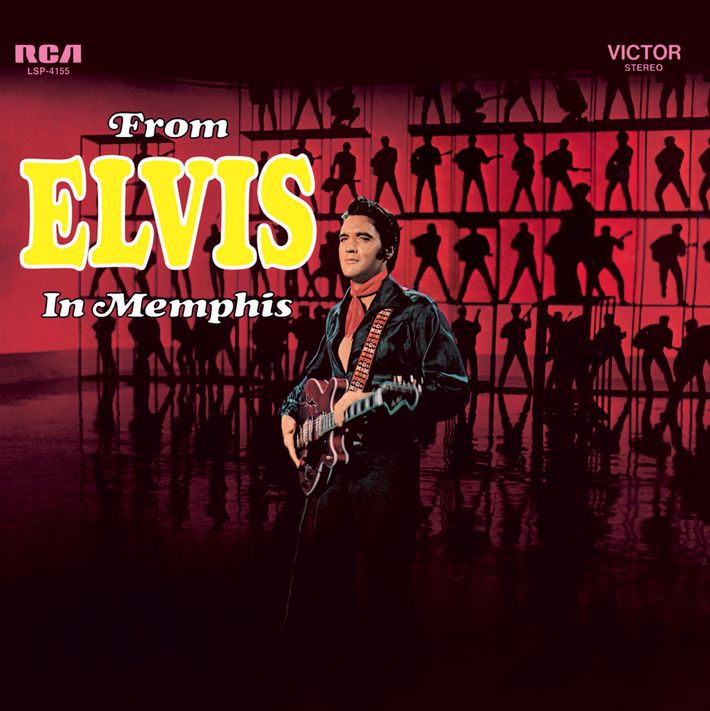 6. From Elvis In Memphis (1969)
Fresh off the success of his '68 "comeback" special, a reanimated Elvis recorded this album — many fans' favorite — at a studio he'd never before used, American Sound, getting its talented southern soul-style house band the Memphis Boys to back him rather than the usual gang. Elvis got to distance himself from the worn-out commercial decisions imposed by Colonel Parker and dig deep into meaningful material of his own choosing, capturing some of the earlier TV special's spontaneous sense of fun and inventiveness with spirited and unpredictable arrangements and performances, including a great rhythm section and backup singing that blows his mainstays, the often-stiff Jordanaires, out of the water. Although the songs are mainly two or three minutes long, they feel like they're taking their time without ever lagging, and the straight country material like "I'm Movin' On" benefits from elaborately funky interjections. A sense of purpose permeates the whole album, and not just the one explicit protest song, "In the Ghetto."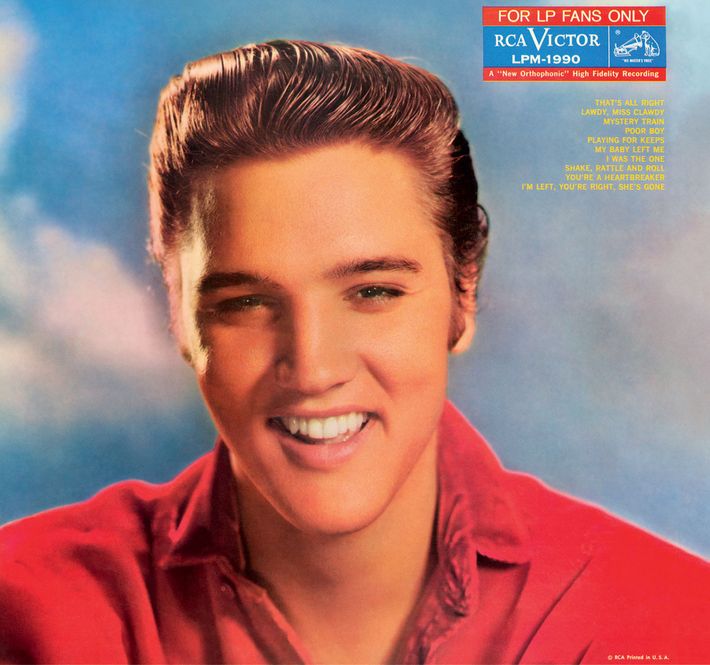 5. For LP Fans Only (1959)
A thoroughly enjoyable mixture of early RCA singles plus a couple of his first Sun singles newly issued on LP, this was designed to keep Elvis fans satiated with "new" product during his Army stint, and Elvis had terrific stuff in his back pocket. This was the first way many people heard some of his best Sun tracks like "That's All Right" and "Mystery Train," and there's primo r&b like "Lawdy Miss Clawdy" to show how convincingly versatile young Elvis was.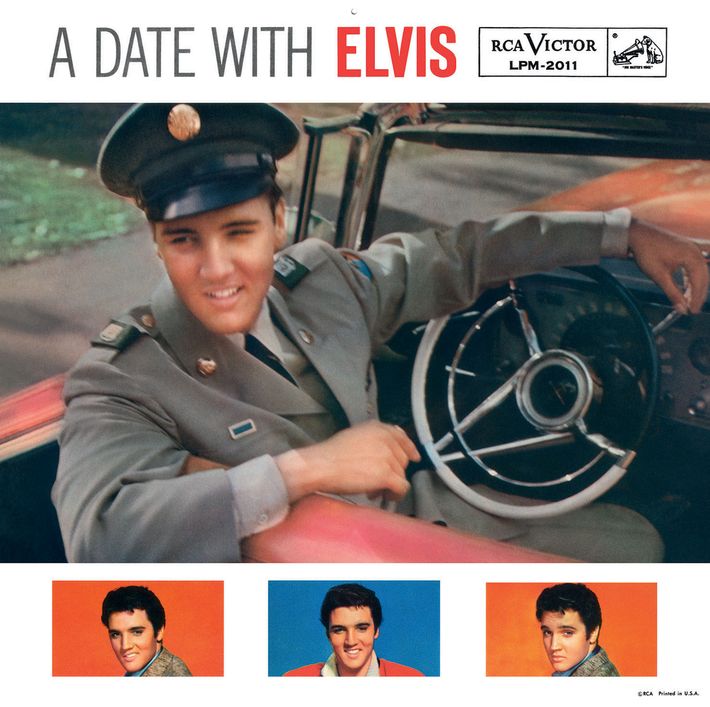 4. A Date With Elvis (1959)
Issued a few months after For LP Fans Only, this album was made with the same intention as its predecessor: to keep fans sated with Elvis material while he was off driving tanks in the Army. This time around, he plays explicitly with his suave military image with the hi-hello-I'm-a-soldier-Elvis-doll cover shot and gatefold image of a calendar marked with the precise date of his U.S. return. Musically, it's a terrific mix of newer recordings like the chastising but flippant "(You're So Square) Baby I Don't Care" and Sun tracks like "Blue Moon of Kentucky" (his other classic lamentation over a blue moon), and it showcases his enthusiastic inner-boy on "Good Rockin' Tonight" and the delightfully cheery (but also menacing) entreaty "Baby Let's Play House." "I Forgot to Remember to Forget" is another reminder that Elvis could be just as effectively sexy when silly.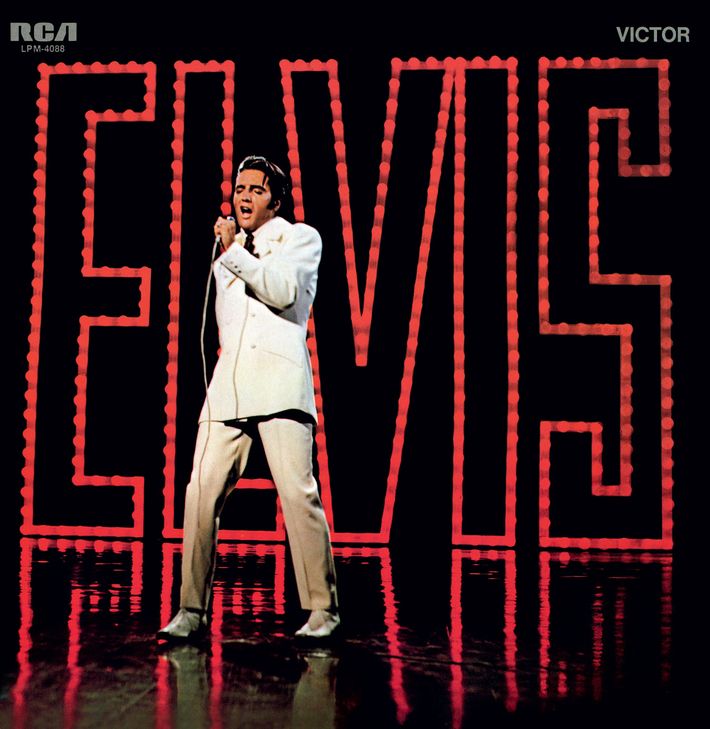 3. Elvis (NBC-TV Special) (1968)
These are the live performances from the TV "comeback" that got Elvis excited about performing again, with good reason after his long slew of soundtrack obligations. His work here is loose and gritty and inspired, with the opening medley of "Trouble" and "Guitar Man" leading to an extended hits medley, and his renewed sense of purpose is as irresistible now as it was to the fans present at the shows. On "Blue Christmas" we even get to hear what sounds like audience orgasms and insinuating band-issued instructions to "play it dirty." The whole thing is casual and comfortably uncomfortable, vulnerable and confident: "Lawdy Miss Clawdy" breaks down into some choice ad libs about the singer's lip and gets back up as "Hound Dog" and "Heartbreak Hotel"; Elvis's on-the-spot rewrites and chuckles during "Love Me Tender" endear. The closing song "If I Can Dream" has a searing gospel intensity that his first couple of proper gospel LPs never quite captured. This is a moving document (and deconstruction) of Elvis's unique embodiment of r&b, gospel, country, and rock and roll. An essential gateway to his late period, indulgences and all.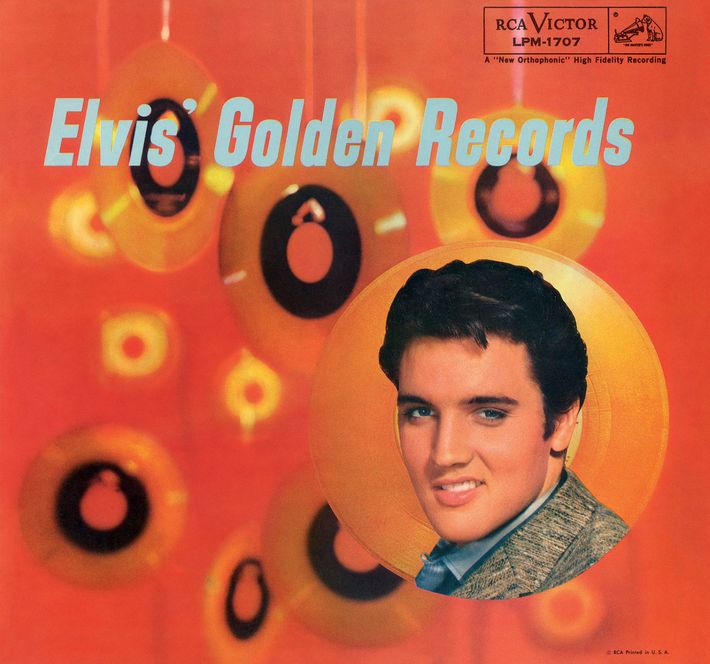 2. Elvis' Golden Records (1958)
Historically important and precedent-setting, but even more delectable sonically, it's another first for Elvis, and our pleasure organs can be as eternally grateful to this album as they are to the first ice-cream parlor to offer multiple scoops.  This was the first time rock-and-roll songs had been compiled into a hits-collection LP, in this case consisting of crisply remastered versions of the million-selling rockers and ballads released throughout '56 and '57 as singles, including the thrilling "Hound Dog," the majestically lonesome "Heartbreak Hotel," and the simply beautiful "Love Me Tender." Despite being a Colonel Parker cash grab — a designation that could be given to so much of Elvis's ensuing work — meant to tide over fans during the first stretch of Elvis's two-year showbiz break, it's a splendid summation of his pre-Army highlights, not arranged chronologically, but for listening pleasure.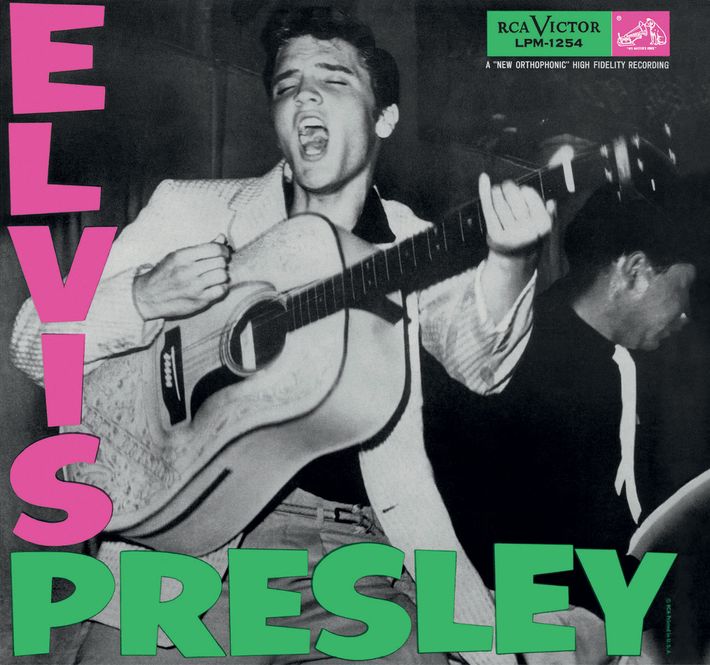 1. Elvis Presley (1956)
This template for the hormonal enhancement of teens — Elvis's first long-playing record — is also the first No.-1-charting rock-and-roll record, period, helping usher in the rock-LP era. Historical consequence aside, the music is a dynamite convergence of older Sun and newer RCA recordings, which served to feed the growing nationwide Elvis bedlam, and it's equally perfect as a showcase for the thrusting dancer of "Blue Suede Shoes" as it is for the sensitive crooner experimenting in nocturnal melancholy at its hypnotic best on the ethereal "Blue Moon" and "I Love You Because." At the same time, the desperate "I'll Never Let You Go (Little Darlin')" and "Money Honey" reveal an essential dangerous-rebel aspect to his appeal. (It's no surprise that he worshipped James Dean, and you can somehow hear him channeling that adoration onto wax.) Elvis and his original band distill r&b, country, blues, and rockabilly into primal pop music. This is the material that the Beatles loved, and you can bet they listened especially closely to these songs and arrangements of tightly interwoven instrumentation topped with stirring guitar breaks and youthfully impassioned singing. Listen to that yearning, playful, courting voice cut through gorgeously on songs like "Tryin' to Get to You" and you'll understand what John Lennon meant when he said "Elvis was bigger than religion in my life ."