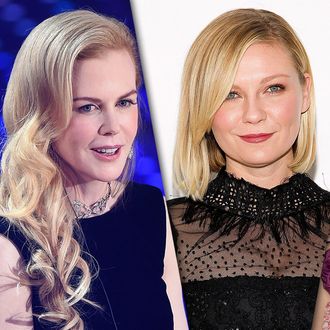 Nicole Kidman and Kirsten Dunst.
Photo: Venturelli/Getty Images/Paul Morigi/WireImage/Jason Merritt/Getty Images
Sofia Coppola has found her post–Little Mermaid project: As the Wrap reports, she's set to direct a remake of the 1971 Clint Eastwood film The Beguiled, a period piece about an all-female boarding school that's shaken up by the arrival of a wounded soldier from the Civil War. Elle Fanning has signed on to play a student at the school, while Nicole Kidman and Kirsten Dunst are reportedly joining as the headmistress and a teacher, respectively. The role of the Civil War soldier has not been cast, but you have to bet Hollywood's dreamiest hunks are lining up for the role.