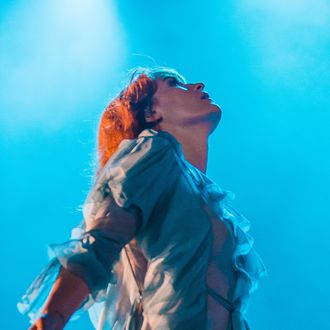 Swoooon.
Photo: Mauricio Santana/Getty Images
If Florence Welch lived inside a video game, she'd probably be some divine princess like Zelda. But until some genius makes that happen (or until Florence gets her cosplay on), we'll just have to settle for her venturing into the world of Final Fantasy, which, y'know, also works. Cover experts Florence and the Machine have contributed a cover of the late Ben E. King classic "Stand by Me" for Final Fantasy XV, which appears in the game's latest trailer (around 1:10). Have you ever wondered what it would feel like to take a joyride, pull over to stare longingly at the moon, then battle dragons and such, all with the voice of literal angel Florence Welch there to guide you? Wonder no more, my friend.
As for how Florence even entered such a fantastical scenario, she explains: "I've always seen Final Fantasy as mythical, beautiful and epic. 'Stand by Me' is one of the greatest songs probably of all time and you can't really improve on it, you just have to make it your own. For me it was just about bringing the song into the world of Florence and the Machine and the world of Final Fantasy." Oh did she ever bring it.