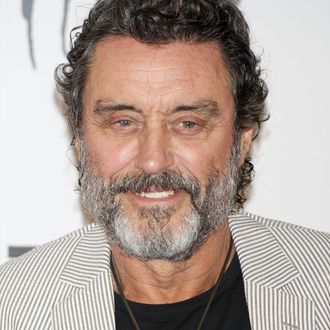 Ian McShane.
Photo: Juan Naharro Gimenez/Getty Images
Who's Ian McShane playing on Game of Thrones next season? Both the actor and the production have been keeping the answer pretty close to the vest, probably because, whenever he does talk about it, he ends up giving away fairly large spoilers about the season as a whole. "Game of Thrones, that's one I can't talk about," McShane told BBC Breakfast on Thursday, before proceeding to talk about it. "I can give you one hint: My character is an ex-warrior who's become a peacenik … I bring back a much-loved character everybody thinks is dead." This squares with what McShane has said before, but on a visit to BBC Radio 5 later in the day, he went even further. (Spoilers follow!)
"I have nursed a much-loved character back to life," McShane explained, before challenging his host to guess. When she pointed out that he could only be referring to the Hound or Jon Snow, he tried to pretend he wasn't spilling: "It's not the latter, it might be the former." (It was the only unconvincing performance he has ever given.) So, there you have it: Ian McShane is playing a version of the Elder Brother, and Sandor Clegane is coming back. And he revealed it all without calling anyone a cocksucker!