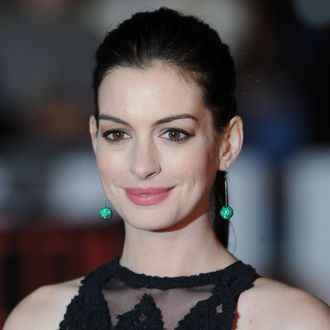 Her reign will continue, maybe.
Photo: Stuart C. Wilson/Getty Images
The long-awaited Princess Diaries three-quel looks on again: People caught up with director Garry Marshall, who reversed the last report to the contrary with casting and location teases. "I was with Anne Hathaway a couple weeks ago, it looks like we want to do Princess Diaries 3 in Manhattan," he told the mag recently. "Anne Hathaway is very pregnant, so we have to wait until she has the baby and then I think we're going to do it." Marshall also seemed open to the return of Chris Pine (they're still pals because Pine's dad is in Marshall's forthcoming Mother's Day film). The updates of course are festooned with maybes and wants, because the timing has to work out for everyone and flights to and from Genovia have spiked exponentially over the years. Regardless, thank you for this news, Garry Marshall — thank you for being here today.