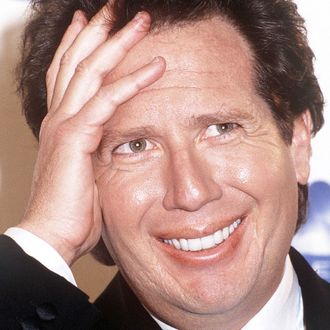 Garry Shandling.
Photo: Kypros/Getty Images
As first reported by TMZ and confirmed to Vulture by a publicity rep for Shandling, comedian Garry Shandling has died, of unknown causes, at St. John's Health Center in Santa Monica at the age of 66. His rep said only that Shandling's death was "sudden." After a childhood in Arizona, Shandling got his start in Hollywood as a writer for sitcoms like Sanford and Son and Welcome Back, Kotter. After a conscience-shaking car accident, he turned to stand-up comedy in the late '70s, and soon gained popularity for his neurotic style. A spot on Johnny Carson's Tonight Show in 1981 led to Shandling becoming a regular guest host in Carson's absence, and his name was often mentioned as a possible successor to the late-night legend.
Instead, Shandling's television legacy would lie elsewhere. In 1986, he translated the style of his stand-up into his first cable show, the groundbreaking meta-comedy It's Garry Shandling's Show., which aired for four seasons on Showtime. Shandling's skewed take on the standard autobiographical sitcom saw him play a successful stand-up named Garry Shandling who was painfully aware that he was the lead character in a television show.
As Shandling told the New York Times, during the show's run, his style of comedy was uncomplicated: "I take my personal experiences, such as my life as a single man in the '80s, and exaggerate them, or I take the unusual things in life that happen to all of us and work with them."
After the show went off the air, Shandling didn't get Carson's old job. He was, however, offered a talk show in David Letterman's old time slot. He remembered asking a close friend, "Can I grow as an artist going on TV every night?" He decided he couldn't, and instead took something very different: The Larry Sanders Show. Widely considered his greatest creative achievement, the HBO late-night parody followed the behind-the-scenes drama of a fictional talk show, with Shandling playing the harried host, and real stars playing off-kilter versions of their public selves. It ran for six seasons, winning three Emmys over the course of its run.
In the years since Larry Sanders went off the air, Shandler acted intermittently in movies, starring in What Planet Are You From? and Town & Country, and playing a corrupt senator in the Marvel Cinematic Universe. Per TMZ, Shandling was not known to be suffering from any illness at the time of his death.
We will update this post as more information becomes known.