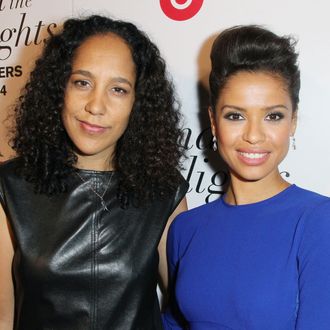 Gina Prince-Bythewood and Gugu Mbatha-Raw.
Photo: David Buchan/Getty Images
An Untamed State, the debut novel from everyone's favorite not-bad feminist Roxane Gay, is about to be adapted into a likely very good movie. Gina Prince-Bythewood (Love & Basketball, The Secret Life of Bees) is directing the film, and co-writing the adaptation with Gay. Gugu Mbatha-Raw, whom you might remember from Dr. Who, and who most recently worked with Prince-Bythewood in Beyond the Lights, is set to star. The novel tells the powerful story of a Haitian-American woman who is kidnapped while vacationing with her husband and child in Haiti, and what she must do to survive in the aftermath. There is no release date, because the movie has not been made yet, so chill out for a hot second and let them work.