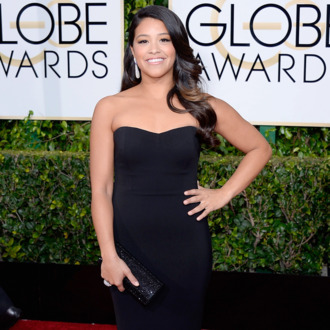 The Dress.
Photo: Kevork Djansezian/NBC/Getty Images
Hey, maybe high school isn't so bad after all. Let's hope Jessica Casanova's date found something at J.C. Penney to match a Badgley Mischka, because after a Twitter exchange, the teen received Gina Rodriguez's Golden Globes dress in the mail to wear to her prom. If you didn't already love the Jane the Virgin star, you will surely fall in love after reading her conversation with the teenage fan, here:
Will this spark a trend of regular people like us asking super-cool, nice TV stars for clothing? Let's hope so. Because who wouldn't want a Game of Thrones fur pelt to wear to a bridal shower, or Jacob Tremblay's tiny Oscars suit for their ninth birthday party? Until then, congrats to Casanova for achieving her dress-dream.
Update: Casanova wore the dress to her prom in Buffalo, New York, last week, where the local newspaper documented the special ensemble. It complements the corsage wonderfully.
According to Entertainment Tonight, following the prom, the dress was returned to Rodriguez, who will then "pass it on to another girl" to wear for another special occasion. The Sisterhood of the Traveling Dress, indeed.