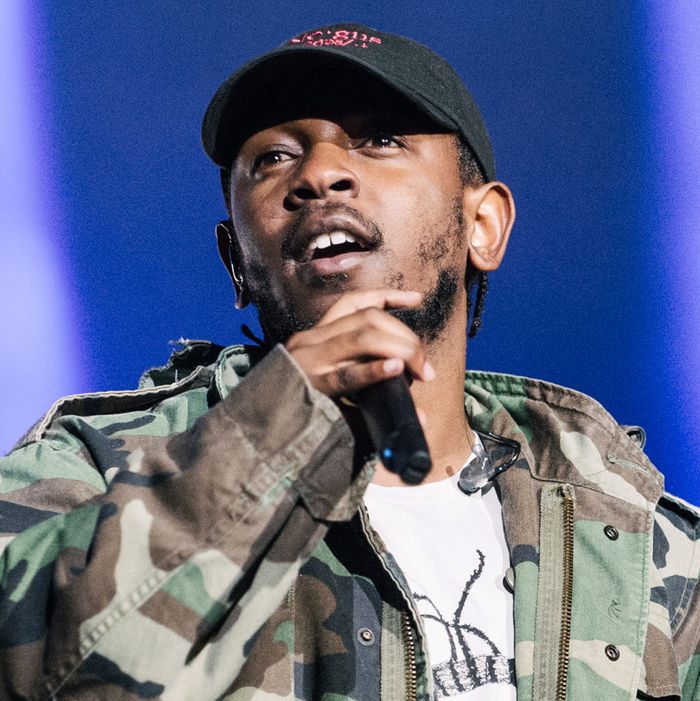 Cornrow Kenny does it again.
Photo: Emma McIntyre/Getty Images
Back in 2014, Kendrick Lamar bid The Colbert Report farewell with the debut of a thunderous new untitled song. This was before the release of his sophomore opus To Pimp a Butterfly, and the assumption at the time was that the untitled track would appear on that album. When it didn't, it became clear the K. Dot vault would soon become rap's worst-kept secret. When Lamar pulled the same stunt earlier this year on Fallon, it felt like we'd all been fooled twice — once again teased with new music that would likely never materialize in any official capacity.
That all changed when Kendrick dropped an unannounced new project out of the skies and onto Spotify last night, an eight-song treasure trove of untitled (and apparently unmastered), previously unreleased songs — including the Colbert and Fallon one-offs — less than a year after Butterfly. How did we finally get untitled unmastered. and do we really have LeBron James to thank? Let's take a look at the album's backstory.
How long have we known about this album?
In a sense, Kendrick has been teasing this project since December 2014, when he debuted the first "Untitled" on The Colbert Report, as the show's final musical guest. In January 2016, he then debuted "Untitled 2" on The Tonight Show with Jimmy Fallon, having never formally released the first "Untitled." During his scathing Grammys performance last month, Kendrick also rapped a new verse that some have labeled "Untitled 3."
Earlier this week, Top Dawg Entertainment CEO Anthony Tiffith announced his label's 2016 slate, teasing new releases from the entire roster — including Kendrick, with "??? (get Top on the phone)" next to his nickname, K. Dot, suggesting a new project might be imminent. Further keeping fans on their toes, on Wednesday Tiffith took to his Instagram to say that one of those new projects would be released at random this week: "Just 2 show niggas I'm not playing. Ive decided 2 drop a project 1 day this week. I won't say wut day or who. It cud be 2nite So don't ask me jus stay close to the net." (Kendrick retweeted that post, sly one that he is.)
With only that warning, eight new Kendrick songs under the name untitled unmastered. appeared on Spotify and iTunes on Thursday night, in a manner not unlike the surprise-release of TPAB. Shortly after, Kendrick himself tweeted a link to purchase the album and Tiffith confirmed its authenticity on Instagram with a note reading, "Thank Lebron James for this." He's referring to LeBron's post-Grammys tweet to Kendrick and Tiffith begging that Kendrick's untitled songs be released, a request Tiffith told LeBron he'd think about. Naturally, LeBron's psyched.
What do all those dates in the song titles signify?
While it hasn't yet been revealed or reported, the dates appear to indicate when each of the songs was either recorded or written. Save for "untitled 07," they're all assigned specific days. The song Kendrick performed on The Colbert Report, originally known as "Untitled," is now "untitled o3," and has the date May 28, 2013 — though he didn't actually perform it until December 16, 2014.
Terrace Martin, a collaborator on the song, told NPR that Kendrick wrote "Untitled" specifically for Colbert one day before their performance, so the dates don't quite match up. (Martin also said the song hadn't been recorded and wasn't planned for release, but that has obviously changed.) "Untitled 2" (a.k.a. "Blue Faces"), the song Kendrick debuted on Fallon, has been switched to "untitled 08" — though the end of the original "Untitled 2" is still the second verse on "untitled 02" — and has the date September 6, 2014; he performed it on January 6, 2016. A slightly altered portion of Kendrick's new Grammys verse also pops up on "untitled 05," dated September 21, 2014.
Almost all of the songs are dated 2014 or earlier, suggesting they're probably leftovers from the To Pimp a Butterfly sessions. (Update: Kendrick confirms they're raw demos from TPAB.) The only exception to that is "untitled 07" — the longest and most disjointed song on the album — which has been given a general "2014–2016" timeframe, so it's either the newest of the bunch or just the one Kendrick took the longest to make.
Any features?
Just like on To Pimp a Butterfly, there are plenty of voices besides Kendrick's on this album. His frequent collaborator Anna Wise is the woman singing on "untitled 03"; Bilal and Thundercat also contribute background vocals and bass, respectively, to the song (they all also performed the song on Colbert). SZA, who recently appeared on Rihanna's "Consideration," is without a doubt the female vocalist you hear on "untitled 04." Jay Rock, TDE co-president Terrence "Punch" Henderson, Robert Glasper, and Anna Wise have guest features on "untitled 05." CeeLo Green contributes vocals to "untitled 06." There's also an adorable young boy who proudly chants, "Compton is where I'm from" on "untitled 07."
Who produced it?
Two of the biggest production surprises come at the back end of the album, starting with "untitled 06," which was co-produced by none other than A Tribe Called Quest's Ali Shaheed Muhammad as well as Adrian Younge. Then there's the sprawling three-parter, "untitled 07," featuring production from Swizz Beatz and, if you can believe it, his and Alicia Keys's 5-year-old son, Egypt.
"Young Egypt," as Kendrick shouts him out on the track, was pictured hanging out with Swizz, Kendrick, Usher, and Jay Z in a suite at the Super Bowl, which is possibly how this collaboration began. (Remember, this is the same song whose origin spans from 2014 to 2016.) Swizz did say Egypt was selling beats to Kendrick at the big game — maybe he wasn't kidding!
What are the lines everyone's talking about?
Right before the Grammys, the highly unprolific rapper Jay Electronica dissed Kendrick on Periscope, calling him his "baby," and then took more digs at Kendrick and his accolades on a new song, "#TBE The Curse of Mayweather." Kendrick famously stole the show on Big Sean's "Control" with the diss heard 'round the world, overshadowing Jay Elec, who was also featured on the song. So there's history here. Now some are speculating that one particular verse on "untitled o7" is Kendrick's lethal response:
You niggas fear me like y'all fear God
You sound frantic, I hear panic in your voice
Just know the mechanics of making your choice and writin' your bars
Before you poke out your chest, loosen your bra
Before you step out of line and dance with the star
I can never end a career if it never start
Also expect to see "Get Top on the phone" and "Pimp-pimp hooray" referenced on Twitter a lot in the coming days.