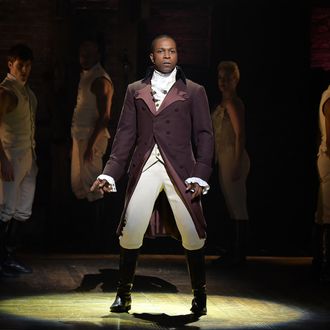 He went ham.
Photo: Theo Wargo/2016 Getty Images
Hamilton's first fake scandal has gone as quickly as it came, stamped out with a statement so effective, it's like a Founding Father himself wrote it. Responding to today's silly outrage over a casting call for non-white performers for the Broadway show's national run, Hamilton producer Jeffrey Seller is here to kindly point out the irony to anyone offended: "Hamilton depicts the birth of our nation in a singular way. We will continue to cast the show with the same multicultural diversity that we have employed thus far." And just in case his point was lost on any white actor too distraught they might not get to be in the room where it happens, a spokesperson also says, "It is essential to the storytelling of Hamilton that the principal roles — which were written for non-white characters (excepting King George) — be performed by non-white actors."
That same rep also says that while they will change the language of the casting call to reflect that "people of all ethnicities" are welcome to audition, their previous call for actors of color is no different than what productions of  The Color Purple, Porgy and Bess, or Matilda have done. Translation: #BroadwayNotSoWhite.