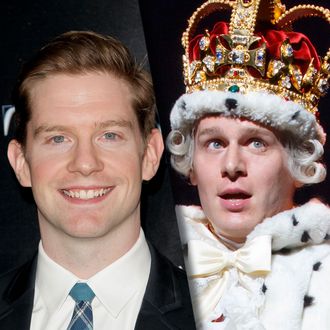 You've got a big crown to fill, Rory O'Malley.
Photo: Tibrina Hobson/FilmMagic
Jonathan Groff will be hanging up his crown as King George in Hamilton. We all knew it would be coming: Groff will play the lead in David Fincher's Netflix drama, Mindhunter, based on a book by an FBI special agent who profiles and tracks serial killers. Rory O'Malley, who will become the fourth King George to strut his stuff, isn't unfamiliar with Broadway obsessions: He was in The 25th Annual Putnam County Spelling Bee and played Elder McKinley in The Book of Mormon. Groff's final performance will be the 8 p.m. show on April 9, so good luck trying to see him. (May the odds be ever in your favor.) O'Malley begins his run on April 11, at which point he'd better sissy that walk.