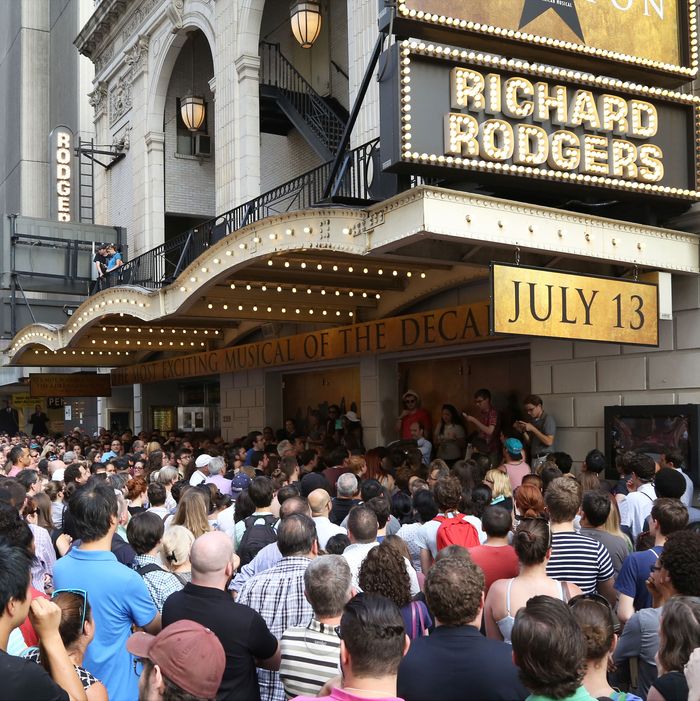 Photo: Walter McBride/Getty Images
Some fans are not going to get their shot. For the first time since it debuted on Broadway in July, Hamilton has capped its standby line for people waiting on cancelled tickets.
At around 6:30 Wednesday morning, hotel security from the neighboring Marriott Marquis shooed the line it had tolerated for months from its property, saying, according to fans in attendance, they were "banned."
"We're very supportive of Broadway and of ticketholders. This is not that," said Kathleen Duffy, a Marriott spokesperson. "They're blocking fire exits, emergency exits, and our first priority has to be to the safety of our 2,000 guests." She noted clear signage on the walls that bans tents, sleeping bags, placement of personal property on the ground, and lying down on the ground, among many other prohibitions. She declined to comment on the "ban" issued by hotel security.
The warmer spring weather has brought with it a perpetual tent city of fans living up to their impish self-description as "Hamiltrash": sleeping on cardboard boxes, getting food delivered to their spots in line, and breaking out games of chess on boards propped up by overturned milk crates.
One frequent line resident is Robert Samuel, founder of Same Ole Line Dudes (yes, it's a line-waiters-for-hire company), who says when he first started waiting for Hamilton standby tickets, in December, he routinely found himself in front of the line by showing up at 6 a.m. "It gradually crept an hour or so earlier about every week," Samuel told me. "Last week, we started showing up before midnight. This time we got here earlier than we've ever done. It's what's required now. It's crazy." This morning, the front of the line — populated by Samuel and six of his colleagues — showed up at 7 p.m. That's before last night's performance even opened its doors
After the box office opened at 10 Wednesday morning, a barricade went up, capping the line at around 30 people. Theater staff, who required anonymity because they are not authorized to speak for the theater, compared the bedlam to the last days of the in-person Ham4Ham lottery, when thousands of people would swarm the street, blocking traffic in the hopes of scoring a $10 ticket. That lottery was moved online. "It can't be like this," said one staffer. "They're probably gonna put an end to this shit." The hardest ticket in town is likely about to get a lot harder.