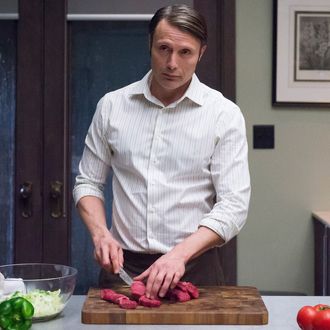 Who's for dinner?
Photo: Brooke Palmer/NBC
Is it your fault there's no more Hannibal to devour? Martha De Laurentiis, one of the executive producers of the show, blames piracy for the show's noted cancellation: Hannibal was one of the most pirated shows of 2013, with 2.1 million downloads per episode. De Laurentiis writes in an op-ed on The Hill:
"…it wasn't much of a leap to connect its fate with the fact that the show was ranked as the fifth-most illegally downloaded show in 2013. When nearly one-third of the audience for Hannibal is coming from pirated sites — despite the fact that a legitimate download for each episode was available the following day — you don't have to know calculus to do the math. If a show is stolen, it makes it difficult, if not impossible, to fairly compensate a crew and keep a series in production."
While there's no way to know for sure if that's what happened (hey, maybe people just weren't digging Hannibal's jaunt around Florence), it's not hard to draw the conclusion that over two-million pirates are responsible. De Laurentiis will be on Capitol Hill this week at a Meet the Producers event discussing how piracy undermines the creative community.