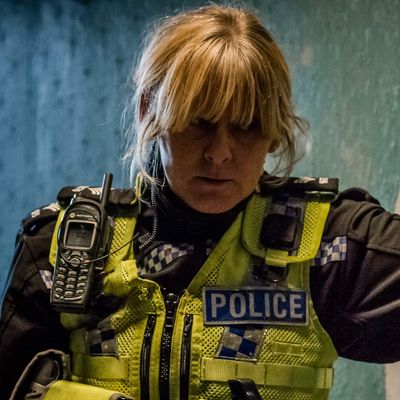 Sarah Lancashire.
Photo: Ben Blackall/Netflix
Happy Valley is set in the English county of Yorkshire, the same region as the fictional Downton from Downton Abbey. But Lord Grantham wouldn't last on the streets of Hebden Bridge, with its violent ex-cons, drug addicts, and prostitution. Telling of a harsher, bleaker side to life in Northern England, Happy Valley revolves around the dedicated and excellent police officer Catherine Cawood, following her professional life and watching how a harrowing incident from her past dominates her life.
Season two of the series arrived in full on Netflix this week so here's a spoiler-free guide to what you need to know.
It features a brilliant central performance.
BAFTA winner Sarah Lancashire inhabits her role as Cawood so completely you get the impression you could pitch up outside her stone-clad house and invite yourself in for a cup of tea. Happy Valley offers a rare glimpse of somebody who is dedicated to solving a crime without feeling the need to shut everyone else out. In season one, Cawood's world is turned upside down when the man she blames for her daughter's death — Tommy Lee Royce (James Norton) — is released from prison. In lesser police dramas, she'd be shunning all responsibility to crack her cases; instead, what we get is a woman whose whole reason for putting on her uniform is to keep her family together. Above all else, it's Lancashire's performance that makes Happy Valley tick. At various stages of the series she is left bruised and hysterical, and you feel every single emotion along with her.
It stars America's next big British import.
Having already starred in Happy Valley plus two period dramas (War & Peace, Grantchester), James Norton is currently on British TV more than most actors. If anyone is going to follow the likes of Tom Hiddleston, Matt Smith, and Benedict Cumberbatch to America anytime soon, it's going to be him. He's good in this, too, showing he can pull off working-class psycho and landed gentry.
Watch out for the Yorkshire slang.
If you don't know what "nowt," "mardy," and "ta'ra" mean, you may need a book of Yorkshire phrases by your side while watching Happy Valley (that's "nothing," "moody," and "good-bye" respectively). Sally Wainwright's script is lighthearted in places and punchy in others but, like all good Yorkshire pubs, doesn't necessarily cater to outsiders.
It's truthful about life outside of London.
Between the films of Richard Curtis and Mike Leigh, you might think Britain is either a delightful wonderland or a grim and gray trudge through mediocrity. Happy Valley tells the truth: It's somewhere between the two. The beautiful rolling fields and trickling rivers of the Yorkshire moors engulf the town in which it's set, but the historically poor area comes with its own issue, which the show doesn't shy away from. Season two also picks up on the growing levels of immigration in the area, with Polish residents and an organized crime gang both cropping up on Cawood's radar. There are Happy Valleys all up and down Britain's countryside, few of which ever get their stories told in this way.
Season two maintains season one's high standards.
Picking up from the emotional fallout of season one, the second run introduces three hugely compelling plotlines. There's even a brief appearance from Harry Potter's Neville Longbottom (Matthew Lewis) as a man spotted drinking vodka at the wheel while kerb-crawling. What would they say about that at Hogwarts?