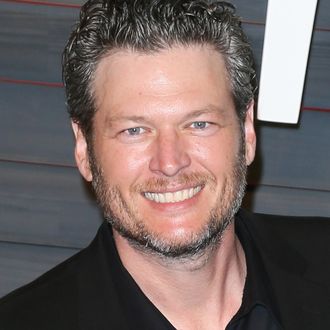 Revenge ain't so sweet.
Photo: David Livingston/Getty Images
Did you think Gwen Stefani was the only one savvy enough to redirect her post-divorce anger into motivation for a new album? Nope. Her beau, Blake Shelton, is right there beside her, playing the same game, with an upcoming album and a new song of his own. Like Gwen's "Used to Love You," Blake's new single takes a page of out of the jilted country songbook; it feigns heartache but is really all about revenge. "Came Here to Forget," with its mid-tempo country-pop cadence, suggests that Blake is hurting. He is — he's just the one doing the hurting.
This is a single about rebounding for the thrill of it with a woman he just met in a bar (let's call that bar … The Voice). Because, hey, "Nobody's ex is texting for a rewind," so might as well as just "fall in love just enough to get us through what we're getting through." What could possibly go wrong? Too bad Blake forgot that no one does a whiskey-drenched kiss-off better than his ex, Miranda Lambert: Stand by for her and Gavin Rossdale's sneak-attack duet, dropping whenever Gwen and Blake drop theirs.