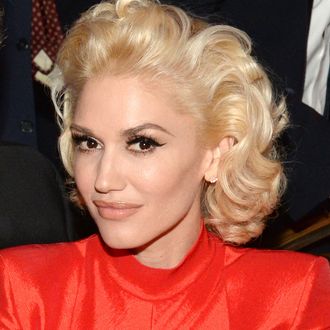 Misery really does love company.
Photo: Kevin Mazur/Getty Images
Gwen Stefani's solo career, in many ways, has always felt a little like drugs. It started out with the highest of euphoric highs (and a spelling lesson), but that drawn-out comedown sure was a real bitch. Musically, we both tried to take a breather from each other, but there are some dependencies you just can't quit. With Gwen's third solo album out next week, she's shared another new song, "Misery," in which now she's the one begging to be put out of her misery. And you know what? It doesn't sound half as bad as that premise suggests. "You're like drugs to me," she says of her marriage, over some synths, a funky bassline, and well-placed hand claps to disguise the pain. Yeah, she's singing about being addicted to suffering, but her misery's as pleasantly infectious as any drug those D.A.R.E. people warned you to stay away from when you were too busy tuning them out with "Hollaback Girl." Oops.