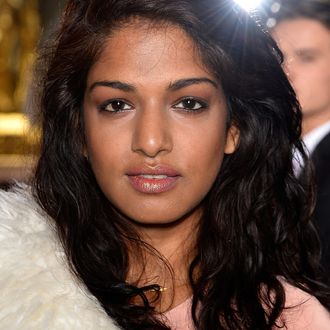 Finally, a song fit for Trump's campaign.
Photo: Pascal Le Segretain/Getty Images
As Donald Trump inches closer and closer to — shudder — the presidency, M.I.A. has arrived to skewer America's No. 1 border-patrolman right on time. She previously blasted xenophobic international immigration policy amid last year's global refugee crisis, with the excellent song and video for "Borders"; now she's fired off a twofer with "MIA OLA−Foreign Friend." The first half, "MIA OLA," begins with a (possibly illegal) sample of "Circle of Life" from The Lion King (Disney's tale of extreme territorialism), which introduces this fire: "They call me a ruler, trend setter, makin' life feel better / Breaking order like a leader, now follow." What does follow is an indictment against that wall a certain presumed Republican presidential nominee swears he'll build. "At the border I see the patroller cruising past in their car / Hiding in my Toyota Corolla, everybody say 'YALA!',' she raps, referencing 2013's "Y.A.L.A." (meaning: You Always Live Again).
The song switches gears (and tempo) around three minutes in, where she delightfully brags, "When I jump that fence I gon' get a Benz / Then I leave my tent and I can be your foreign friend." In other words, there isn't a wall high enough to stop M.I.A.