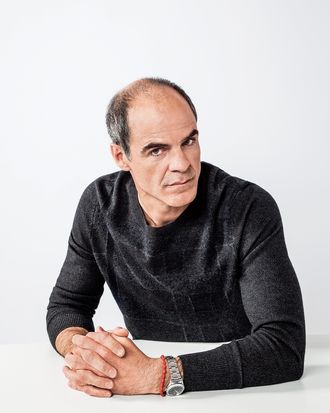 Michael Kelly.
Photo: Drew Wiedemann
On February 22, Andrea Mitchell, Alan Greenspan, ­Valerie Jarrett, and other members of the Washington, D.C., glitterati gathered beneath the undulating skylight of the National Portrait Gallery on golden catering chairs to witness the unveiling of the "official portrait" of President Francis J. Underwood. As in the president on the binge-casted Netflix series House of Cards, which has just uncorked its fourth season. The show has become Washington's favorite glamorously sinister dramatization of a story people there tell themselves about its amoral inner life and what it takes to make it to the top. House of Cards focuses on the conniving Underwood, played by Kevin Spacey; his wife and increasingly restless co-conspirator, Claire, played by Robin Wright; and, certainly by season three, Doug Stamper, Underwood's emotionally stunted, implacably loyal, blank-faced chief of staff, played by Michael Kelly as the perfect henchman: He not only knows where the bodies are buried but has in fact buried at least one himself.
"I remember the first time we went" to the White House Correspondents' Dinner, Kelly told me earlier in the day, when we met for lunch at the Old Ebbitt Grill, an ­oyster bar, established in 1856, across the street from the White House. "Someone said it was like being a member of the Rolling Stones almost. People went nuts. Chris Matthews called across the room: 'Michael Kelly! Aaaaaaaa!' That famous noise he makes."
Later, "I got to meet Obama," Kelly says. "Which was amazing. We're in the receiving line [at the dinner], and the president says"—and here Kelly does his Obama voice—"Don't worry, Michelle, I heard he's not nearly as diabolical in real life." Kelly laughs with un-Stamper-ish delight. "He gets the show before everybody. Well, he did this year. I don't know if you remember this — last season, he tweeted, ­'Tomorrow: @HouseofCards. No spoilers, please.' So this year, they sent it to him early."
House of Cards is based on a British series in which the Stamper character dies early on. But thanks to Kelly's adroit bloodlessness, Stamper became indispensable to the series as his character strives to be to Underwood. If the show is supposed to be about the price paid for power, then Stamper's comeuppance arrived in season three, when he was cast out of the inner circle after suffering a traumatic brain injury on a dark errand for his boss and allowed to bloom into a complicated almost-human character. Kelly's performance earned him an Emmy nomination.
"I understand Doug," says Kelly, who is himself a hugger (he hugs me) and a giggler (he can't stop smiling) from Atlanta (he says his voice coach in college beat his accent out of him, though it comes back when he's relaxed, drinking, or singing). And what about the real-world candidates? "I can't stand all this Reagan shit — that's their savior?" he asks. "Marco Rubio scared the shit out of me the other night," he says. "I never believed a word he said. I always think it's a script he's trying to remember, and as an actor, I look at him and I'm always like, I don't believe you. But then the other night, with his closing argument, when he said — God — 'Marriage is between a man and a woman,' I thought: Oh, that guy is scary as shit." He worries he's too political for ­Twitter, but when someone asked him on Twitter whom Stamper would support this cycle, he responded "I'm all #Hillary2016."
Everyone in D.C. either needs a Stamper or is a Stamper, Kelly says. "Every year, some young staffer who has had a few too many says: 'You know, I know a guy just like you. Maybe, maybe he hasn't killed someone. Maybe.' And I'm like, Wow. But if he's a role model to some young congressional staffer, I think it's great. I think it's awesome. If somebody wants to be a badass, I know he won't be completely like Stamper."
House of Cards is mostly about back­stabbing in the backroom; it's a show about insiders and what they do and tell themselves to get there and stay there and get other people out of their way. It's not a sweat-soaked conspiracist soap opera like Scandal, or a farce about keeping face like Veep, either of which could probably accommodate, say, a presidential candidate getting in a fight with the pope or retweeting Mussolini without jumping the shark. No, House of Cards has sought to be more subtle — ­literary, even — and in that it seems to have been bypassed in out-in-full-view drama, by actual world events. This season, Underwood is running for reelection, and the year is 2016, but that 2016 is not recognizable as our public cage match. "It is sometimes said that politics is the world's second-oldest profession," Underwood said at the National Portrait Gallery. "It is also said that it takes most if its rules from the oldest profession. But that's not accurate. In truth, politics itself is the world's oldest profession, and it has no rules at all, as this year's presidential contest is proving every single day." Then he added the punch line: "I'm so pleased that so many people will come through and see just how very well hung I am." But the ­double entendre turned out to be one entendre too many for satire. The following week, the real-world Republican front-runner was reassuring voters there was "no problem" with the size of his penis. "I guarantee."
*This article appears in the March 7, 2016 issue of New York Magazine.