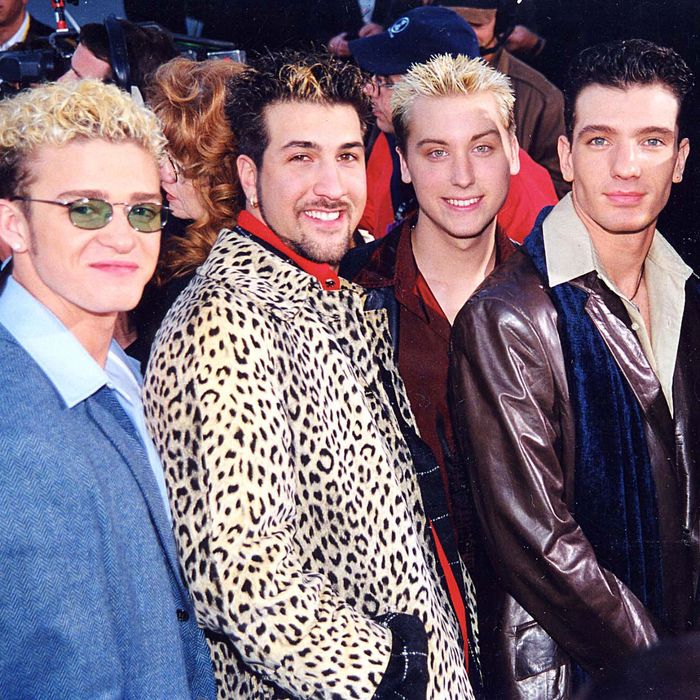 Photo: Jeff Kravitz/FilmMagic
Like a brace-toothed middle schooler warbling though the Hebrew Bible, Zayn Malik, once a boy-bander, is now a man. And sure, the recent release of his debut solo album, A Mind of Mine — which has debuted at No. 1, a first for a solo male U.K. artist — on the anniversary of Malik's departure from One Direction is kind of a dick move. But it's also a reminder of simpler times, back when, instead of watching the foundling navigate dissing One Direction without alienating fans, we could sit back and luxuriate in wild speculations about 1D's purely hypothetical divergent ventures. Because while Zayn may be the first to make the jump, he wasn't always the clear choice for the spotlight. Sure, he's got the high notes, but Harry Styles hocks charm like Macy's hocks perfume. How much does Zayn's head start actually matter? To answer that question, we've looked at boy-bands past, searching for the correlation between who goes solo first and who fares best.
THE BEATLES — John Lennon, Paul McCartney, George Harrison, and Ringo Starr
First to go solo: Every Beatle actually has a claim to that title. Harrison was the first to put out solo music — the 1968 soundtrack Wonderwall Music and 1969's experimental Electronic Sound — but these were quieter efforts, released while the band was still firmly intact. Lennon was the first to put out solo music after the band broke up, marking his independence a bit ironically by dropping "Give Peace a Chance" on July 4, 1969. Starr was the first to put out solo music after the band broke up officially in 1970, dropping Sentimental Journey that March. And, trailing by only three weeks, McCartney dropped McCartney in April, making him the first Beatle to put out solo music after the band broke up officially that people were particularly eager to hear. (Lennon and Harrison both also put out solo albums later that year.) So your guess is as good as ours.
Fared best: See the last sentence of above. While there are assuredly Harrison and Starr fans in this world, any real rivalry clearly comes down to McCartney versus Lennon. But their gigantic profiles are grounded in distinct powers. While Lennon casts a mythic legacy, McCartney's enduring presence is buoyed by his determination to stay relevant. And their solo music shares much of the same dialectic: While Lennon's experimentalism and idealism were invigorating when successful, McCartney's lengthy career, reinforced by his time with Wings, defines him as not less inspired per se, but as a more reliable force.
By the numbers: In terms of sheer industriousness of output, Starr comes out on top, having so far released 18 albums to McCartney's 17, Harrison's 12, and Lennon's 8. Awards-wise, as solo artists, McCartney has been nominated for 34 Grammys, winning 11 times; Harrison won two out of four nominations; and Lennon won one Grammy posthumously. In both cases, the conclusion belies the simple fact that McCartney has lived longer than Lennon. All four have been inducted into the Rock and Roll Hall of Fame as solo artists, with Ringo Starr joining last, in 2015.


THE OSMONDS — Alan, Wayne, Merrill, Jay, Donny, and Jimmy Osmond
First to go solo: The brothers that have a boy band together band together, or at least such was the case for the Osmonds, whose solo careers co-existed with the group. The Osmonds broke big in 1970 with easy-listening barnburner "One Bad Apple," and that same year an alarmingly precocious Jimmy, age 7, got a gold record for his Japanese-language single, "My Little Darling." Donny Osmond soon followed with the first Osmond solo record, The Donny Osmond Album, in 1971, although both continued to perform with the Osmonds.
Fared best: While baby brother Jimmy's Little Jimmy Osmond came out in 1972, the album's name proved prophetic. Despite Jimmy's early rise, it was Donny with whom a mass audience fell in "Puppy Love," giving way to the Donny & Marie years, a.k.a. the ones you actually picture when someone mentions the Osmonds.
By the numbers: As a solo artist, Donny has released 13 albums since The Donny Osmond Album, dwarfing Jimmy's 6 (some of which were released only in Japan).
THE MONKEES — Davy Jones, Micky Dolenz, Michael Nesmith, and Peter Tork
First to go solo: It's a lesson that One Direction fans are currently learning the hard way: When a band is put together for the sake of a TV show, it can't be shocking that they split up. Indeed, after their namesake show was canceled in 1968, the Monkees soon fractured. A very ahead-of-the-times Tork, citing exhaustion, quit in early 1969, while Nesmith followed in 1970, releasing Magnetic South as part of Michael Nesmith & the First National Band.
Fared best: Jones and Dolenz tossed out one more Monkees album before embarking on some lethargic solo careers of their own. Jones maintains the most name recognition — although that could be a pirate thing — and his teen-idol cachet kept him on-camera often in the ensuing decades. Nesmith probably has the most music cred, but none of the Monkees really built artistic legacies independent of the band.
By the numbers: Jones put out 6 albums, Nesmith (including his work fronting the First National Band) put out 14, Dolenz had his name on 10 post-Monkees records, and Tork released a single solo effort. Nesmith is the only one with solo awards acclaim, winning a single Grammy in 1980.

THE JACKSON 5 — Michael, Tito, Jackie, Marlon, Jermaine, and Randy Jackson
First to go solo: More opportunism than artistic independence, the early Jackson solo careers emerged as a Motown effort to capitalize on the enormous popularity of the Jackson 5. Michael, the youngest, was the first to branch out, finding a chart-topper in the treacly best-bud song "Ben" and releasing Got to Be There in 1972. Six months later, Jermaine came out with the self-titled Jermaine.
Fared best: Both brothers' albums charted, but as was to set the template for Michael and his siblings, Jermaine's success couldn't catch his brother's. While Jermaine actually launched a full-fledged solo career first, splitting with the Jackson 5 when the group left Motown, he never touched Michael's iconoclasm.
By the numbers: Jermaine made it to No. 37 on the pop charts, but Got to Be There climbed higher, hitting No. 14 and selling over 900,000 units. Jermaine actually released more solo albums than Michael (14 versus 10), perhaps the musical version of "If I loved you less, I might be able to talk about it more." In awards clout, as in sales and fame, Michael smoked Jermaine, reaping 36 Grammy nominations (13 wins) while Jermaine glimpsed the honor just once. Michael is the only Jackson 5 member inducted as a solo artist into the Rock and Roll Hall of Fame, while the rest of the group were collectively inducted in 1997.


NEW EDITION — Ricky Bell, Michael Bivins, Bobby Brown, Ronnie DeVoe, Ralph Tresvant, and Johnny Gill
First to go solo: In 1986, Bobby Brown got kicked out of New Edition. The cover was Brown's supposed desire to move away from teen stardom, although it was obvious that Brown's image had gotten too dark and too messy for the R&B boy band. It didn't stop him from putting out good music, though. After a disappointing 1986 debut with King of Stage, Brown reached critical and commercial success with 1988's Don't Be Cruel.
Fared best: While Brown was first out of the gate, after New Edition went on hiatus in 1990, all of the remaining members embarked on at least moderately successful musical ventures. Ralph Tresvant and Johnny Gill (as Brown's replacement, Gill came into New Edition with solo experience, but we're considering his post-boy-band career here) both put out self-named solo efforts. Bell, Bivins, and DeVoe, however, never truly went solo, instead mega-morphing into offshoot Bell Biv DeVoe. All had success, but classics like "My Prerogative," in addition to totalizing his notoriety, made Brown more influential and for longer than the rest.
By the numbers: The members of New Edition were all prolific in their post-boy-band careers: Tresvant made three solo albums, Brown has released five, Bell Biv DeVoe put out three, and Gill tops out at seven. Brown and Gill also come out close in awards haul, each garnering two Grammy nominations (Brown won once). In terms of the commercial exchange of goods, Ralph Tresvant had a promising start with his self-named debut selling over a million copies, and Gill was a consistent seller, moving 1 million copies of Johnny Gill and following up with two gold records. But no one came close to the phenom heights of Don't Be Cruel, which lapped up an insane 7 million copies in sales.
DRU HILL — Nokio the N-Tity, Sisqó, Jazz, and Woody Rock
First to go solo: While Woody Rock first felt over Dru Hill in 1999, expressing a desire to get back to gospel, he couldn't get a label to put out his Soul Music until 2002. That makes Sisqó's 2001 album, Unleash the Dragon, the first Dru Hill solo effort to be … unleashed.
Fared best: Unleash the Dragon was a massive success, and although Sisqó's sapped solo momentum gave way to a number of Dru Hill reunions over the years, Sisqó forever has royalty gold in the once ubiquitous "Thong Song."
By the numbers: Rock's only solo album made a splash on the gospel scene, moving 61,000 units. But the more modest effort can't compare in sales to Sisqó's dragon trilogy — Unleash the Dragon, Return of the Dragon, and Last Dragon. Unleash the Dragon sold a monstrous 4,246,000 copies, earning Sisqó four Grammy nominations. And despite underperforming expectations, his follow-up still went platinum.

NEW KIDS ON THE BLOCK — Jordan Knight, Jonathan Knight, Joey McIntyre, Donnie Wahlberg, and Danny Wood
First to go solo: Dissolving in the wake of 1994's Face the Music, a failed attempt at a more adult sound, the Kids took their time going solo. In March 1999, McIntyre released Stay the Same; Jordan Knight came out with his eponymous solo debut three months later.
Fared best: Jordan Knight and McIntyre, the only ones to make plausible attempts at independent music careers (Wahlberg tried his hand at acting before resigning himself to red meat), come out pretty even. Both had promising starts with hit singles off of their solo debuts — Knight's "Give It to You" and McIntyre's "Stay the Same" —  but neither could make the success stick. If anything, while McIntyre technically has a better track record, Knight comes out slightly ahead for leaving the scene quietly, never suffering through the indignity of McIntyre's failed attempt to follow up on Stay the Same by rebranding himself as "Joe Mac."
By the numbers: Stay the Same sold 335,000 copies to Jordan Knight's 294,000. McIntyre also tops the group in solo albums released, putting out eight to Knight's three. Wood put out a surprising seven albums, none of which gained traction.

THE BACKSTREET BOYS — A. J. McLean, Howie Dorough, Nick Carter, Kevin Richardson, and Brian Littrell
First to go solo: Carter was the first to put out actual solo music, to be sure, releasing Now or Never in 2002. But McLean arguably reached this milestone in a much more valuable way, putting on shows as his alter ego, Johnny No Name, as early as 2000. (Joe Mac, meet Johnny No Name. No Name, Mac.) Carter's bandmates, with the exception of Richardson, all also attempted solo careers in the ensuing decade.
Fared best: Carter, in a sense, but the boy band as an archetype, in a bigger sense. McLean and Dorough both struggled to gain traction, and Littrell had moderate success on the Christian music scene, but Carter was the one to attain real, if lukewarm, mainstream notice. Still, none of the Boys ever really established meaningful independent careers, and, true to the group's name, they have relied on going back to the band long into manhood, recently announcing a short Las Vegas residency.
By the numbers: Carter's debut, Now or Never, was a moderate success, selling over 555,000 copies domestically, and he followed up with two more solo efforts. McLean and Dorough each released two unnotable albums. Littrell's Christian effort, Welcome Home, moved 44,000 units, performing well in that market but failing to make a broader impression.
'N SYNC — Justin Timberlake, JC Chasez, Chris Kirkpatrick, Joey Fatone, and Lance Bass
First to go solo: Timberlake released Justified in November 2002, just one month before Chavez's single "Blowin' Me Up" came out on the Drumline soundtrack.
Fared best: It seems unlikely now, but the Timberlake-versus-Chasez (arguably Timberlake's vocal better) narrative was once the stuff of real suspense. All of that changed when Timberlake beat Chasez out of the starting gate, widening his lead at every turn. While Justified was an instant success that, buoyed by singles like "Cry Me a River" and "Rock Your Body," kept breaking bigger, Chasez didn't get his full debut, Schizophrenic, out until 2004. By then, his hype had cooled considerably. Indeed, by 2004 the gap between the two had grown so large that while Timberlake scandalized a nation with his memorable Super Bowl halftime-show performance, in a turn of events that Chasez probably still doesn't like to talk about, the stunt spooked the FCC so bad that Chasez's scheduled performance at the following week's Pro Bowl was canceled in its wake.
By the numbers: Justified sold 4 million copies, and more impressively, Timberlake's momentum has kept up. In addition to the commercial success of FutureSex/LoveSounds, The 20/20 Experience, and The 20/20 Experience – 2 of 2, Timberlake has reaped 29 Grammy nominations (nine wins) as a solo artist. Schizophrenic, on the other hand, whimpered out at 122,000 records sold.
O-TOWN — Ashley Parker Angel, Erik-Michael Estrada, Trevor Penick, Jacob Underwood, and Dan Miller
First to go solo: Like One Direction, the members of O-Town were put together by a Svengali-esque producer on a reality show. And like One Direction, O-Town couldn't last. After Making the Band ended, O-Town split in 2003 in the midst of problems with notoriously sketchy boy-band manager Lou Pearlman. Angel's Soundtrack Your Life was released in 2006, after its making was documented on MTV's There and Back: Ashley Parker Angel.
Fared best: Angel was a full-fledged, scream-eliciting teen heartthrob, cred that gave him mild solo success and some traction as a stage actor. It's more than the rest of Angel's O-Town bandmates can say, as none of them did much solo endeavoring before re-forming O-Town, sans Angel, in 2013.
By the numbers: Soundtrack to Your Life, Angel's only album, sold 184,000 copies. 
B2K — Omarion, Lil' Fizz, J-Boog, and Raz-B
First to go solo: B2K split in 2004, when Lil' Fizz, J-Boog, and Raz-B ceased involvement with manager Chris Stokes. Omarion stayed with Stokes to launch his solo career, while the rest of the group had plans to work on a new project together, in addition to their own solo efforts. This is where things get ugly, as Lil' Fizz, J-Boog, and Raz-B were stuck signed to Sony through Stokes, who was getting Omarion's solo career off the ground. That meant no new music from the potential competition. While Omarion released O in 2005, the rest of B2K got bogged down in a legal scrum for the next couple of years.
Fared best: Omarion is the clear titleholder here, although of his B2K bandmates, J-Boog at least questions if the success is deserved. Imagining that they had all been able to put out solo efforts in 2005, J-Boog told MTV of Omarion, "He would have lost, I'll be honest with you."
By the numbers: O moved 767,000 units and earned Omarion a Grammy nomination. Omarion's follow-up, 21, sold around half that, and his subsequent two albums followed the pattern of diminishing returns. (Though 2014's "Post to Be" did go platinum, becoming his best-selling single to date.) Both Lil' Fizz and Raz-B released EPs in 2007 that came and went without much notice.

98 DEGREES — Nick Lachey, Drew Lachey, Justin Jeffre, and Jeff Timmons
First to go solo: Nick Lachey released his surreally titled SoulO in 2003. Timmons, the only other member to put out independent music, followed suit with Whisper That Way in 2003.
Fared best: Nick Lachey's music career has been middling at best, but the incredible shadow cast by his and Jessica Simpson's unforgettable reality show Newlyweds: Nick and Jessica and by an indelible One Tree Hill guest appearance has made Lachey, if not a viable solo artist, the group's most enduring personality. Still, much like the Backstreet Boys and NKOTB before them, the members of 98 Degrees have realized they are stronger together than apart, reuniting for 98 Degrees 2.0 in 2013.
By the numbers: SoulO soulD a blah 171,000 units, a lukewarm reception that still positively trounced Whisper That Way's 7,000 copies. Lachey has since released three more albums, each to varying, um, degrees of mild success.

DREAM STREET — Jesse McCartney, Greg Raposo, Matt Ballinger, Frankie Galasso, and Chris Trousdale
First to go solo: Maybe the boy band that proved the most truly boyish, Dream Street died in 2002 after their parents sued their managers for exposing the boys to adult stuff like "booze, women, and pornography." Raposo was the first to go solo in the aftermath, releasing a self-titled album in 2003. A year later, McCartney's Beautiful Soul debuted.
Fared best: To take a cue from Nick Lachey, Beautiful Soul launched a beautiful soulO career for McCartney. While McCartney ascended to true, if necessarily unenduring, teen-idol fame, no one cared about Greg Raposo, the name or the album.
By the numbers: Whereas Beautiful Soul racked up 1,423,00 units in sales, Greg Raposo eked out a mere 11,000. McCartney's success faded over the course of his next three albums, but that's three more albums than Raposo got the chance to make.
AVENTURA — Anthony "Romeo" Santos, Henry Santos, Lenny Santos, Max Santos, and Toby Love
First to go solo: Toby Love left his role as a backup singer in the bachata boy band early, embarking on a solo career with 2006's Toby Love. In 2011, front man Romeo Santos announced his intention to go solo as well, leading to a hiatus for Aventura. Introducing Henry Santos came out that October; Romeo's Formula, Vol. 1 followed the next month.
Fared best: Love, Henry Santos, and Romeo Santos all had success on the Latin music scene, but Romeo was the clear breakout star, garnering enough of a following to land him a role in Furious 7.
By the numbers: Introducing Henry Santos sold 9,000 copies, a pale number in comparison to Toby Love's 58,000. Neither come near Formula Vol. 1's 371,000 units sold, especially as the album also won Romeo a Grammy nomination, and its follow-up, Formula, Vol. 2 became 2014's top-selling Latin album.
THE JONAS BROTHERS — Joe, Kevin, and Nick Jonas
First to go solo: It should surprise no one that Nick, the precocious youth, the one who played Beauty and the Beast's Chip on Broadway at age 10, who released Nicholas Jonas at 14, was the first JoBro to branch from the brood. As part of Nick & the Administration, he released Who I Am in 2010, a year before Joe's Fastlife. After the Jonas Brothers' more definitive 2013 split, Nick was again first to release new music, putting out 2014's Nick Jonas.
Fared best: Nick Jonas is actually a good test case for Zayn, proving that the quiet, sensitive, musically adept one — not the quote-unquote charmer — can break out. While Nick's profile keeps climbing through a dual assault of enjoyable music and a committed acting career, Joe had more success playing the front man of a band on Grease Live! than actually being the front man of his new outfit, DNCE. (Though their debut single, "Cake by the Ocean," currently sits in the H0t 100's top ten.) Wanna bet that Joe is "Jealous" of his baby bro?
By the numbers: Who I Am sold 179,000 copies and Nick Jonas sold 239,000, both making a bit of a mockery out of Fastlife's measly 45,000.
*Data regarding sales information is provided by Nielsen.